Ad blocker interference detected!
Wikia is a free-to-use site that makes money from advertising. We have a modified experience for viewers using ad blockers

Wikia is not accessible if you've made further modifications. Remove the custom ad blocker rule(s) and the page will load as expected.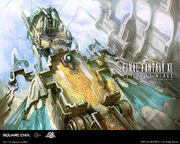 The Logbook is a feature in Final Fantasy XII: Revenant Wings which acts as a sort of in-game journal, where the members of Clan Galbana post several thoughts and opinions throughout their journey, as encouraged by Penelo.
First Encounter
Edit
No Manners
Edit
Ba'Gamnan's Bane
Edit
Log Check
Edit
Captain's First Log
Edit
Clouds Below
Edit
That's it?
Edit
Grand Opening
Edit
An East Wind
Edit
Preparations
Edit
Master Artificer
Edit
The Leading Man
Edit
Comeuppance
Edit
Unappreciated
Edit
A Hard Bargain
Edit
Like a Shark
Edit
Like a Dog
Edit
Like the Idea
Edit
Like Solid Ground!
Edit
Like Sky Pirates!
Edit
Clear Skies
Edit
Passing Time
Edit
Despicable
Edit
Smooth Sailing
Edit
State of Mind
Edit
Shipshape
Edit
Found it!
Edit
On Balthier's Trail
Edit
Gone Too Far
Edit
Dark Clouds
Edit
Planning the Plan
Edit
Executing the Plan
Edit
Canceling the Plan
Edit
Searching
Edit
Wondering
Edit
Back Onboard
Edit
A North Wind
Edit
The Emperor
Edit
True Captain
Edit
Falling Stars
Edit
Being a Sky Pirate
Edit
Last Minute
Edit
Looking Back
Edit
We're Behind You
Edit
Blank Page
Edit