Locke Cole
Talk

55
17,228 pages on
this wiki
Locke Cole
Sprites

---

---

Japanese name
Lock Cole
Kana

ロック・コール

?
Rōmaji
Rokku Kōru
Job
Adventurer
Skill

Steal

/

Mug

Desperation Attack
Mirage Dive
Age
25[1]
Birthday
November 24[1]
Height
175 cm[1] (5' 9")
Weight
67 kg[1] (147 lbs.)
Blood Type
O[1]
Birthplace
Kohlingen
Treasure
Phoenix Magicite
Loves
Adventure/ Napping in fields
Hates
Goodbyes/Mushrooms
Hobby
Treasure Hunting/Collecting maps
Ultimate Weapon
Zwill Crossblade
Final Fantasy VI Character
A treasure hunter and trail-worn traveler, searching the world over for relics of the past...
—Game description
Locke Cole, also known as Lock, is a playable character from Final Fantasy VI. He is a thief, but prefers to be called a "Treasure Hunter".
Appearance
Edit
Locke is of average height with a wiry build. He wears a blue vest and trousers with a white shirt, although concept art has his outer clothes as black. He has light brown hair and wears a bandanna. In-game, it is blue and rolled into a headband; in the Yoshitaka Amano artwork it covers his hair and is more colorful and patterned. His outfit is belted with a short sash. He wears brown gloves in-game and in some concept art.
Personality
Edit
I'll never let go. I promise.
—Locke to Celes
Locke is introduced as a contact, spy, and saboteur for the Returners, the resistance group to the Gestahlian Empire. He is driven to protect women he meets, instantly promising to help Terra and Celes despite them being former Imperial soldiers. His want to protect women is due to unresolved guilt over a past incident which he struggles with. The incident was a key reason he joined the Returners, and although he blames himself, he is angry at the Empire for their involvement.
Despite his tragic past, Locke is often less than serious. He jokes around with and about the other party members, particularly teasing Edgar for his flirtatiousness. He is proud of his skills and insistent on being called a "treasure hunter" or "adventurer" rather than a thief. Locke is kindhearted and tries to prevent others from experiencing the sorrow he has.
Locke's ability is Steal, which allows him to attempt to steal an item from an enemy. Equipping Locke with the Brigand's Glove turns Steal into Mug, which allows Locke to attack an enemy while attempting to steal. Equipping Locke with a Genji Glove or the Master's Scroll allows him to attempt to steal multiple times in a turn. The Sneak Ring boosts the success rate of steal.
Locke's Desperation Attack is Mirage Dive that deals magical damage to one enemy.
Having Locke in the party allows the party to unlock the locked doors in Narshe in the World of Ruin.

Being a Thief, Locke has well rounded physical stats, high speed and evasion, good strength and decent defense, but low magic stats.
Equipment
Edit
Locke's equipment draw includes most daggers and swords, several Boomerangs, all shields except the Golden Shield, lightweight vests and hats, and most heavy armor.
Locke begins with a Dagger, Leather Hat and Leather Armor.
See also: List of Final Fantasy VI Weapons
See also: List of Final Fantasy VI Armor
| Shields | Helmets | Body Armor |
| --- | --- | --- |
| | | |
Creation and Development
Edit
Locke's design was originally that of a slightly older, dark and mysterious partner of the male protagonist that became Terra Branford. He was supposed to be a rival of sorts to the other characters and was the one with the Runic command. As development proceeded his personality was tweaked and eventually became the more 'regular' character Locke is in the final game.[2] After it was decided Final Fantasy VI would feature an ensemble cast with no clear main protagonist, everyone in the development team were encouraged to provide ideas for characters and their episodes. Locke's character and story were colored by influence from Hironobu Sakaguchi.[3]

Musical Themes
Edit
Locke's theme is a heroic introduction played during his and the moogles' mission to protect Terra. His leitmotif is reprised in "Forever Rachel" and the "Ending Theme", and in the latter his theme plays in counterpoint with Celes's theme.

Other Appearances
Edit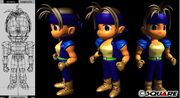 Locke is a playable character in a demonstration produced by Square using characters and settings from Final Fantasy VI. The demo was Square's first foray into real time 3D graphics, and many assumed it was a precursor to a new Final Fantasy title for the Nintendo 64, but Square had not yet committed to Nintendo's console, and much of the technology demonstrated in the demo was later put to use in the rendering of full motion video sequences for Final Fantasy VII and subsequent games for the PlayStation. Locke uses a whip in the demo.

A garb imbued with the soul of the thief. It allows for quick and agile attacks, and hastens the recovery of ATB.
—Description.
Toshiyuki Itahana, the costume designer for Lightning Returns: Final Fantasy XIII, said that the Heartstealer garb is based on Locke's Yoshitaka Amano artwork. It adds 20 ATB points and starts a battle with gauge filled at 50%. The Heartstealer comes with with two locked abilities: Leaping Rush Lv. 2 assigned to
/

by default and Evade Lv. 2 assigned to

/

by default. Its passive ability is Soul of the Thief which increases ATB speed by 35 and stagger capability by 5%. in the demo the Heartstealer is given to the player after Lightning deems the area around the ice pillar safe and in the full version the garb appears in the cube treasure box in the Ark at the start of 9th Day.
When Lightning shifts into a schema with the Heartstealer set as its garb, she will say various quotes relating to the origin of the garb, e.g. "What's your most valuable treasure?", "You're so eager to plunder?", and "I'm no thief".

Locke appears as a recruitable character in Final Fantasy Tactics S. He is of the Visitor race and has Adventurer as his main job. His ability is Mirage Dive.
Locke was considered as a candidate but was left out in favor of Terra, who was considered the most prominent character of Final Fantasy VI and had a closer link to Kefka. Locke appears as a tutor from the in-game manuals and is indirectly alluded to in Destiny Odyssey VI by Kefka, where he rebukes Onion Knight as being an "imitation hero" shortly after Onion Knight interfers with Kefka's attempt at recruiting Terra back to Chaos.
Locke doesn't make a direct appearance, but is alluded to when Vaan (another thief-inspired character) rescues Terra from Kefka.
Cloud

:

I couldn't finish 'em. Looks like this's gonna get complicated.

The following tables are incomplete for one or more reasons. If you wish, please examine the table and add anything missing. Remove this notice upon completion.
In search of valuable prizes from the past, this treasure hunter traverses the world. His bitter regret over failing to protect his former love has left him unable to ignore any woman in danger and thus it is when he saves Terra in the mining town Narshe. He risks his life for her and throws himself irrevocably into the struggle to overthrow the empire.
—Online description
Locke is an unlockable character obtained from Indigo Crystal Shards. His appearance is based of his Yoshitaka Amano art.
He is a Treasure and Speed oriented character.
| Level | HP | CP | Strength | Magic | Agility | Luck |
| --- | --- | --- | --- | --- | --- | --- |
| 1 | 207 | 10 | 13 | 13 | 19 | 15 |
| 10 | 825 | 15 | 31 | 30 | 43 | 33 |
| 20 | 1,512 | 21 | 50 | 48 | 69 | 54 |
| 30 | 2,199 | 27 | 69 | 67 | 96 | 75 |
| 40 | 2,887 | 33 | 88 | 86 | 122 | 95 |
| 50 | 3,574 | 39 | 107 | 104 | 149 | 116 |
| 99 | 5,497 | 50 | 161 | 157 | 225 | 175 |
iOS Stats
Edit
Locke returns as an unlockable character, and is now unlocked by collecting Orange Crystal Shards.
He is a Treasure and Speed oriented character. Locke gains his signature Limit Break, Mirage Dive, and deals damage in proportion to his Magic and Agility.
| Level | CP | HP | Strength | Magic | Agility | Luck | Stamina | Spirit |
| --- | --- | --- | --- | --- | --- | --- | --- | --- |
| 1 | 10 | 185 | 11 | 12 | 16 | 20 | 11 | 10 |
| 50 | 42 | 3257 | 92 | 94 | 127 | 164 | 90 | 79 |
| 99 | 50 | 4916 | 136 | 139 | 188 | 242 | 134 | 118 |
Abilities
Edit
Locke appears in Pictlogica Final Fantasy as a playable character. His initial weapon is the Baselard.
Locke is an ally and a summonable Legend depicted in his default Final Fantasy VI outfit. His ability is Mirage Dive. His EX abilities are Mirage Dive and Ifrit.
Most consider this globe-trotting treasure hunter to be no more than a common thief.
—Description
Locke is an exclusive character available from the Premium Character Shop as a random downloadable content. He uses the Mirage Dive ability during battle.
Locke appears in Final Fantasy Record Keeper.
Locke makes an appearance in the Final Fantasy Trading Card Game. His cards are Wind-elemental.
Non-Final Fantasy AppearancesEdit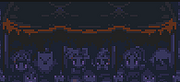 Secret of EvermoreEdit
In Secret of Evermore, Locke appears among the crowd of spectators that includes other Final Fantasy VI characters at the gladiator battle of Antiqua. He appears alongside Terra, Mog, Relm, Strago, and Umaro.

Other Media
Edit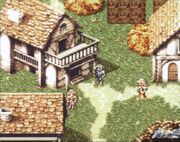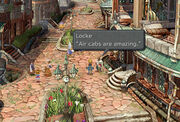 A concept image early in the development of Final Fantasy VII features an isometric view and Final Fantasy VI sprites, including Locke.
Namesakes of his have appeared in Secret of Evermore and in Final Fantasy IX as an NPC. Locke Cole is himself a namesake of a playable character in Final Fantasy Mystic Quest (see Tristam).
Author Scott Lynch makes a homage to Locke with the titular thief and con artist of his book The Lies of Locke Lamora.[4]
In The Order of the Stick, Elan dresses up as Locke when he tries to board the Blackjack with Thog dressed up as Mog. The wig and bandanna were discarded when he was discovered to be a fake, although he retains all other parts of Locke's clothing style.
The Magi-Nation Duel character Locke is a direct reference to Locke Cole's portrayal in Final Fantasy VI.
In Rudra no Hihō, two thieves by the name of Cid and Dune are view by the main characters as thieves and the party treats them as such. In these encounters, both thieves will repeatedly tell them that they are Treasure Hunters much in the same fashion to when it occurred to Locke.
In a Famitsu character popularity poll, Locke was the only character from Final Fantasy VI listed.
Etymology
Edit
[view  · edit  · purge]Locke is a surname of Old English and Old German origin and contains the elements "woods", "pond", and "fortified place", indicating that the person lived near such a landmark. It was used as an occupational name for a locksmith.
[view  · edit  · purge]Cole is an English name that comes from the Old English col, which can mean "charcoal" or "coal-black".
Locke is one of the two favorite Final Fantasy characters of Hiroyuki Ito, the other being Zidane Tribal.
Locke's Desperation Attack, Mirage Dive (or "Mirager" in the SNES version), is a Band ability in Final Fantasy IV: The After Years used by Edge and Kain.
Locke breaks the fourth wall when engaging Ultros for the third time in the Esper Caves. After Relm appears, he goes near the dialog box and says to himself while looking to the player, "A pint-sized virtuoso and an egotistical octopus, do I wanna know what's next?"
References
Edit
External Links
Edit