List of Lightning Returns: Final Fantasy XIII shops
Talk

0
Share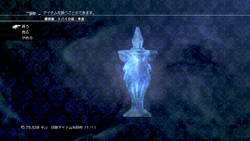 This article lists all the shops in Lightning Returns: Final Fantasy XIII. Shops are scattered all over Nova Chrysalia and are open at different times. Shop get new wares at Day 6, Day 8, and Day 11.
List of shops
Edit
Hope runs an item shop in the Ark. He sells them in exchange for EP.
Forge (Rare)
Edit
Forge (Rare) is a rare outfitters that spawns randomly around Nova Chrysalia to sell rare garbs and adornments.
Ad blocker interference detected!
Wikia is a free-to-use site that makes money from advertising. We have a modified experience for viewers using ad blockers

Wikia is not accessible if you've made further modifications. Remove the custom ad blocker rule(s) and the page will load as expected.