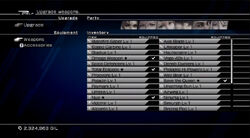 Most weapons and accessories in Final Fantasy XIII can be leveled up with components. Once the maximum level (indicated with a ★ as opposed to the item level appearing in the menu next to the item) has been reached, many are upgradable to another weapon or accessory altogether with catalyst minerals. The ability to upgrade is given early in the game and accomplished at save stations.
Catalysts
Edit
Catalysts, which cannot be improperly applied, are components used to upgrade weapons and accessories to their better counterparts. Catalysts can only be applied once the item has reached its maximum level, indicated by a star replacing the item's level in the menu. Trapezohedrons will always be used to transform a two-tier weapon into its third-tier form.
Weapon catalysts
Edit
Accessory catalysts
Edit
Ad blocker interference detected!
Wikia is a free-to-use site that makes money from advertising. We have a modified experience for viewers using ad blockers

Wikia is not accessible if you've made further modifications. Remove the custom ad blocker rule(s) and the page will load as expected.