List of Final Fantasy XIII Upgrades
Talk

15
15,962 pages on
this wiki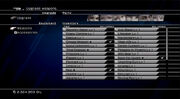 Most weapons and accessories in Final Fantasy XIII are capable of having their levels increased with components.
Once the maximum level (indicated with a star as opposed to the item level appearing in the menu next to the item) has been reached many are upgradable to another weapon or accessory altogether with catalyst minerals. The ability to upgrade is given early in the game and accomplished at save stations.
Catalysts
Edit
Catalysts, which can not be improperly applied, are components used to upgrade weapons and accessories to their better counterparts. Catalysts can only be applied once the item has reached its maximum level, indicated by a star replacing the item's level in the menu. Trapezohedrons will always be used to transform a two tier weapon into its third tier form. The list does not currently include all catalysts.
Weapon Catalysts
Edit
Catalyst
Applied to
Becomes

Adamantite

Axis Blade
Enkindler
Umbra
Solaris
Healer's Staff
Physician's Staff

Cobaltite

Organyx
Apocalypse
Aldebarans
Sadalmeliks
Tigerclaw
Wyrmfang

Dark Matter

Procyons
Betelgeuse Customs

Perovskite

Blazefire Saber
Flamberge
Edged Carbine
Razor Carbine
Wild Bear
Feral Pride
Unsetting Sun
Midnight Sun
Binding Rod
Hunter's Rod
Pearlwing Staff
Brightwing Staff
Rod of Thorns
Orochi Rod
Vega 42s
Altairs
Deneb Duellers
Canopus AMPs
Pleiades Hi-Powers
Hyades Magnums
Bladed Lance
Glaive
Partisan
Rhomphaia
Hawkeye
Eagletalon
Ninurta
Jatayu
Malphas
Naberius

Scarletite

Lifesaber
Peace Maker
Lionheart
Ultima Weapon
Paladin
Winged Saint
Power Circle
Battle Standard
Punisher
Banescissor Spear
Sacrificial Circle
Indomitus
Mistilteinn
Erinye's Cane
Gae Bolg
Gungnir
Pandoran Spear
Calamity Spear
Spica Defenders
Sirius Sidearms
Vidofnir
Hræsvelgr
Otshirvani
Urubutsin

Uraninite

Gladius
Helter-Skelter
Hauteclaire
Durandal
Rebel Heart
Warrior's Emblem
Feymark
Soul Blazer
Belladonna Wand
Malboro Wand
Heavenly Axis
Abraxas
Rigels
Polaris Specials
Antares Deluxes
Fomalhaut Elites
Airwing
Skycutter
Simurgh
Tezcatlipoca
Alicanto
Caladrius
Dragoon Lance
Dragonhorn
Shamanic Spear
Heretic Halberd
Taming Pole
Venus Gospel
Accessory Catalysts
Edit