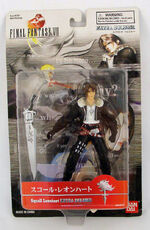 Three sets of figures were made for
Final Fantasy VIII
. The
Extra Soldier
series made by Bandai included eight characters from the main cast. The figures were first sold individually and later collected into two box sets, featuring three figures that were never before released:
Edea
,
Moomba
, and
Angelo
. Each figure was roughly 6.5" (16cm) tall with limited articulations and high level of details.
The Guardian Force and Monster Collection lines followed, made by ArtFX and distributed by Kotobukiya. Each figure in the Guardian Force series featured a bonus piece of the ship Ragnarok, which could be assembled once all eight figures were collected. The entire Guardian Force set also had a limited edition clear counterpart released. The Ragnarok pieces in these editions were clear as well.
All of the figures from the three series, even the clear Guardian Force figures, were later distributed in America. The only difference in the American release was that the boxes/blister cards were translated, recolored, and the Ragnarok pieces were not included.
Extra Soldier Series 1
Edit
These are packaged as standalone figures:
Extra Soldier Collection Volume 1
Edit
This is the only way to get the Edea figure. The boxset contains Squall, Selphie, Zell, and Edea.
Extra Soldier Collection Volume 2
Edit
This is the only way to get the Moomba figure. The boxset contains Seifer, Laguna, Rinoa, Moomba, and Angelo.

Guardian Force Series 2
Edit
Each Japanese figure included a segment of the Ragnarok figure that could be assembled with the collection of all eight Guardian Force figures. The English release did not include these pieces. Both English and Japanese sets are made in painted and clear versions.
Ragnarok (no box): Can only be assembled using the Japanese collection of Guardian Force figures. Hardest figure to find out of all the figures. It can be assembled with 8 of the figures, and clear editions of the figures give clear pieces of the ship.
Ragnarok (red box): Said to be sold for the English collection.
Monster Collection Series 3
Edit
External links
Edit