List of Final Fantasy IX Tetra Master cards
Talk

11
Share
Cloud:

I couldn't finish 'em. Looks like this's gonna get complicated.

The following tables are incomplete and require the identify the remaining cards for the PlayOnline version. Unknown cards are ??? areas to be filled. If you wish, please examine the table and add anything missing. Remove this notice upon completion.
The following is the list of Tetra Master cards in Final Fantasy IX and PlayOnline.
Tetra Master card list
Edit
See individual pages for info on how to acquire said card. Enemies usually drop their own card after battle. If the player's card quota is full, enemies stop dropping cards and the player cannot acquire more cards before discarding old ones. If the player finds a card in a Chocograph treasure while their card quota is full, the card is lost, but can be reclaimed by finishing the Chocobo Hot and Cold sidequest and talking to the Fat Chocobo in Chocobo's Paradise.
Cards are listed with their starting class, P or M, and their highest known initial stats.
PlayOnline version card list
Edit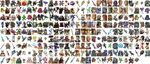 First row:

Goblin
Fang
Skeleton
Zombie
Bomb
Sahagin
Mimic
Grand Dragon
Feather Circle
Ogre (FFIX)
Wraith
Grimlock
Mover
Ozma
Priest's Racket
Whale Whisker
Mace of Zeus
Ultima Sword
Tidus
Lulu
Rikku (Al Bhed combat diving suit)
Fayth of Bahamut
O'aka XXIII
Datto
Anima
Spirit Lance
Negator
???

Second row:

Flan
Zaghnol
Lizard Man
Ironite
Yeti
Wyerd
Mandragora
Hecteyes
Armstrong
Gargoyle
Veteran
Behemoth
Hades
Ifrit
Angel Flute
Gastro Fork
Carbuncle
Yuna
Kimahri
Braska
Maechen
Belgemine
Keepa
Mindy
Kilika Monkey
Biran Ronso
Sinspawn Echuilles
Gandarewa

Third row:

Crawler
Sand Scorpion
Sand Golem
Carrion Worm
Cactuar
Hedgehog Pie
Troll
Ash
Vepal (Green)
Garuda
Iron Man
Garland
Ramuh
Leviathan
The Tower
Hippaul
Yuna (Wedding Dress)
Rikku
Cid
Lucil
Rin
Ixion
World Champion
Mandragora (FFX)
???
Tonberry
Piranha (Paired)
Dark Flan
Fourth row:

Nymph
Zuu
Cerberus
Gimme Cat
Ralvuimago
Blazer Beetle
Zemzelett
Tonberry (FFIX)
Malboro
Nova Dragon
Titan
Atomos
Bahamut
Fenrir
???
Wakka
Seymour Guado
Yunalesca
Dona
Jassu
Cindy
Godhand
Crawler (FFX)
Seymour Omnis
Garuda (FFX)
Great Malboro
Demonolith
Ogre (FFX)

Fifth row:

Dragonfly
Antlion
Ragtime Mouse
Ochu (FFIX)
Abomination
Stroper
Tantarian
Abadon
Fratley
Shiva
Odin
Ark
Madeen
Butterfly Sword
Auron
Jecht
Shelinda
Isaaru
Valefor
Brotherhood
???
???
Sinspawn Geneaux
Piranha
Iron Giant
Defender Z
Prima Vista
Moogle

Sixth row:

Excalibur II
Ultima Weapon
Ruby
Tiger Racket
Blue Narciss
Hilda Garde I
Choco
Alexandria
Chocobo
Amarant
Brahne
Quina (Trance)
Trance Kuja
Lani
Yo Mika
Chappu
Brother
Yojimbo
Blitzball
Chocobo Eater
???
Sinspawn Genais
Ochu
Coeurl
YKT-63
Gargant
Garnet
Steiner
Seventh row:

Masamune
Marcus
Save the Queen
Hilda Garde III
Red Rose
Frog
Twin Moons
Eiko
Vivi
Kuja
Amarant (Trance)
Nero Brothers
Mistodon
Ladybug
Botta
Letty
Sandy
Masamune (FFX)
Evrae
Sinspawn Ammes
Cactuar (FFX)
Malboro Menace
Greater Sphere
Grendel
Garnet (Trance)
Steiner (Trance)
Thorn
Blank

Eighth row:

Cinna
Dagger
Invincible
Viltgance
Oglop
Namingway
Freya
Zidane
Eiko (Trance)
Vivi (Trance)
Zorn
Quan
???
???
Botta
Nirvana
Shoopuf
Yenke Ronso
Sinspawn Gui
Abaddon
Behemoth King
Evil Eye
Necron
Masked Man
Defender
Dragon's Hair
Rune Claws
Wendigo

Ninth row:

Mythril Sword
Cargo Ship
Fat Chocobo
Lindblum
Airship
Quina
Beatrix
Freya (Trance)
Zidane (Trance)
Baku
King Leo
Lich
Orichalcon
Kain's Lance
Onion Knight
Geosgaeno
Seymour Natus
Master Tonberry
Piranha (Trio)
Stratoavis
Dingo
Sin
Qactuar
Magic Urn
Chimera
Al Bhed Primer
Ad blocker interference detected!
Wikia is a free-to-use site that makes money from advertising. We have a modified experience for viewers using ad blockers

Wikia is not accessible if you've made further modifications. Remove the custom ad blocker rule(s) and the page will load as expected.