Relm
:
I couldn't miss the chance to practice my drawing!
This article is in need of a few pictures. Perhaps you can help by uploading a picture of the icons for the Bard, Beastmaster, Magus, and Freelancer jobs.

Barret
:
There's no gettin' off this train we on 'till we reach the end of the line.

The following is a list of jobs in Final Fantasy Airborne Brigade.
Note: The second weapon listed only gets the preferred weapon bonus when the job reaches level 10.
| Name | Image | Type | Preferred Weapon | How to Obtain |
| --- | --- | --- | --- | --- |
| Black Mage | | INT | Rod, Scythe | Available from the start. |
| White Mage | | INT | Staff, Rod | Available from the start. |
| Red Mage | | INT | Sword, Staff | Available from the start. |
| Thief | | AGI | Dagger, Throwing | Available from the start. |
| Warrior | | STR | Greatsword, Spear | Available from the start. |
| Monk | | STR | Fist, Staff | Available from the start. |
| Paladin | | STR, INT | Greatsword, Staff | Level 5 Monk, Level 10 White Mage |
| Dark Knight | | STR, INT | Sword, Scythe | Level 5 Warrior, Level 10 Black Mage |
| Dancer | | AGI, INT | Dagger, Fist | Level 5 Thief, Level 10 Red Mage |
| Dragoon | | STR, AGI | Spear, Sword | Level 10 Warrior, Level 10 Thief |
| Orator | | AGI, INT | Gun, Bow | Level 10 Juggler, Level 15 Gambler |
| Samurai | | STR, AGI | Katana, Spear | Level 10 Dragoon, Level 15 Warrior |
| Viking | | STR, AGI | Fist, Axe | Level 10 Berserker, Level 5 Ranger |
| Blue Mage | | AGI, INT | Sword, Rod | Level 10 Blacksmith, Level 15 Red Mage |
| Machinist | | STR, AGI | Bow, Spear | Level 15 Berserker, Level 5 Blacksmith |
| Necromancer | | INT, AGI | Rod, Dagger | Level 15 Black Mage, Level 15 Shaman |
| Devout | | INT, AGI | Rod, Staff | Level 15 White Mage, Level 15 Scholar |
| Magus | | INT, AGI | Staff, ??? | Level 20 Black Mage, Level 15 Bard |
| Rune Knight | | INT, STR | Greatsword, Sword | Level 5 Paladin, Level 5 Mystic Knight |
| Black Belt | | INT, AGI | Fist, Throwing | Level 5 Berserker, Level 5 Dancer |
| Ninja | | STR, AGI | Katana, Throwing | Level 10 Monk, Level 10 Dancer |
| Sword Saint | | STR, AGI | Greatsword, Katana | Level 10 Samurai, Level 10 Mystic Knight |
| Assassin | | STR, AGI | Katana, Bow | Level 15 Ninja, Level 10 Gambler |
| Parivir | | STR, AGI | Sword, Katana | Level 15 Samurai, Level 10 Fighter |
| Geomancer | | AGI | Musical Instrument, Axe | Login 7 times. |
| Ranger | | AGI | Bow, Gun | Clear the Mist Region. |
| Mystic Knight | | INT | Sword, Dagger | Clear the Kolts Region. |
| Berserker | | STR | Fist, Scythe | Clear the Pravoka Region. |
| Blacksmith | | AGI | Staff, Axe | Clear the Ronka Region. |
| Gambler | | AGI | Gun, Throwing | Clear the Moore Region. |
| Juggler | | AGI | Dagger, Bow | Clear the Fabul Region. |
| Shaman | | INT | Staff, Dagger | Clear the Ruins of Istory. |
| Scholar | | INT | Fist, Dagger | Clear the Temple of Kairyu or Clear Myraluka Region. |
| Fighter | | STR | Fist, Greatsword | Clear the Dimensional Tower. |
| Bard | | AGI | Instrument, Dagger | Clear a certain mission in the Mist region. |
| Beastmaster | | INT | Bow, Instrument | Clear a certain mission in the Kolts region. |
| Mascot | 50px | INT | Sword, Staff | Clear a certain mission in the Plaboka region (Japan Only). |
| Freelancer | | | (none) | Tutorial only. |
Job Tree
Edit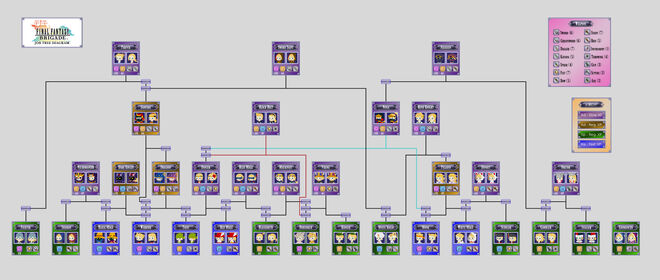 Above file is the edited version of this original one in Japanese: link