List of Final Fantasy Airborne Brigade jobs
Talk

4
Share
Ad blocker interference detected!
Wikia is a free-to-use site that makes money from advertising. We have a modified experience for viewers using ad blockers

Wikia is not accessible if you've made further modifications. Remove the custom ad blocker rule(s) and the page will load as expected.
Relm:

I couldn't miss the chance to practice my drawing!

This article is in need of a few pictures. Perhaps you can help by uploading a picture of the icons for the Bard, Beastmaster, Magus, and Freelancer jobs.
Barret:

There's no gettin' off this train we on 'till we reach the end of the line.

This article is about game content that's continually being updated. As such, some of the information might be inaccurate or likely to change. Please look over our

policy for updating articles covering upcoming games

before editing this page.
FFAB The following is a list of jobs in Final Fantasy Airborne Brigade.
Note: The second weapon listed only gets the preferred weapon bonus when the job reaches level 10.
| Name | Image | Type | Preferred Weapon | How to Obtain |
| --- | --- | --- | --- | --- |
| Black Mage | | INT | Rod, Scythe | Available from the start. |
| White Mage | | INT | Staff, Rod | Available from the start. |
| Red Mage | | INT | Sword, Staff | Available from the start. |
| Thief | | AGI | Dagger, Throwing | Available from the start. |
| Warrior | | STR | Greatsword, Spear | Available from the start. |
| Monk | | STR | Fist, Staff | Available from the start. |
| Paladin | | STR, INT | Greatsword, Staff | Level 5 Monk, Level 10 White Mage |
| Dark Knight | | STR, INT | Sword, Scythe | Level 5 Warrior, Level 10 Black Mage |
| Dancer | | AGI, INT | Dagger, Fist | Level 5 Thief, Level 10 Red Mage |
| Dragoon | | STR, AGI | Spear, Sword | Level 10 Warrior, Level 10 Thief |
| Orator | | AGI, INT | Gun, Bow | Level 10 Juggler, Level 15 Gambler |
| Samurai | | STR, AGI | Katana, Spear | Level 10 Dragoon, Level 15 Warrior |
| Viking | | STR, AGI | Fist, Axe | Level 10 Berserker, Level 5 Ranger |
| Blue Mage | | AGI, INT | Sword, Rod | Level 10 Blacksmith, Level 15 Red Mage |
| Machinist | | STR, AGI | Bow, Spear | Level 15 Berserker, Level 5 Blacksmith |
| Necromancer | | INT, AGI | Rod, Dagger | Level 15 Black Mage, Level 15 Shaman |
| Devout | | INT, AGI | Rod, Staff | Level 15 White Mage, Level 15 Scholar |
| Magus | | INT, AGI | Staff, ??? | Level 20 Black Mage, Level 15 Bard |
| Rune Knight | | INT, STR | Greatsword, Sword | Level 5 Paladin, Level 5 Mystic Knight |
| Black Belt | | INT, AGI | Fist, Throwing | Level 5 Berserker, Level 5 Dancer |
| Ninja | | STR, AGI | Katana, Throwing | Level 10 Monk, Level 10 Dancer |
| Sword Saint | | STR, AGI | Greatsword, Katana | Level 10 Samurai, Level 10 Mystic Knight |
| Assassin | | STR, AGI | Katana, Bow | Level 15 Ninja, Level 10 Gambler |
| Parivir | | STR, AGI | Sword, Katana | Level 15 Samurai, Level 10 Fighter |
| Geomancer | | AGI | Musical Instrument, Axe | Login 7 times. |
| Ranger | | AGI | Bow, Gun | Clear the Mist Region. |
| Mystic Knight | | INT | Sword, Dagger | Clear the Kolts Region. |
| Berserker | | STR | Fist, Scythe | Clear the Pravoka Region. |
| Blacksmith | | AGI | Staff, Axe | Clear the Ronka Region. |
| Gambler | | AGI | Gun, Throwing | Clear the Moore Region. |
| Juggler | | AGI | Dagger, Bow | Clear the Fabul Region. |
| Shaman | | INT | Staff, Dagger | Clear the Ruins of Istory. |
| Scholar | | INT | Fist, Dagger | Clear the Temple of Kairyu or Clear Myraluka Region. |
| Fighter | | STR | Fist, Greatsword | Clear the Dimensional Tower. |
| Bard | | AGI | Instrument, Dagger | Clear a certain mission in the Mist region. |
| Beastmaster | | INT | Bow, Instrument | Clear a certain mission in the Kolts region. |
| Mascot | 50px | INT | Sword, Staff | Clear a certain mission in the Plaboka region (Japan Only). |
| Freelancer | | | (none) | Tutorial only. |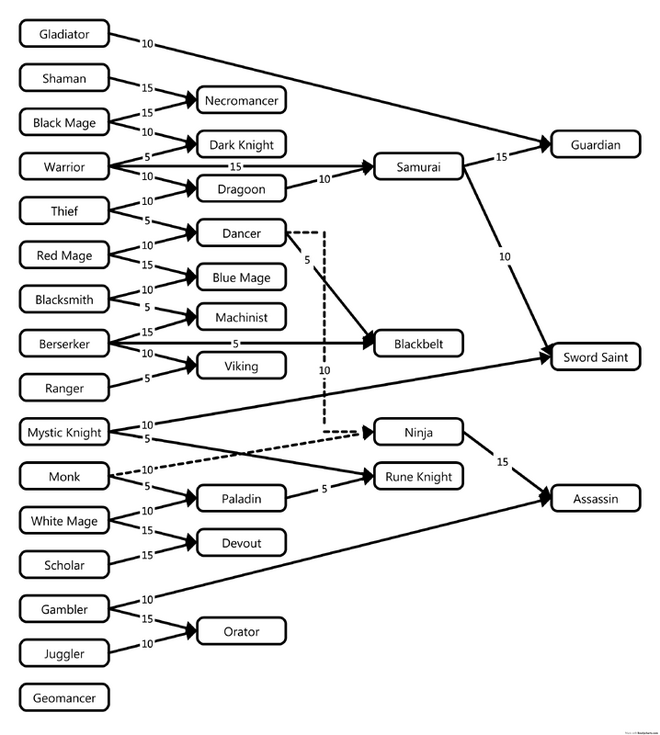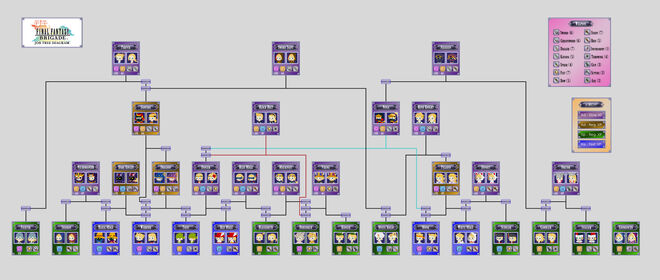 Above file is the edited version of this original one in Japanese: link