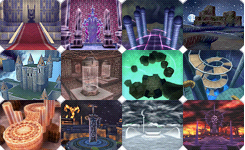 This is a list of battle arenas from Dissidia Final Fantasy and Dissidia 012 Final Fantasy. Many of the stages in the game are areas in which the main antagonist was confronted in their respective games. However, the game does include two original stages. Each arena that appeared in the original also has an alternate (Ω) map that could possibly turn things around. Most of the new arenas in the sequel however, have no (Ω) versions.

Preexisting Stages
Edit
Original Stages
Edit
Order's Sanctuary: This is the area where Cosmos resides.

(Ω): The Brave pool is always shown as 0. But if a character enters Break mode, the other character's brave points will double.

Edge of Madness: This is the area where Chaos resides.

(Ω): The Brave pool alternately increases and decreases.
Duodecim Stages
Edit
Ad blocker interference detected!
Wikia is a free-to-use site that makes money from advertising. We have a modified experience for viewers using ad blockers

Wikia is not accessible if you've made further modifications. Remove the custom ad blocker rule(s) and the page will load as expected.