Lindblum (Final Fantasy XIII)
Talk

0
13,965 pages on
this wiki
Relm

: I couldn't miss the chance to practice my drawing!
This article is in need of a few pictures. Perhaps you can help by

uploading

a picture of maps.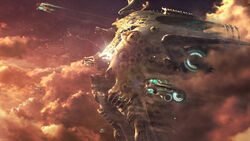 The Lindblum (リンドブルム, Rindoburumu?) is a Guardian Corps Cavalry airship under the command of Cid Raines in Final Fantasy XIII. This massive airship serves as a docking base for all the other airships in its fleet and base for the Cavalry.
See also: Datalog/Cocoon Society.
Due to the expansive area it patrols and the need for mobility, the Wide-area Response Brigade has no fixed base. The Lindblum is the command ship of the brigade and serves as both home and headquarters for its soldiers. It is heavily armed and armored for a Guardian Corps craft, but is easily outclassed by the anti-Pulse gunships built for the main PSICOM fleet.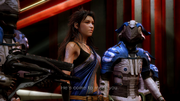 At the end of Chapter 3, Oerba Yun Fang takes Snow Villiers on the Lindblum after he is captured. Cid meets with them, and although Snow is resistant, Fang restrains him and Cid takes his leave. Later, Fang and Snow descend into Palumpolum at the start of Chapter 7 with the aim of stopping Lightning and Hope's execution at the hands of Yaag Rosch and the Sanctum.
The Lindblum along with Rygdea shows up to save the group at the end of Chapter 7 when they find themselves cornered at the Estheim residence by Yaag. It bombards the PSICOM troops allowing the team to escape after having destroyed the Havoc Skytank.
At the beginning of Chapter 9, Sazh and Vanille have been taken prisoner on board the Palamecia and Lightning, Hope, Snow, and Fang intend to board it to help save them. For a brief period, it is possible to walk about on the main deck of the Lindblum before they depart with Rygdea for the Palamecia.