Relm:

I couldn't miss the chance to practice my drawing!

This article is in need of a few pictures. Perhaps you can help by uploading a picture.
Cid:

Oh, shut up and help me remodel the Lightning equipment page!

Please expand this article into a full one. The following tasks need to be completed:

adding missing equipment to appropriate sections.

This request can be discussed on the associated discussion page. Remove this notice upon completion.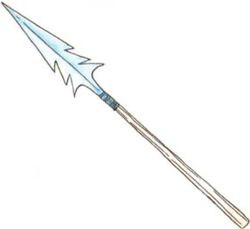 Lightning equipment (サンダー, Sandā?) is a recurring type of equipment in the Final Fantasy series. Although less in number than its brethren flame equipment and ice equipment, Lightning equipment has been around since Final Fantasy II. It is also known as Thunder, Bolt, Yellow, Spark, and sometimes Shock or Shocking equipment, depending on which game it is featured in, and sometimes changes between names in the same game.
It should not be confused with diamond equipment, which occasionally has the attribute of resistance to Lightning. It includes body armor, helmet, shield, the recurring Coral Sword, rod, staff, bow, spear, gloves, and armlets, although weapons are more recurring, due to the existence of the aforementioned Diamond equipment.
Appearances
Edit
I While no weapons deal lightning-elemental damage, the Thor's Hammer and Gauntlet both cast Thundara when used, and, as such, could be considered to be affiliated with the lightning element.
II The Thunder Lance is the first lightning-elemental weapon.
III This installment marks the start of a massive wave of lightning-elemental equipment.
Weapons include:
Spark Dagger
Serpent Sword
Light Arrow
Book of Light
Tome of Light
Thunder Spear
Hammer
Dragon Hammer
Triton Hammer
Platinum Hammer
Blessed Hammer
Mighty Hammer
IV Several lightning-elemental equipment appears in this installment, though some only appear in the 3D version.
Weapons include:
Thundershard
Thunder Arrows
Blitz Whip
Thunder Claws
Abel's Lance
Coral Sword
Thor's Hammer
Thunder Rod
FFIV-I- The only piece of equipment that appears is the Blitz Whip and the Lightning Arrow.
FFIVTAY With the exception of the Thundershard, every piece of lightning-elemental equipment returns with the same statistics.
V The following are all the Lightning-elemental equipment:
Lightning Bow
Thunder Rod, which can cast Thundaga when used as an item in battle, as well as increasing the damage of all lightning-elemental attacks by 50%.
Coral Sword
Blitz Whip
VI In this installment, and in many future games, lightning-elemental equipment becomes more scarce and less readily available to use.
List of lightning equipment:
Thunder Blade
Thunder Rod
Thunder Shield
VII There are no lightning-elemental weapons or armor (besides the ones listed below). Instead, by pairing the lightning-element with the Elemental Materia in the weapon slot makes lightning-elemental weapons. The Armor slot makes lightning-elemental armor.
List of Lightning-elemental equipment:
FFVIICC List of lightning-elemental equipment:
Lightning Ring
Armlet
Thunder Armlet
Bolt Armlet
IX List of lightning-elemental equipment:
Coral Sword
Lightning Staff
Flash Hat
Rubber Helm
Thunder Gloves
Coral Ring
Extension
X Any armor with "Lightning Ward" or "Lightningproof" as its dominant ability is called Yellow [Armor] (Shield, Bangle, Bracer, etc). However, any piece of armor may be equipped with this ability.
If "Lightning Strike" is the dominant ability on a character's weapon, it becomes:
Tidus's Lightning Steel
Auron's Thunder Blade
Rikku's Shocking Fist
Wakka's Thunder Ball
Lulu's Thunder Moomba
Yuna's Rod of Lightning
Kimahri's Thunder Spear
XI List of lightning-elemental equipment:
Heat Rod
Ramuh's Mace
Spark Dagger
Spark Baselard
Spark Kris
XII List of lightning-elemental equipment:
FFXIIRW List of lightning-elemental equipment:
Tempestblade
Rudra Tulwar
Rod of Lightning
Storm Wand
Zeus Mace
Discharger
Vortex
Storm Lance
Lúin
Raijoudou
Tyrfing
XIII The Spark Ring, Fulmen Ring, and Raijin Ring are the only occurrences of lightning-elemental equipment.
FFT The Coral Sword, Lightning Bow, Blaster/Blast Gun, and Gungnir (obtained via Rendezvous) are the only lightning equipment.
TA2 List of lightning-elemental equipment:
Thunder Robe
Thunder Rod
Thor Rod
Nike Bow
TYPE0 List of lightning-elemental equipment:
Voltaic Flute
Voltaic Mace
Voltaic Whipblade
Voltaic Spear
Voltaic Saber
Thunderslashes
Voltaic Daggers
FFCC List of lightning-elemental equipment:
Storm Mail
Storm Shield
Storm Armlets
Storm Helm
Storm Sash
FFCCRoF List of lightning-elemental equipment:
Yellow Cone Hat
Yellow Magic Hat
Yellow Outfit
Yellow Robe
FFCCEoT List of lightning-elemental equipment:
Lightning Staff
Thor Smasher
Thunder Pike
Yellow Cone Hat
Yellow Outfit
FFA The weapon is called Thunder and it has a spear icon before its name. The Thunder is the strongest spear, having an attack power of 46, and deals lightning-elemental damage. It can be bought for 11,250 GP at the Weapon shop in the plain of Floatrocks.
FFL The weapon Elec has a sword icon before its name. It can be bought in Southwest Town and Ameyoko for 24,700 GP. It has 50 use and an attack power of 10, the damage formula for Elec is base on Strength. This sword is Elec-elemental.
FFL2 The weapon is called Thunder and it has an axe icon before its name. It can be bought for 17000 GP in Race Circuit and Hana's Town. It has 40 use, it also increases a Robot's HP by 81 and increases their Str by 18. The damage formula for Thunder is the user's Str x12, deals thunder-elemental damage.
FFL3 The Thunder Staff has an attack power of 22 and deals Thunder-elemental damage.
4HoL Due to the elemental system used, all lightning-elemental equipment are light-elemental instead.
List of light equipment:
Bolt Bow
Book of Ramuh
Holy Knife
Holy Lance
Holy Shield
Indra's Spear
Shine Cape
Shining Axe
Shining Blade
Shining Harp
Shining Staff
Stardust Bow
Stun Stiletto
Stunning Harp
Thunder Axe
White Book
BD List of lightning equipment:
BS List of lightning equipment:
Dissidia012 Thunder Shield is a level 60 shield that provides +61 Defense and +10% Wall Rush HP Damage. It can be obtained by trading 132,880 gil, Lustrous Shield, Taharka Husk, and Flash's Dream x5.
ATB The Thunder Rod is the only piece of lightning equipment that appears.