Lightning Returns: Final Fantasy XIII
Talk

32
13,959 pages on
this wiki
Balthier: I'm afraid the jury's still out on that one.
This article is about a game that's still to be released. As such, some of the information might be inaccurate or likely to change.
Lightning Returns: Final Fantasy XIII
ライトニング リターンズ ファイナルファンタジーXIII
Raitoningu Ritānzu: Fainaru Fantajī Sātīn
Developers
Square Enix
Publishers
Square Enix
Release dates
PlayStation 3 & Xbox 360
Genre
Action role-playing game
Game modes
Single player
Ratings
TBA
Platforms
PlayStation 3, Xbox 360
"How will you spend your final days?"
—Tagline.[1]
Lightning Returns: Final Fantasy XIII is the direct sequel to Final Fantasy XIII-2, part of the Fabula Nova Crystallis: Final Fantasy series. Intended to end the Final Fantasy XIII trilogy, it features Lightning as the main protagonist. The game takes place five hundred years in the future and will feature "a brand-new story, world, characters, and an enhanced gameplay system", according to Square Enix.
In Lightning Returns: Final Fantasy XIII, the game's retail version will contain the complete story, meaning players won't have to purchase downloadable content to see the end of the story like in Final Fantasy XIII-2.[2] It has been stated that unlike its predecessor, the game will feature just one ending. Square Enix has said fans of characters from the previous Final Fantasy XIII games will be happy with the characters' stories in Lightning Returns, and that loose ends will be tied up.[2]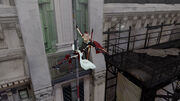 Players will take control of Final Fantasy XIII's main character, Lightning, as the sole playable character. She will traverse freely over the game's variety of terrain and can jump on obstacles, such as telephone poles, and use elements of stealth. Her abilities differ based on her elevated height. The player can either walk between destinations or use the monorail for faster travel. Chocobos will be available to use at some point in the game.
Monsters will range in size and can be enormous. They will appear in cities.[3] Although many enemies return from previous titles, it has been said about half of the monsters in Lightning Returns: Final Fantasy XIII will be new. Because of time's ever-flowing nature, the non-player characters' locations will keep changing.[2] When the player travels Luxerion, the non-player characters change behavior throughout the day; in the morning the streets are sparsely populated, and later in the evening people will be seen commuting home.[4]
The Crystarium System will not appear in Lightning Returns: Final Fantasy XIII; instead, abilities are purchased from shops. The player can also buy equipment, magic and items, and visit restaurants to buy food items that restore HP or status effects.[5]
Enemies are found on the field and Lightning can sneak up on them to perform preemptive strikes, and if Lightning can strike first, the enemy will lose 10% of their starting HP; if Lightning can strike an enemy from behind, they'll lose 25%.[5]
The battle system will be a heavily modified version of the Command Synergy Battle system the two previous games used and will feature real time features, such as freely taking control of Lightning's movements and attacks, and a real time block, dodge and counter system. The new combat system does not yet have an official name, but is tentatively referred to as "Amazing ATB" because it is derived from the classic Active Time Battle system.[2]
Players can assign four commands to the controller's face buttons and instead of selecting commands, players will press buttons that correspond to the individual abilities. However, there will also be timing-based mechanics. Though the battle system is of an action-RPG, it will feature an ATB gauge and every action depletes this bar. Players will have access to several different custom-made Paradigm-like "Styles" that change Lightning's assigned skills on-the-fly. Each Style has its own ATB gauge, meaning the player can swap between Styles and maintain constant action while allowing the other Style to recharge. If the player run out of ATB and they cannot perform any actions, but the gauges will gradually refill as Lightning idles. By tilting the left analog stick the player can move Lightning on the battlefield.[4]
Lightning will be fully customizable with wide array of costumes, weapons, and different battle styles. Styles allow players to put together a weapon, a shield, accessories and abilities to create different skills and attributes for battle. These abilities do not include just commands during combat, but also actions taken on the field.[2] Players can preset different Styles and change between them, similar to how Paradigm Shift worked in earlier games. Abe states there is a lot of freedom in terms of customization, so the player can create a well-balanced character or an all-powerful one.[6]
Lightning Returns: Final Fantasy XIII is said to feature tougher enemy types and boss battles with the key being destroying various body parts on the monsters.[6] Enemies will have multiple weaknesses so the player can knock them down in multiple ways making for less repetitive gameplay.[7]
The knockdown system replaces the stagger system seen in Final Fantasy XIII and Final Fantasy XIII-2. The icons under an enemy's HP gauge are attributes that govern its strengths and weaknesses. Lightning can assemble a Style that exploits the weak points. Via the Knockdown system Lightning can juggle an enemy in the air continuously with her attacks.[4]
Status ailments inflicted on Lightning will not be removed after the battle is finished, but the player can go to restaurants to restore her lost HP and heal from afflicted status ailments.[8]
Lightning will have a variety of movements and will be able to climb, jump, crouch, take cover behind walls and objects, climb over and hang off ledges, and a variety of other moves both in and out of battle.[9]
The "Doomsday Clock"
Edit
The game plays on the world-driven concept with a "doomsday clock" element that determines Lightning needs to prevent the world's destruction within thirteen days. She can turn back the clock by defeating enemies or performing certain actions and completing certain missions posted on bulletin boards to give more time to the player. Sometimes if Lightning helps people it will reduce the life of the world.[10] The "Lightspeed" ability allows Lightning to slow time down for everything except her at the cost of consuming time from the thirteen day limit.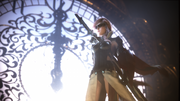 A day in the world of Lightning Returns: Final Fantasy XIII lasts twenty-four hours, like in the real world, as after the Day of Ragnarok in Final Fantasy XIII, two hours were lost.[11] This is to make up for the clocks in Nautilus and Oerba's schoolhouse in Final Fantasy XIII that were 13-hour clocks, and for Mog in Final Fantasy XIII-2 having a 12-hour clock to show the change in a day's length. According to Motomu Toriyama, the developers are still determining the length of an in-game day, with the current popular choices being between one and two real-time hours.[12] Time stands still when the game's menu is open.
The player may want to be in specific locations in specific times where black haze called Cie will appear indicating the area has become monster territory, where the player will find the toughest opponents. Defeating monsters gives items used to strengthen equipment as well as points to extend the time on the doomsday clock.[2]
Because the play time can be extended, it allows for a player-specific game experience, and different choices yield different events. It will not be possible to see every cutscene in one playthrough and the time management structure means players can have different experiences each time they play the game.[12] However, Abe has stated he acknowledges players want a 100-hour RPG experience and that is possible with Lightning Returns: Final Fantasy XIII.
The game is set in a world called Nova Chrysalia; known in the Japanese version as Novus Partus (Latin for "New Offspring", "New Births", "New Cocoon", or "Rebirth"), a world created when Gran Pulse and Valhalla came together. It is composed of four continents (two natural and two cityscape) surrounded by a Sea of Chaos and connected by a monorail system. The game is said to contain traditional RPG elements such as dungeons, towns, and shops. Nova Chrysalia is said to be an active open-world with many platforming elements.[13] Art director Isamu Kamikokuryo has said players have a high degree of freedom and will see new roads and cities from tall landmarks and can easily get lost.
Nova Chrysalia has been designed similar to a "tourist guide style" seen in MMORPG's and each team presented the continents in this style. Abe stated that in Final Fantasy XIII many areas were places the player could only pass through, but in Lightning Returns: Final Fantasy XIII, there are many places to explore.[14] Keywords for the world's design are "gothic, mechanical, and fantasy". According to director Motomu Toriyama, the world will face constant changes by the hand of a new weather system and day/night cycles, with monsters becoming more vicious at night time. The world is said to be finely detailed and to change in real time along with the passing of day and night and is said to have links to the real world, and "will see setups with the world of Final Fantasy entering into our everyday lives".[15]
NPCs dress up in a variety of ways: some wear long robe-like black and white garbs with golden masks and mechanical backpacks, while others, such as thieves, dress up in a "cyber-style".[16] The citizens of the world are aware of its impending doom, but only few know how much time there is left.[4]
Nova Chrysalia will contain a complete mix of architecture ranging from medieval-style to modern. One example being in Luxerion, the largest city in Nova Chrysalia.[16] The city will have clocks in various places so the player can see the progression of time.[10] Etro's Shrine is present in Nova Chrysalia, and behind it floats Bhunivelze, the new Cocoon.[16] Two other continents are the Wildlands comprised of vast and open forests, plains, and mountains, including dungeons and small villages to explore, and the Dead Dunes that features dungeons and ruins alongside a vast desert said to feature unique action/adventure gameplay. The world is said to be the most vicious setting yet seen in the Fabula Nova Crystallis: Final Fantasy series due to the results of chaos infecting the planet.[16]
Characters
Edit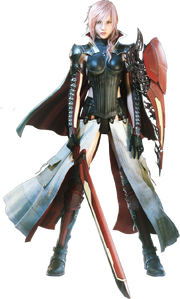 Playable Characters
Edit
Lightning (

ライトニング

,

Raitoningu

?

) - The main protagonist. After sleeping in crystal stasis for five centuries, Lightning awakes in Nova Chrysalia as a savior of souls chosen by Bhunivelze. She learns the world faces oblivion in thirteen days and fights to save it.
Director Motomu Toriyama has stated that Lightning is stronger now, and is a 'considerably more refined person'.
Other Characters
Edit
Lightning Returns: Final Fantasy XIII will conclude Lightning's story and follow her quest to save the world as it will face Armageddon in thirteen days. The game takes place five hundred years after Final Fantasy XIII-2 (in the year 1000 AF) and Lightning will enter the final battle against a fate brought about by a new deity.[15]
The people from Final Fantasy XIII-2 are not dead due to the world's merger having affected the chaos dwelling within human hearts as per the Fabula Nova Crystallis lore, stopping humans from aging though they have not gained immortality.[4]
Bhunivelze, the god who created the other fal'Cie gods – Pulse, Lindzei and Etro, will feature heavily in the story; whereas the other games in the series have focused on the other Fabula Nova Crystallis gods, Lightning Returns: Final Fantasy XIII will focus on Bhunivelze's awakening. The people of Luxerion worship him and want him to create a new world.
There is a rebel group against followers of Bhunivelze and the 'Savior', although the group is unaware the Savior is Lightning. It's been said they are the cause of mysterious murders in Luxerion and use them to lure Lightning out. Another reason for the ongoing chain of deaths is questioning the phenomenon of a broken cycle of life (there are no newborns, nor natural deaths), as anyone who questions the phenomenon is silenced.[21]
The music for Lightning Returns: Final Fantasy XIII will be composed by Masashi Hamauzu, Naoshi Mizuta and Mitsuto Suzuki, who previously worked on Final Fantasy XIII-2.[22]
"Crimson Blitz", the track from the JumpFesta announcement trailer, was released on December 23rd, 2012, on iTunes as part of the game's promotion campaign. Hamauzu says that "Crimson Blitz" was composed in Le Locle, Switzerland, during his Europe tour as the church bell rings every fifteen minutes, and that reminded Hamauzu of the passing time in Lightning Returns: Final Fantasy XIII.[23]
Each of the continents will have its own composer, and depending on the time of a day – morning, afternoon, evening, and night – a different song will play.[23]
The Dead Dunes area is said to have a Middle Eastern tone to it.[24]
Development
Edit
Square Enix registered a domain name for Final Fantasy XIII-3 on September 7, 2011, but no development plans were announced. A representative of Square Enix noted the filing was to protect the Final Fantasy XIII IP and was not indicative of a new title.[25] During the interview with 4gamer in early December 2012, Kitase said the team decided not to name the game Final Fantasy XIII-3 as it "would give the impression that it was a direct evolution of XIII-2, rather than the 'new experience'".[26]
The Final Fantasy XIII-2 Ultimania Omega book released on June 21st 2012, contains an interview with Yoshinori Kitase and Motomu Toriyama that sees the pair suggesting a successor to Final Fantasy XIII-2. Kitase stated (the last part about Lightning's DLC Episode) that "explaining 'XXX Years Later' would be pointless. It might seem that the line 'To Be Continued...' means that Lightning's chapter will continue in more download content, but we are doing it in a different interpretation".
In a scenario interview with Toriyama and Watanabe, Toriyama said that although Final Fantasy XIII-2 didn't bring the happy ending for Lightning he promised before in Final Fantasy XIII Ultimania Omega, he hopes to tell more stories from the Fabula Nova Crystallis.
The development for Lightning Returns: Final Fantasy XIII started soon after the global release of Final Fantasy XIII-2.[27] The developers have later said they always had a concept of expanding the story of Final Fantasy XIII since the start of Final Fantasy XIII-2 project but weren't fully decided on whether to make it a trilogy.
In August, Square Enix launched an official website regarding the new entry into the saga and at the Final Fantasy 25th Anniversary event, the Final Fantasy XIII stage took place at 11:30 on September 1st, titled 'Final Fantasy XIII Lightning Saga: New Developments Presentation', where Lightning Returns: Final Fantasy XIII was announced. Motomu Toriyama, Yuji Abe, and Isamu Kamikokuryo each presented an element of what the game would be about yet only disclosed that Lightning's new appearance, designed by Tetsuya Nomura, would play on her light, speed, and elegance.
As of September 4th, 2012, the game was confirmed to be 30% complete.[10] As Lightning Returns: Final Fantasy XIII is the third title on the current generation hardware, Motomu Toriyama has said it to be the most complete and polished game in the Final Fantasy series.[15]
In a developer interview with Famitsu on September 6th, 2012, Kamikokuryo stated that Lightning Returns: Final Fantasy XIII is using newly designed assets to build the game. Nova Chrysalia is being built from the ground-up from many drawings, as well. Graphically, Lightning herself also looks beautiful.[6]
On October 10th, 2012, Nomura reported he has finished the designs of the outfits for Lightning and Snow Villiers and that his work in the game had been completed.[18] In terms of technology, Lightning Returns: Final Fantasy XIII shares the same elements from Final Fantasy Versus XIII, while sharing a few gameplay and design elements of Final Fantasy XIII and Final Fantasy XIII-2, as well.[28]
On November 22nd, 2012, Yoshinori Kitase posted on the Lightning Returns: Final Fantasy XIII Facebook and Twitter accounts giving a development update. Kitase stated the first part of the game has been implemented to a certain extent and they have been collecting play test feedback.[29]
In January 2013, Square Enix embarked on a global media tour for Lightning Returns: Final Fantasy XIII, where various media outlets would be invited to witness a very early but playable build of the game and have a QA session with the developers. This is unusual in light of past Final Fantasy games' development, as usually Square Enix has been rather secretive about the progress of their projects and the version of Lightning Returns shown to spectators during the media tour is the earliest build of a Final Fantasy game showed publicly. This version had many placeholder assets, models, and music being substituted in.[4]
When designing Lightning Returns: Final Fantasy XIII the developers wanted to implement player feedback the previous titles in the Final Fantasy XIII saga had received, namely the criticism Final Fantasy XIII received for its linearity. Thus improved player freedom and the growth of character while exploring the world became important facets when planning for the gameplay. The idea was to create an expansive world, but at the same time make it so the player wouldn't be thrown into it haphazardly. Thus the element of time management was included so the player would pay attention to the world, and think how to interact with its inhabitants.[5]
With Lightning Returns: Final Fantasy XIII the developers wanted to improve on the freedom of moving around in the field compared to previous entries to the Final Fantasy XIII saga, and thus various actions were added so Lightning can make the most use of the three-dimensional map's structure. Motomu Toriyama has said the aim was not about adding more action elements, but about providing a wider range of traveling methods so the player can efficiently move around in a world that has a time limit.[27]
Player reaction to the downloadable costumes in Final Fantasy XIII-2 was mixed, as some players felt the effect should be more than cosmetic; thus in Lightning Returns the different outfits Lightning can wear were designed with this in mind to offer stat boosts and other battle advantages.[5]
Art Direction
Edit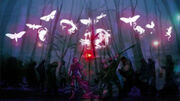 A number of artists are involved with crafting the world, particularly the city of Luxerion with careful detailing in crafting specific sofas, chairs and telephone booths.[16] Isamu Kamikokuryo revealed the gothic feel and the monochromatic color scheme of Luxerion were chosen to represent a surreal twilight.[16]
Kamikokuryo said the concept of a dying world in which technology is deteriorating was the foundation of the artwork. Motifs from 19th century London during the Industrial Revolution, Asia, and the Middle East will appear in Nova Chrysalia depending on the location. To contrast the high-level modern civilization depicted in Final Fantasy XIII, Lightning Returns: Final Fantasy XIII will have a more retro feel.[30]
Producer Yoshinori Kitase has explained the title logo was revamped because the team wanted to convey the "newness" of the installment compared to previous Final Fantasy games. The intention was to use an emblem with sharp edges and a symmetrical design.[30] The idea was to draw up the logo from scratch and create something different from the usual Yoshitaka Amano outing. They went through many different designs until they decided upon the concepts: "lightning" and "metallic." The symbol will also appear in the game, for example: Lightning's default outfit.[31]
The main theme of the story is "the salvation of souls". Having awoken from her crystal sleep, Lightning has become their savior, and is tasked by Bhunivelze with freeing people from the darkness in their hearts and guiding their souls to the new world that will be born when Nova Chrysalia ends after the final thirteen days. The concept of religion is prominent, as shown by the worship of Bhunivelze in Luxerion.[32]
Another theme is the "rebirth of Lightning", defined by Lightning's appearance in each game in the Final Fantasy XIII trilogy, and that being the reason why the game is called Lightning Returns instead of Final Fantasy XIII-3.[33] Toriyama has the story focused on Lightning in order to show her in a slightly different light for players to get to know her better. In the beginning of the game, Lightning is more closed off and distant than she was in the previous two games but as the story progresses, more details about her internal struggles, thoughts, and true feelings are revealed; and she becomes more human and vulnerable as she once again chooses to defy her destiny in order to save her sister.[8]

Production Credits
Edit
Voice Cast
Edit
The winner of Square Enix's "Final Fantasy Superfan" contest will have their name credited in Lightning Returns: Final Fantasy XIII.[35]
Logo of Lightning Returns: Final Fantasy XIII appears as an icon for the website of Final Fantasy X/X-2 HD Remaster.
References
Edit
External Links
Edit