Lightning (Final Fantasy XIII)
18,957 pages on
this wiki
Talk

485
Lightning, her original name being Claire Farron (Eclair Farron in the Japanese version), is the main protagonist of Final Fantasy XIII. She is the narrator and a temporary playable character in Final Fantasy XIII-2, and returns as the protagonist and sole permanently playable character in Lightning Returns: Final Fantasy XIII.
In Final Fantasy XIII, Lightning seeks to save her younger sister Serah, but becomes entangled in a plot that endangers her home of Cocoon. In Final Fantasy XIII-2, Lightning serves as a knight protecting the goddess Etro in Valhalla from her fated rival, Caius Ballad. In the concluding tale Lightning Returns: Final Fantasy XIII, Lightning is chosen to be a savior by the god Bhunivelze, tasked to save the people's souls before the end of the world.
Lightning is the second main female protagonist in a mainstream numbered Final Fantasy game, the first often considered being Terra Branford from Final Fantasy VI.
Appearance
Edit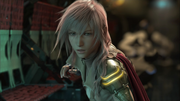 Lightning is a young woman with wavy rose colored hair, and pale aqua eyes. Lightning's eye color has been officially noted to be blue, though in the FMVs and promotional art they often appear green due to green aspects around the pupil. In Final Fantasy XIII-2 Fragments Before, Serah says Lightning resembles their mother.
In Final Fantasy XIII, she wears a variation of the standard Guardian Corps uniform. The green metallic pauldron over her left shoulder bearing yellow stripes denotes her previous rank as a sergeant. She carries her gunblade in a black case which hangs off her belt, and wears a necklace with a lightning bolt pendant. Her l'Cie brand is located slightly above her left breast. She has a navel piercing, although it can be difficult to spot.
In Final Fantasy XIII-2, Lightning wears a silver and gold Valkyrie-like suit of armor with a shield on her left arm (though in her CG render it appears on the right arm). She has a new gunblade more closely resembling a traditional doubled-edged sword, which has Etro script on it. She no longer has the navel piercing she did in Final Fantasy XIII.
During Lightning Returns: Final Fantasy XIII, Lightning has a number of different costumes. Her default outfit, Equilibrium, is similar to what she wore in Final Fantasy XIII-2. The Night Lotus shield on her left arm and the Crimson Blitz sword in her right hand, similar to Noel's Flame Fossil dual swords, are in homage to her Eidolon Odin.[2] The game's logo appears on her outfit a number of times: on her chest, her sword and her shield.
Personality
Edit
Lightning is determined, concentrated and independent. Initially, she is cold and standoffish, distancing herself from her companions. She only looks out for herself and doesn't care if others are left behind. Much of her motivation is fueled from what she perceives as failing to protect Serah leading her to lash out at those she believes are responsible for that and her l'Cie fate: namely, the Sanctum, its fal'Cie and, to a point, Snow Villiers, due to his relationship with Serah and his failure to protect her as he promised. As she journeys with Hope Estheim and takes him under her wing, Lightning begins to show compassion and trust others, and sees the errors in her approach. Ultimately, she becomes the leader and, to a degree, protector of the other Pulse l'Cie as they journey to challenge their fate.
In Final Fantasy XIII-2, Lightning has almost become a new woman due to the experiences and emotions she has endured. She has learned to trust others and ask them for help, and expresses her emotions rather than keeping them bottled up inside her. Her time in Valhalla and recognition of her past "sins" has made her more somber.
In Lightning Returns, Lightning is initially cold and distant, most of her emotions sapped from her, although her memories remain intact. Her wish to save Serah remains, and she still shows concern for her former allies. Lightning and Hope demonstrate trust and care for one another, Hope promising to be by her side, helping Lightning better maintain her humanity despite her situation. She resents Bhunivelze for robbing her of her emotions and his use of her situation to his advantage.
As her quest advances, Lightning begins to show compassion toward others because of her assigned task to save their souls. Straying from her cold-hearted personality, she begins to encourage those struggling implying Lightning unconsciously had given up her emotions, rather than Bhunivelze taking them with force, which is further suggested by Lumina. By the end of her quest, Lightning has come around from her self-imposed tough and emotionless warrior persona, as Serah and Lumina, along with all her experiences, help her realize that locking her heart away is how she threw away her happiness.

Final Fantasy XIIIEdit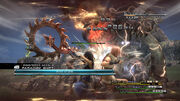 Lightning has balanced stats providing her with versatility and her outstanding trait is her speed; she may not hit the hardest, but she strikes the fastest. The player can choose to focus on either Strength or Magic so that Lightning would focus on either strikes or spells when using auto battle, because with balanced stats she may use them interchangeably slowing her down, as either constantly casting magic, or constantly attacking, is faster than alternating between the two. However, having balanced stats ensures Lightning can still perform well against enemies who are Halved/Resistant/Immune to physical/magical damage.
Lightning has low HP gain compared to the others and when everyone's stats are maxed out, only Hope will have less HP than her.
Lightning majors in the Commando, Ravager, and Medic roles. Compared to most of her companions she has high physical and magical attack stats (the second highest attack stat behind Fang, and tied for the second highest magic stat with Vanille), making her able to use both Attacks and Ruin effectively, although her weapons give the lowest stat boosts. As her weapon transforms, Lightning can do both long range and melee attacks as a Commando. She learns every skill except for Adrenaline and Deathblow.
Magic-wise, Lightning is utilitarian, able to use all four elemental "-strike" attacks, all elemental magic to the "-ra" rank, as well as Thundaga. Lightning's Full ATB Skill, Army of One, increases the target's stagger gauge based on the current chain count. It is not the best at staggering enemies, but is very effective to boost an already staggered enemy's chain gauge to 999%.
As a Medic Lightning learns Cure, Cura, Esuna and Raise, allowing her to heal HP and ailments as well as revive, but her lack of high level curative spells puts her behind other Medics in the team. She is an offensive Synergist, learning all of the basic protection spells save Veil and learning the "En-" series of spells. As a Saboteur she learns Deprotect, Deshell, Imperil and Poison.
Despite her low HP, Lightning can be a good Sentinel, as she learns all of the role's passive abilities, and when pairing the Elude ability with the Nimbletoe Boots, she can avoid a large amount of damage from enemies.
Base stats:
| Stat | Beginning | l'Cie | Mastered Crystarium |
| --- | --- | --- | --- |
| HP | 200 | 300 | 20,000 |
| Strength | 15 | 30 | 1,700 |
| Magic | 15 | 30 | 1,700 |
Lightning's Eidolon, Odin, is a large armored knight with a two-bladed sword joined at the hilt. In Gestalt Mode he transforms into the horse Sleipnir, which Lightning rides while wielding Odin's sword, Zantetsuken, split in two. When not in Gestalt Mode Odin uses a combination of Thunder based spells and physical attacks while acting as a Sentinel and drawing in enemy attacks. Lightning has multiple ways to help with both her Ravager role to boost the enemies' chain gauge, and her Commando role to keep the gauge high.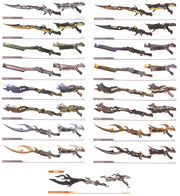 Lightning's initial weapon, Blazefire Saber, has multiple inscriptions that read "Invoke my name - I am Spark" and "blinding instant" written in the Pulsian alphabet. In Cocoon writing, her name, Lightning, is also engraved on the weapon. Blazefire Saber is her balance weapon befitting her jack of all trades role.
Gladius boosts her STR augmenting her physical attacks at the cost of her magical attacks, which is not too bad considering she has access to all elemental strikes. Edged Carbine is the counterpart that boosts her MAG.
Her Lifesaber gives "Improved Raise", but as she is rarely the primary MED it is not so useful. It also has the synthesized ability "Low HP: Power Surge".
Hauteclaire has high stats, but has "Stagger Lock".
Axis Blade is her speed weapon with "Attack: ATB Charge" and the ability to synthesize "ATB Rate", this weapon transforms Lightning into a speed demon and allows one to abuse Army of One and "Random: Instant Chain", as each of the 11 hits in Army of One have a chance to instantly fill an enemy's chain gauge simultaneously allowing Lightning to gain ATB segments at the end. However, if upgraded into Omega Weapon it will not synthesize the "ATB Rate" ability , and it maxes out at low stats.
Lionheart has "Quick Stagger" that allows Lightning to stagger enemies in "near stagger" status when they are flashing red with their chain gauge filled to 90%~92%. "Quick Stagger" is somewhat situational, but has balanced yet average stats. It has the benefit of instantly staggering enemies when at a preemptive strike.
Organyx has the highest stats for all of Lightning's weapons, but is crippled by the "Leadenstrike" ability, making her slow.

Final Fantasy XIII-2Edit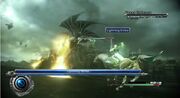 Lightning is briefly controlled by the player during the prologue where she fights Chaos Bahamut and Caius. Lightning wields a new gunblade given to her by the goddess Etro that has engraved writing in Etro script: "Gladius in turba aetern a induratus vincula inseparabilia rum", which translates to "The blade forged in everlasting chaos shall cleave the unbreakable chain" in English.
While her previous weapon was kept in a holster slung from her belt, Lightning's new gunblade can be summoned and dispelled at will. She can use Snipe as a physical attack; Lightning Strike, an electric attack; Ullr's Shield to heal; Focused Bolts and Graviton Mines. She has six ATB segments and the battle works as a tutorial to familiarize the player with the battle system.
Paradigm Pack
Edit
Guardian Corps
Edit
Lightning appears in downloadable content as a Paradigm Pack "monster" who joins Serah and Noel after they defeat the Lightning boss at the Coliseum, appearing in her Guardian Corps attire from the original game. Lightning joins the party as a Ravager, and has the Feral Link ability Army of One, her Full ATB Skill from Final Fantasy XIII.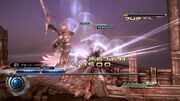 Lightning returns in the downloadable episode "Lightning's Story: Requiem of the Goddess". She initially has at her disposal four roles: Paladin, Mage, Shaman, and Knight, but, at level 3, the Conjurer role and, at level 6, the Sorcerer role are unlocked.
The roles are enhanced versions of existing paradigm roles: Paladin of Commando's, Mage and Shaman of Ravager's, Knight of Sentinel's, Conjurer of Synergist's, and Sorcerer of Saboteur's. Lightning can perform Legion of One as a Feral Link.
Lightning has a different method of development than Serah and Noel; after gaining enough Crystogen Points, Lightning will level up and upgrade her stats and learn new abilities or roles, similarly to older Final Fantasy titles. She gains Crystogen Points whether she wins or loses.
Knight of Etro
Edit
Lightning has a second recruitable monster form in her Knight of Etro armor. Unlike her Coliseum counterpart, she is a Commando with the Feral Link Legion of One. She can be obtained by defeating Chaos Bahamut with a five star rank with Lightning's level at 9 or lower. Occasionally, when this Lightning defeats an enemy, it may burst into feathers when turning into crystal.
Lightning is the only "monster" with the Uncapped Damage passive ability, which allows her to break the 99,999 damage limit, and Immovable MAX, which makes her almost immune to interruption. Her main strength is her attacking and casting speed that more than compensates for her low Strength and Magic stats in comparison with other DLC monster Commandos.
Tameable Monster
Name
Lightning
Role
Commando
Traits
Early Peaker, Strong, Divine
Composition
Biological
Start Grade
Max Level
13
HP
7,750
Strength
649
Magic
589
ATB Segments
6
Stages
1
Innate Affinities
Feral Link
Legion of One (Unleash a devastating flurry of blows. Damaging varies by situation. Input type: Complex)
Crystarium Development Graph

| | | |
| --- | --- | --- |
| Green: HP / 10 | Red: Strength | Purple: Magic |

Ability
Type
Level
Infusible
Attack
Command
Initial
Ruin
Command
Initial
Blitz
Command
Initial
Launch
Auto
Initial
Smite
Auto
Initial

Armor Breaker

Auto
Initial

Enhanced Commando

Passive
Initial

Lifesiphon

Auto
2

Faultsiphon

Auto
3

Attack: ATB Charge II

Passive
4

Mind Piercer

Auto
5

Auto-Bravery

Auto
6

Adrenaline

Auto
7

Blindside

Auto
8

Ravage

Auto
9

Scourge

Auto
10
Ruinga
Command
11

Immovable: MAX

Passive
12
Uncapped Damage
Auto
13
A copy of Lightning is fought as a downloadable (DLC) boss in the Coliseum alongside Amodar. Once defeated Lightning can be recruited as a Ravager into the Paradigm Deck. Lightning comes complete with an arsenal of Ravager spells, and physical variations of the spells she would normally have. Her Feral Link is Army of One, a special attack of hers that was her full ATB skill in the previous game.

Lightning Returns: Final Fantasy XIIIEdit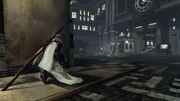 Lightning is the sole playable character in Lightning Returns: Final Fantasy XIII. In the field, she can crouch, jump, climb, and perform other actions akin to those featured in stealth adventure games. In battle, Lightning can change her attire and equipped abilities via the Schema system, similar to the paradigm system from previous games. Lightning can dodge, block and counter enemies' attacks in battle, and will level up by completing game events and side quests.
Lightning starts with 2,000 HP, 200 Strength, 200 Magic, 100 ATB, and 100 ATB Speed.
As part of the Schema system, Lightning can wear various outfits, called 'garbs', which have different stats and abilities.

Creation and development
Edit
Final Fantasy XIIIEdit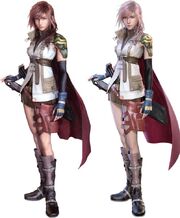 Early in development, Lightning was meant to be a flirtatious character with more sex appeal. To make Lightning a more serious heroine in the veins of previous heroes, Cloud Strife and Squall Leonhart, Fang's character—originally a man—was rewritten as a woman, and some of Lightning's traits were transferred to her.[3] The final version of her character was made less Asian-looking than originally conceived, and her original silver hair color was given to Hope Estheim in favor of pink.[4]
During development, Lightning's real name was to be "Averia", referring to a species of flowering plants. At this stage, "Éclair" was used during auditions in place of Averia to keep the name secret.[5] Lightning's real name in the English version of Final Fantasy XIII was changed to Claire due to the word "Éclair" being used to refer to a type of pastry in English-speaking countries, a problem not present with the Japanese name due to different romanization.[6]
Lightning's initial concept was a 'strong woman': it was personality-based instead of plot-driven, unlike the initial concepts for some other Final Fantasy heroines of the past. After her character's mindset and role were locked down, Square Enix turned to Tetsuya Nomura for the character design. Director Motomu Toriyama has said that, "With Lightning, one look at the design made me say 'This is it!' She looked so cool and strong that there was no need for any retakes."[7] Despite Toriyama's claim, Lightning's appearance has developed from its initial concept. Square Enix released an initial CG render of Lightning before any of the other characters were seen; when the rest of the cast were revealed, Square released another render of Lightning with differences from the initial release: In the early materials she had slightly less feminine traits, her hair was a faded crimson rather than pink, and her eye color was a lighter shade of blue. Though her outfit remains the same, its overall color scheme was lightened.
The idea for Lightning to have a sword that can transform into a gun relates to the game's Eidolons; one of the gameplay themes chosen for Final Fantasy XIII was transformation, and the Eidolons can turn into vehicles; if summons could transform, they thought weapons should be able to as well.[8] Odin was originally more harsh looking and dark colored, but the developers wanted Lightning to be a knight with a white horse and the color scheme was lightened. Since Lightning had lost her parents at a young age, and tried to take their place and raise Serah, Odin was imagined as someone she would project a fatherly image onto.[9]
Lightning's house was originally meant to be a visitable location in Final Fantasy XIII, but ended up being cut from the final product. Concept art from Final Fantasy XIII Ultimania Omega shows Lightning lives in a peanut-shaped house standing over water with a portion of the roof opening up.
Final Fantasy XIII-2Edit
Lightning's new outfit was designed by Isamu Kamikokuryo in cooperation with Tetsuya Nomura, who drew a rough outline of her armor. Kamikokuryo then did the main work on the design, adding a number of details.[10] Kamikokuryo originally designed Lightning's new outfit as a qipao, and later as a sci-fi-style outfit, but he was told the design did not fit in the game's atmosphere. The final design was inspired by the valkyries, warrior maidens in Norse mythology, with the feather motif in her outfit representing a light and delicate side to her.[11]
Lightning Returns: Final Fantasy XIIIEdit
Lightning's default "savior" outfit was designed by Tetsuya Nomura and the design is said to be play on her light, speed, and elegance. Director Motomu Toriyama wanted something that emphasized Lightning going into her final battle, the red and white components of Lightning's original outfit from Final Fantasy XIII, and represented Lightning using the word 'strength' as the main focus. Using the red color to represent strength and line the inside of Lightning's outfit, Nomura designed her new armor to have more of an impact, with the final result being about half white and half red.[12] He was instructed to design Lightning's armor based on "a leather body suit" and the arms off a spinal column. In Lightning Returns: Final Fantasy XIII the player can dodge and block enemies' attacks; when Lightning's outfit was created the shield came into the design, and the developers thought to utilize it in battles by allowing her to block attacks, enabling the creation of various fighting styles.[13]
Lightning's alternate costumes were designed by Toshiyuki Itahana.[14][15]
Whereas Lightning had been depicted as a hardened and cold soldier-type in Final Fantasy XIII, and near god-like in power in Final Fantasy XIII-2 making her distant, Lightning Returns: Final Fantasy XIII is intended to portray a more human side to her. The game explores how Lightning became the strong woman she is, and what she is struggling with. By displaying her sadness and sorrow, the writers hope to show more of Lightning's human side.[16]
Lightning's in-game model is not repurposed from the prior two installments, but was created from scratch. Her overall proportions were reevaluated to accommodate for the schemata.[17] Compared to previous games, her model has an increased bust size, which varies between different outfits.[18]
Motomu Toriyama has said Lightning's story ends in Lightning Returns: Final Fantasy XIII, as this game is meant as a finale to the Final Fantasy XIII series. But as Lightning is a popular character, even when compared to other Final Fantasy characters, Toriyama did not rule out a possibility of her appearing in future Final Fantasy titles, not as a protagonist, but as a guest character.[19]

Lightning's Japanese voice actress is Maaya Sakamoto, while her English voice actress is Ali Hillis. The two have voiced Lightning in all her appearances thus far. Maaya Sakamoto also voices Aerith Gainsborough from the Compilation of Final Fantasy VII, Diva from Final Fantasy Type-0, and Aya Brea from The Third Birthday. Additionally, Aya and Lightning in their respective PlayStation Portable games wearing the other's outfit is a reference to their shared voice actresses.

Musical themes
Edit
Of all the main characters in the Final Fantasy XIII trilogy, Lightning has the largest amount of themes associated with her, to signify her status as the consistent protagonist in all three games.
Final Fantasy XIIIEdit
"Lightning's Theme" is an acoustic orchestral variant of the main battle theme, "Blinded By Light". Her theme displays the fragile interior she tries to suppress. The melody is interwoven with many different tracks and appears in several forms in the game.
A "prototype" version of her theme titled, "M33 Lightning NW Version", can be found on the album Final Fantasy XIII: Original Soundtrack PLUS.
A piano arrangement of her theme, called "Lightning's Theme ~ Blinded By Light", is found on the album Piano Collections: Final Fantasy XIII. The track also received a chiptune arrangement from SQ Chips 2's bonus CD.
Final Fantasy XIII-2Edit
"Lightning's Theme ~Unprotected Future~" is a slower, more melancholy and harmonious rearrangement of her original theme. The theme plays during Serah and Noel's encounter with Lightning in New Bodhum 700 AF, and as the background theme for the area following the encounter. In "Requiem of the Goddess", it plays as Lightning floats through the Historia Crux after her fight against Chaos Bahamut.
Lightning's battle theme is "Etro's Champion" that plays in the game's tutorial battle when Lightning battles Chaos Bahamut in Valhalla. Other rearrangements of her theme are "Divine Conflict", "An Arrow Through Time", "A World Without Cocoon", "A Fading Miracle", "Etro's Gate", and "Tears of the Goddess". All of these tracks are composed by Masashi Hamauzu.
A track called "yuza_050", is another rearrangement of "Blinded By Light" on Final Fantasy XIII-2: Original Soundtrack PLUS, which plays when Noel, Serah, and Mog arrive in Valhalla.
Lightning Returns: Final Fantasy XIIIEdit
She has two distinct themes: "Lightning's Theme -A Distant Glimmer-" and "Lightning's Theme -Radiance-". They are softer and more fragile compared to the themes from previous games to display her emotions and loneliness. "Claire Farron" is also one of her themes.
Lightning's theme is used in the battle themes "Lightning Returns", "Crimson Blitz", "Savior of Souls" and "High Voltage". It is also used in "Lumina's Theme", "The Song of the Savior -The Chosen One-", "The Song of the Savior -Grand Finale-", "Last Resort", and the ending themes "Humanity's Tale", "Credits -Light Eternal-", and "Epilogue".
The 16-bit versions of "Lightning's Theme" and "Blinded by Light" appear in the trailer.
Other appearances
Edit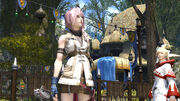 Lightning appeared in Final Fantasy XIV: A Realm Reborn during the Lightning Strikes event to commemorate the release of Lightning Returns: Final Fantasy XIII. Final Fantasy XIV producer, Naoki Yoshida, said the sidequest was tied directly into the Lightning Saga, but not linked with the lore and story of Final Fantasy XIV.[20]
The rewards from this event consisted of Lightning and Snow's costumes as well as a set of weapons from the trilogy.
Since Patch 2.1, the female playable characters can have Lightning's hairstyle by using the Aesthetician's service.
Lightning appears as a legendary (5-stars) card. It used to be the most powerful card with its total number of 36 (9 A 7 A) before Square Enix quickly decreases it to 27 (9 1 7 A) during an emergency server maintenance they had shortly after the Gold Saucer update.
Lightning Card

Card No.
80
Total
27
Type
None
Description
"It's not a question of can or can't. There are some things in life you just do."
Obtain
Win the Manderville Tournament of Champions.
Lightning appeared as a recruitable character. She was of the Visitor race and had Guardian Corps and Savior as her main jobs. Her attacks were Dual Shot and Crimson Blitz respectively, and her ability was Army of One.
Lightning appears in Dissidia Final Fantasy as a set of two player icons to represent Final Fantasy XIII, though these icons can only be obtained through passwords.
Tetsuya Nomura and his staff originally wanted to include Lightning in Dissidia Final Fantasy, but left her out to avoid revealing her abilities before Final Fantasy XIII was released.[21]
Lightning is one of the warriors summoned by Cosmos to oppose Chaos, and stands as the hero and sole character representing Final Fantasy XIII. Initially traveling with Tifa, Laguna, and Vaan, Lightning is left behind when she battles Kuja. Shortly after an army of manikins sweeps over the land, Lightning is attacked by Kain.
Returning to Cosmos to tell her what is happening, Lightning faces the Warrior of Light, who reveals he and Kain are putting the others to sleep on purpose to avoid them falling to the manikins and risking not being revived in the next cycle of the war. Lightning rejects this plan and leads Kain, Tifa, Laguna, Yuna and Vaan to the Lands of Discord where the six sacrifice themselves to seal the portal to the Void the manikins are emerging from.
Lightning's alternate outfit gives her white hair and a more subdued color scheme to match her concept art by Yoshitaka Amano. Her second alternate costume gives her the generic female Guardian Corps uniform, a dull orange and brown outfit with a cap. As a fourth bonus outfit available with purchase of The 3rd Birthday, Lightning dresses as Aya Brea, wearing torn blue jeans and a midriff bearing sleeveless black shirt.
Nomura has stated he personally would include Sazh in a Dissidia sequel over Lightning, but his only request for such a game would be Kain Highwind from Final Fantasy IV - Kain and Lightning were the first two new characters confirmed for Dissidia 012 Final Fantasy.

Lightning returns in the arcade version of Dissidia Final Fantasy. She is classed as a Speed-type character.
Lightning is a default playable character in Theatrhythm.
She is a Spell and Support oriented character. Her Limit Break, Omega Weapon, adds +75 to her Strength and Magic.
Stats
| Level | HP | CP | Strength | Magic | Agility | Luck |
| --- | --- | --- | --- | --- | --- | --- |
| 1 | 325 | 10 | 18 | 17 | 15 | 13 |
| 10 | 1,296 | 15 | 41 | 40 | 33 | 29 |
| 20 | 2,375 | 20 | 66 | 65 | 54 | 46 |
| 30 | 3,454 | 25 | 91 | 89 | 74 | 64 |
| 40 | 4,532 | 30 | 116 | 114 | 95 | 82 |
| 50 | 5,611 | 35 | 141 | 139 | 116 | 100 |
| 60 | 6,690 | 40 | 167 | 164 | 136 | 118 |
| 70 | 7,769 | 45 | 192 | 188 | 157 | 135 |
| 80 | 8,066 | 50 | 199 | 195 | 163 | 141 |
| 90 | 8,363 | 50 | 207 | 203 | 169 | 146 |
| 99 | 8,632 | 50 | 213 | 209 | 174 | 151 |
iOS Stats
Lightning returns as a playable character, and is one of the few characters to have a 2nd variation. Her 1st variation is her appearance in Final Fantasy XIII, donning her Guardian Corps attire, and is available from the start, while her 2nd version is the main representative of Lightning Returns: Final Fantasy XIII, wearing her Equilibrium outfit, and can be available from the start by transferring save data from the second demo of Curtain Call. However, if the player did not select either among their party of four, or download the demo for the latter, she can later be unlocked by collecting Red and Green Crystal Shards, respectively.
Both versions of her are Balance oriented. Her 1st variation's Limit Break, Omega Weapon, functions the same as before, adding +75 to her Strength and Magic, while her 2nd version's Limit Break, Army of One, deals damage based on her Strength, Agility, and Stamina.
Lightning Stats
Edit
| Level | CP | HP | Strength | Magic | Agility | Luck | Stamina | Spirit |
| --- | --- | --- | --- | --- | --- | --- | --- | --- |
| 1 | 9 | 204 | 11 | 15 | 15 | 12 | 11 | 12 |
| 50 | 37 | 3523 | 88 | 117 | 117 | 92 | 190 | 91 |
| 99 | 50 | 5419 | 133 | 176 | 176 | 138 | 136 | 138 |
Abilities
Lightning #2 Stats
Edit
| Level | CP | HP | Strength | Magic | Agility | Luck | Stamina | Spirit |
| --- | --- | --- | --- | --- | --- | --- | --- | --- |
| 1 | 9 | 223 | 19 | 16 | 12 | 9 | 11 | 16 |
| 50 | 38 | 3928 | 157 | 129 | 98 | 74 | 92 | 133 |
| 99 | 50 | 5928 | 232 | 191 | 145 | 110 | 137 | 196 |
Abilities
Lightning appears in a Lightning Returns: Final Fantasy XIII-themed event in Pictlogica Final Fantasy donning her Equilibrium garb.
Lightning is an ally and a summonable Legend in Final Fantasy Airborne Brigade. She is depicted in her Final Fantasy XIII, Final Fantasy XIII-2, Lightning Returns: Final Fantasy XIII outfits, an event-related Santa outfit and a Samurai outfit. She has also been depicted as wearing the following garbs from Lightning Returns: Final Fantasy XIII: Equilibrium, Hidden Justice, Red Mage, Blue Mage, Miqo'te Dress and SOLDIER 1st class. She can be unlocked in the Japanese version by purchasing the correct issue of Mobage. Her abilities are Army of One, Crushing Blow, Gestalt Drive, Imperilga, Launch, Lightning Strike, Smite, Thunderfall, Elementa and Flourish of Steel. Her EX abilities are Flourish of Steel, Watera, Aeroga Blast, Cross-slash ver. Lightning, Thundaga, Lightning Strike, Magic Slash, Smite and Crushing Blow.
She was first introduced as an event ally in the event, Winter Holiday Campaign while wearing an exclusive Santa suit. Leveling her up in this event granted the player the Lightning II summon stone, along with each level-up at a specified number granting players an additional summon stone. The Lightning III summon stone was obtained from inviting a certain number of friends to play Final Fantasy Airborne Brigade.
She was present as an ally during the coinciding events, Final Fantasy Special Event Parts 1 & 2 - Shattered World and Final Fantasy Special Event Parts 1 & 2 - Showdown, in which she was unlocked by clearing the Sunleth Waterscape stage. In this event, her overdrive granted players a massive increase in their attack. Leveling her up to 99 in these events granted the player her individualized SSR weapon, Jatayu. In battle, Lightning is armed with her Blazefire Saber and uses the abilities Smite and Flourish of Steel.
Lightning is an exclusive character only available from the Premium Character Shop as a random downloadable content. She uses the Lightning Strike ability during battle. Her Blazefire Saber is available as a drop from Beta Behemoths in the Archylte Steppe map. It grants +4 attack to the Warrior, Red Mage, Blue Mage, and Onion Knight classes and to Firion, Terra, Celes, Zidane, Tidus, Ashe, and Lightning. Her Omega Weapon is available as a drop from Orphan. It grants +10 attack to the same people as the Blazefire Saber.
Lightning is a playable character who could be first be recruited during the Challenge Event Lightning Strikes as the First Time Reward for completing the event's Vile Peaks Delusions stage on Classic difficulty. She has also appeared in the Challenge Event Fang's Oath, and is currently recruitable after accepting and completing the Bonus Quest "Complete Hanging Edge Classic (XIII)".
Assessment
Lightning is a Pulse l'Cie. Her combat role is Physical/Magic Hybrid.
Lightning is a balanced fighter with average physical stats, but very high Speed and a strong skillset. She is her Record Realm's representative Knight in addition to being a Spellblade, and is also one of a very few able to wield a gun, giving her ranged attack potential. Her Blazefire Saber is currently her best weapon, as it lets her work both ways via her Soul Break.
Stats
| Level | HP | Attack | Defense | Magic | Resistance | Mind | Accuracy | Evasion | Speed |
| --- | --- | --- | --- | --- | --- | --- | --- | --- | --- |
| 1 | 198 | 12 | 8 | 8 | 9 | 8 | 20 | 20 | 111 |
| 10 | 998 | 29 | 24 | 18 | 22 | 18 | 20 | 20 | 119 |
| 20 | 1,723 | 49 | 38 | 30 | 36 | 30 | 20 | 20 | 127 |
| 30 | 2,393 | 69 | 52 | 43 | 51 | 43 | 21 | 21 | 134 |
| 40 | 3,029 | 89 | 64 | 57 | 65 | 57 | 21 | 21 | 141 |
| 50 | 3,642 | 109 | 77 | 72 | 80 | 72 | 22 | 22 | 148 |
| 60 | 4,237 | 128 | 88 | 87 | 95 | 87 | 22 | 23 | 155 |
| 65 | 4,528 | 138 | 94 | 95 | 102 | 95 | 23 | 23 | 158 |
| 70 | 4,816 | 148 | 100 | 102 | 109 | 102 | 23 | 23 | 161 |
| Rank | 4 | 4 | 2 | 2 | 2 | 2 | 3 | 3 | 5 |
Abilities
Lightning can use Black Magic spells up to rarity rank 3, White Magic spells up to rarity rank 2, Spellblade abilities up to rarity rank 4, Combat abilities up to rarity rank 5, and Celerity abilities up to rarity rank 5.
Her default Soul Break is Blitz which at the expense of one Soul Gauge segment deals physical non-elemental damage to all enemies equal to 110% damage potency of a conventional attack. The sword Blazefire Saber (XIII) allows Lightning to use Blaze Rush which at the expense of one Soul Gauge segment deals three successive physical non-elemental attacks to random targets, each hit equal to 170% damage potency of a conventional attack; summed up 510% damage potency. The gun Peacemaker (XIII) allows Lightning to use Crushing Blow which at the expense of one Soul Gauge segment deals five powerful physical lightning attacks to all targets and increases Attack by 10 upon Mastery. The light armor Corps Field Uniform (XIII) allows Lightning to use Stormborn which at the expense of one Soul Gauge segment temporarily empowers the user with lightning.
Equipment
Lightning can equip the following weapon types: daggers, swords, guns, and spears. The sword Blazefire Saber (XIII) allows Lightning to use Blaze Rush. The gun Peacemaker (XIII) allows Lightning to use Crushing Blow.
She can equip the following armor types: hats, light armor, armor, and bracers. The light armor Corps Field Uniform (XIII) allows Lightning to use Stormborn.
She can equip accessories.
Gallery
Lightning appears in Final Fantasy Explorers.
Lightning appears as an obtainable unit.
There are several cards depicting Lightning in the Final Fantasy Trading Card Game: five Lightning-elemental cards, including a promotional card from V-Jump, and four Shine-elemental cards, not including a limited release.
Th Lightning-elemental cards depict her Final Fantasy XIII appearance, her portrait from Final Fantasy XIII-2, and a promo artwork from Lightning Returns: Final Fantasy XIII and her default garb, while the Shine cards present her as a swordsman, and as a knight of Etro. The promotional card from V-Jump presents her as a knight.
Lightning appears as an opponent and on Triple Triad cards in the version available via Final Fantasy Portal App. On Easy she uses the rule Same. On Normal she uses Same and Chaos. On Hard she uses Same, Plus and Chaos and the rare five star cards of herself can be won from her, among other cards. She uses the trading rule One.
During Tokyo Game Show 2015 Lightning appeared in World of Final Fantasy wearing her Equilibrium outfit.

Non-Final Fantasy guest appearancesEdit
Itadaki StreetEdit
Lightning appears in Dragon Quest & Final Fantasy in Itadaki Street Mobile as a rank "A" opponent. She is the only Final Fantasy XIII character to appear in the game.
Square Enix Legend WorldEdit
Lightning from Lightning Returns: Final Fantasy XIII makes an appearance as a card.
Puzzle & DragonsEdit
Lightning will appear as an obtainable character in a Final Fantasy collaboration event starting on March 21, 2016.
Other media
Edit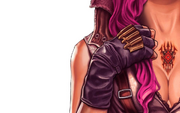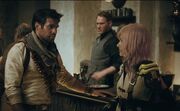 Lightning was voted Japan's number one favorite Final Fantasy female character.[22] According to Motomu Toriyama at a presentation for Lightning Returns: Final Fantasy XIII, Lightning is considered a role model in Japan due to her courage, speed, and elegance. She has appeared on the 500th cover of Dengeki PlayStation magazine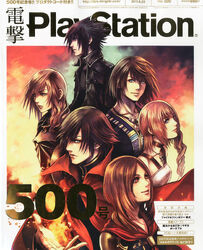 with Noel, Serah, Noctis, Machina Kunagiri, and Rem Tokimiya.
Lightning, Sazh, Hope, Snow and Noel appeared as models for the Showcase Prada 2012 Men's Spring/Summer Collection.
Jonathan Jacques-Belletête, the art director of Deus Ex: Human Revolution, another game franchise owned by Square Enix, drew an artwork of Lightning for the New York Comic Con 2011 "East Meets West" panel of her l'Cie brand, which is never actually shown in the game. Isamu Kamikokuryo, the art director of Final Fantasy XIII, also drew an artwork of Deus Ex, which was revealed in the same event.
In a live-action PlayStation advertisement, titled "Michael" - PS3 Long Live Play, Lightning is seen listening to a story told by Nathan Drake from the Uncharted series and her gunblade is placed on the weapon rack as the soldiers are entering the tavern. A live-action Lightning has also appeared in Japanese commercials for Lightning Returns: Final Fantasy XIII.
In March 2014, Nomura judged a Lightning fanart contest for deviantART and chose three favorites among the submissions.[23]
In 2016 Square Enix and Louis Vuitton collaborated to have Lightning model the fashion name's spring/summer collection clothes and handbags. As the model for the Series 4, Lightning is to appear on various magazine advertisements and star in promotional videos for the campaign. In addition, she became the new face of Louis Vuitton all over social media.

In
Kingdom Hearts Re:coded
, parts of Lightning's outfit and design appear as
. The available parts are her hair, her uniform with cape and skirt, and her boots. The player can use these with their avatar as individual components or combine them to approximate Lightning's full appearance in tandem with other, generic avatar parts. All of the parts can be equipped as an "ensemble".
In The 3rd Birthday, the main character Aya Brea has several different outfits she can wear. One of these is Lightning's outfit. Just like any other outfit for her in the game, this outfit can be torn up as she takes damage. Lightning's l'Cie marking is revealed as more damage is done to this outfit. She can use Lightning's Blazefire Saber in gun mode.
Lightning's costume was released on November 6, 2014 Gunslinger Stratos 2.
Lightning will appear in Puzzle & Dragons in a Final Fantasy collaboration event starting on March 21, 2016.[24]
Merchandise
Edit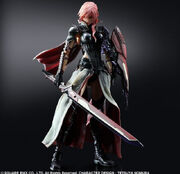 A special edition PlayStation 3 featuring an image of Lightning was released on December 17th 2009 in Japan. On the day of the US release of Final Fantasy XIII, a special edition Xbox 360 featuring Lightning on a faceplate was released. The faceplate was only available through preorder on certain websites and stores.
Released a month after the game's release, the 50ml bottle of ~Lightning~ eau de toilette was contained in an imprinted glass bottle with a strap with Lightning's pendant. The scent is described as a "sweet peach smell followed by rose and then a feminine musk".
The lightning bolt pendant Lightning wears in Final Fantasy XIII has been released as official merchandise. The pendant is made of .925 silver, is accented with a gold and black rhodium coating and within the pendant there are three cubic zirconia which can roll up and down if the pendant is shaken.
A Final Fantasy XIII-2 bundle was released in Japan on December 15th, 2011, with a black 320GB PlayStation 3 Slim with an image of Lightning. Lightning's Final Fantasy XIII-2 merchandise include a Play Arts action figure and a coffee tumbler.
On December 14th, 2010, all Japanese Square Enix Members with an "Ultimate" status on their name received a special Christmas present from Tetsuya Nomura: an art plate with an original illustration of Lightning with the text, "She must not be forgotten". On September 22nd, 2011, North American Square Enix Members with an "Ultimate" status also received the Lightning illustration.
Glico, the snack company has been working with Square Enix to promote Lightning Returns: Final Fantasy XIII in Japan. Pocky and Almond Peak will have Lightning on their boxes.
Etymology
Edit
[view · edit · purge]Claire is a French name, the feminine form of the common name Clair. As the feminine name, Claire directly translates as the English adjective "clear" or the English noun "light" (radiance/brilliance) (e.g. "claire de lune" meaning "moonlight"), while Clair can mean light-colored, bright and pale, among other meanings.
[view · edit · purge]Éclair is a French word that means "lightning", but is also the name of a type of bakery pastry. This is why she is renamed "Claire" in the Western releases.
[view · edit · purge]Lightning strikes are electrical discharges on a massive scale between the atmosphere and an earth-bound object.
[view · edit · purge]Farron comes from the Gaelic language, meaning "thunder".
The combination refers to thunder coming after the lightning.
As shown in the first Final Fantasy XIII trailer, Lightning had a Gravity Bomb device at her disposal, which would generate an electrical shield or manipulate time and gravity.
Lightning's eidolith is the shape of a pink rose bloom, and red petals can be seen when she summons Odin and changes it into Sleipnir in Gestalt Mode.
In Final Fantasy XIII Episode Zero -Promise-, it is mentioned Lightning is better at housework than Serah, but Serah is the better cook. Lightning describes their father as easy-going, passionate but not always reliable, and compares Snow to him, possibly explaining her initial hatred towards him.
In her official CG render, Lightning is not wearing her lightning bolt necklace, though it is present in her render on the Final Fantasy XIII summary website.
Art director Isamu Kamikokuryo consistently draws Lightning and Serah with blonde hair in concept art, despite their more "official" appearances. Additionally, Kamikokuryo's Lightning concept art for Final Fantasy XIII-2 has a black armor with gold or white outlines. This may have contributed to Lightning's design in Lightning Returns: Final Fantasy XIII where she has black armor.
Lightning's render for Final Fantasy XIII-2 has her sword and shield in opposite hands. She also holds her sword in her left hand on the cover box art for Final Fantasy XIII.
Lightning on Etro's throne at the end of Final Fantasy XIII-2 resembles the Final Fantasy XIII promotional artwork of her sitting in the Narthex, and the Final Fantasy XIII-2 Ultimania Omega has a piece of artwork depicting Lightning on Etro's throne in the same pose.
Similar to her sister Serah, Lightning's official render isn't used in the menu screen in Final Fantasy XIII-2 and instead an alternate render from Final Fantasy XIII is used.
All models in Final Fantasy XIII-2 are of lower resolution than those in its predecessor. The game data includes high-res model of Lightning's Final Fantasy XIII appearance that is never used anywhere, which was likely used as a place-holder throughout production.
The Lightning Mask is an adornment for monsters found in Void Beyond, if the player has a Final Fantasy XIII save file on the HDD before starting Final Fantasy XIII-2. A Lightning Mask for Lightning can be obtained in Lightning Returns.
Lightning resembles a Red Mage, using primarily Black Magic and White Magic in conjunction and being balanced with physical combat.
Two different CG renders of Lightning are used in Final Fantasy XIII: her main render is used for menus, while the field messages which display during the gameplay use her render from the game's cover.
Lightning has the largest set of outfits of all the characters in the series: she has over ninety different outfits including crossover and downloadable costumes.
Lightning is Toriyama's favorite character out of those he helped create, alongside Yuna and Princess Yoyo from Bahamut Lagoon.[25]
All of Lightning's default weapons across the Lightning Saga have eponymous musical themes.
The Steam version of Final Fantasy XIII comes with 6 Trading Cards, all of them featured Lightning.
External links
Edit
References
Edit