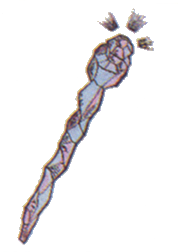 Light Rod (光の棒, Hikari no Bō?), also known as Light, is a recurring weapon in the series. It is generally a mid-ranked rod that is associated with the Lightning element.
Appearances
Edit
III Light Rod is a mid-ranked rod that can be equipped by the Onion Knight, White Mage, Black Mage, Red Mage, Evoker, Devout, Magus, Summoner, and Sage classes.
In the NES version, it provides 12 Attack and can be bought for 3,000 gil. In the 3D versions, it provides 25 Attack and can be bought for 10,000 gil. In both versions, it also provides +3 Intellect and Mind, and casts Thundara when used as an item in battle and can be bought in Northeast Saronia.
Ad blocker interference detected!
Wikia is a free-to-use site that makes money from advertising. We have a modified experience for viewers using ad blockers

Wikia is not accessible if you've made further modifications. Remove the custom ad blocker rule(s) and the page will load as expected.