Leviathan (Final Fantasy II)
Talk

0
13,970 pages on
this wiki
The Leviathan (リバイアサン , Ribaiasan?) is a monster that guards the seaways approach to the Mysidian Tower in Final Fantasy II.
The interior of Leviathan appears as the inside of any sea monster would: the party travels along his digestive system, bypassing rows of teeth and pools of yellow acid that deplete HP. The enemies are mostly aquatic and are weak to Lightning, though the Bolt Fish absorbs this element.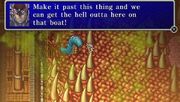 Firion and his allies are swallowed by the creature as they approach the tower. Inside, they are separated from Leila, but find Ricard, who had been missing from Deist. With Ricard's help, they make their way back up to Leviathan's mouth, where they find their ship, but a Roundworm attacks them. They defeat the Roundworm and board their ship once more. When Leviathan opens its mouth, the ship sails out and continues toward the tower.
Encounters
Edit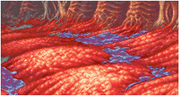 The background music that plays inside Leviathan is called "Dungeon".
Ironically, the presence of the Crystal Rod, the vital key to the Tower of Mysidia, is what lured Leviathan to consume the party's ship. This attraction was probably used as a safety measure by the mages who sealed away Ultima in the hope that no person would ever obtain the powerful destructive potential of the spell.