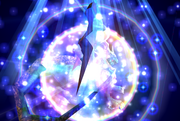 Causes Holy damage to enemies whose LEVELs are multiples of 4.
—Description
Level 4 Holy (レベル4ホーリー, Reberu 4 Hōrī?) is a Blue Magic spell in Final Fantasy IX, available to Quina after s/he eats a Feather Circle, Torama, or Amdusias. It deals Holy damage to enemies whose level is divisible by 4. It costs 22 MP to cast. It cannot be reflected and works with Return Magic. Ozma can use it if there is a party member susceptible to it.
Ad blocker interference detected!
Wikia is a free-to-use site that makes money from advertising. We have a modified experience for viewers using ad blockers

Wikia is not accessible if you've made further modifications. Remove the custom ad blocker rule(s) and the page will load as expected.