Final Fantasy X-2 Enemy
Leucophylla
レウコフィア (Reukofia)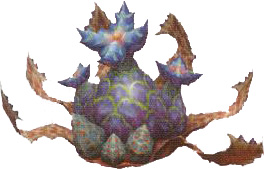 Plant
Statistics
Level
HP
MP
26
2,234
0
Strength
Magic
Defense
58
7
0
M. Defense
Agility
Accuracy
99
76
1
Evasion
Luck
0
0
EXP
AP
Gil
210
1
86
Leucophylla
レウコフィア (Reukofia)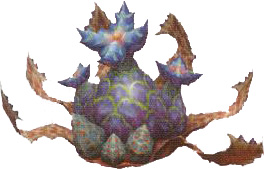 Plant
Statistics
Level
HP
MP
30
8,963
0
Strength
Magic
Defense
59
11
0
M. Defense
Agility
Accuracy
100
77
1
Evasion
Luck
0
0
EXP
AP
Gil
332
2
140
Location
Besaid
Calm Lands
Floating Ruins
Via Infinito Floors 24 - 26
Chapters
3, 5
Common Steal
Remedy x6
Rare Steal
Remedy x8
Gil Steal
430
Common Drop
Remedy x4
Rare Drop
Remedy x6
Common Bribe
Remedy x80
Rare Bribe
Remedy x99
Abilities
Heavy Seed Cannon, MP Crush, Seed Burst
Blue Bullet
Seed Cannon
Status Resist
Death (50), Petrification (30), Eject (28), Zantetsu (2)
Status Immunity
Darkness, Poison, Confusion, Berserk, Curse
Other Information
N/A
Normal: "A plant fiend that can move just like any other creature. It slows opponents' advances with Seed Burst and the power of its Seed Cannon is formidable."
Oversoul: "A plant fiend that can move just like any other creature. Oversouled, it's now able to cause MP Damage with MP Crush, so watch out!"
— Scan
The Leucophylla is an enemy in Final Fantasy X-2. They are average in terms of difficulty, though in Oversoul, they become much more of a problem as they can quickly deplete a party member's MP and inflict heavy damage with Heavy Seed Cannon. It is advised to hit them with Fire-elemental attacks such as Fira and Flametongue to quickly dispatch of them. They usually come in pairs of two or with other enemies.
Fiend Tale
Edit
In the Fiend Tale endings, one notable Leucophylla was forcefully taken in by the Gullwings. Originally a shy Fiend who writes in her journal, Leucophylla began to embrace becoming strong and less feminine. Eventually, she strong enough to leave the Gullwings and diary behind to begin her own story in the Calm Lands.
Etymology
Edit
[view · edit · purge]Leucophylla is a genus of moth, but the word itself is included in the scientific names of many carnivorous plants.
Related enemies
Edit