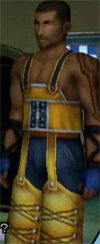 One day I'll be as good as you! Mark my words!
—When released from contract
Letty is a blitzball player who plays as midfielder for the Besaid Aurochs. His best attribute is his PA. In the Japanese version of the game, he is voiced by Hiroshi Kamiya. According to the Final Fantasy X Ultimania Omega, Letty is 21 years old during Final Fantasy X.
Blitzball Stats
Edit
Location
Luca Stadium, Auroch's Locker Room
Key Techniques
Nap Pass
Venom Pass 3
Wither Tackle
| LV | 1 | 5 | 10 | 15 | 20 | 25 | 30 | 35 | 40 | 45 | 50 | 60 | 70 | 80 | 90 | 99 |
| --- | --- | --- | --- | --- | --- | --- | --- | --- | --- | --- | --- | --- | --- | --- | --- | --- |
| HP | 95 | 223 | 411 | 633 | 887 | 1,173 | 1,492 | 1,843 | 2,227 | 2,643 | 3,092 | 4,087 | 5,212 | 6,467 | 7,852 | 9,209 |
| SP | 60 | 60 | 60 | 60 | 60 | 60 | 60 | 60 | 60 | 60 | 60 | 60 | 60 | 60 | 60 | 60 |
| EN | 7 | 8 | 10 | 12 | 14 | 16 | 19 | 21 | 24 | 26 | 29 | 35 | 41 | 47 | 54 | 61 |
| AT | 5 | 6 | 7 | 8 | 9 | 10 | 12 | 13 | 15 | 16 | 18 | 21 | 25 | 29 | 33 | 37 |
| PA | 10 | 13 | 16 | 19 | 22 | 25 | 29 | 32 | 36 | 39 | 43 | 51 | 58 | 66 | 75 | 83 |
| BL | 5 | 6 | 8 | 10 | 12 | 13 | 15 | 17 | 19 | 20 | 22 | 26 | 29 | 33 | 36 | 39 |
| SH | 4 | 5 | 6 | 8 | 9 | 11 | 12 | 14 | 16 | 17 | 19 | 23 | 27 | 31 | 35 | 39 |
| CA | 1 | 2 | 3 | 4 | 5 | 6 | 7 | 8 | 9 | 10 | 11 | 13 | 15 | 17 | 19 | 20 |