Ad blocker interference detected!
Wikia is a free-to-use site that makes money from advertising. We have a modified experience for viewers using ad blockers

Wikia is not accessible if you've made further modifications. Remove the custom ad blocker rule(s) and the page will load as expected.
Final Fantasy X-2 Enemy
Lesser Drake
レサードレイク (Resā Doreiku)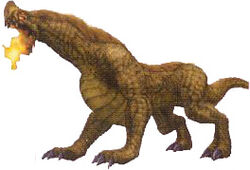 Drake
Statistics
Level
HP
MP
14
557
33
Strength
Magic
Defense
38
48
28
M. Defense
Agility
Accuracy
1
53
4
Evasion
Luck
0
0
EXP
AP
Gil
30
1
22
Lesser Drake
レサードレイク (Resā Doreiku)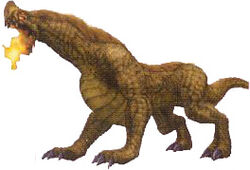 Drake
Statistics
Level
HP
MP
16
2,108
33
Strength
Magic
Defense
41
48
28
M. Defense
Agility
Accuracy
1
58
5
Evasion
Luck
0
0
EXP
AP
Gil
58
2
40
Location
Besaid Cave
Thunder Plains
Via Infinito Floors 7 - 9
Chapters
1, 2, 5
Common Steal
Fire Gem x3
Rare Steal
Fire Gem x4
Gil Steal
510
Common Drop
Bomb Core x2
Rare Drop
Bomb Core x3
Common Bribe
Crimson Ring
Rare Bribe
Crimson Ring
Abilities
Breath, Cure, Strength Down, Strength Up
Blue Bullet
None
Status Resist
Death (10), Petrification (20), Eject (24), Zantetsu (6)
Status Immunity
Silence, Confusion, Berserk, Curse, Strength Down
Other Information
N/A
Normal: "A fiend that attacks with alarming speed despite its otherwise lethargic movement. Its fiery breath can damage multiple targets at once. Scary."
Oversoul: "Able to deal damage to multiple targets with its fiery breath. On the bright side, its attack power drops as it inflicts damage. Hang in there!"
— Scan
The Lesser Drake is an enemy in Final Fantasy X-2. It is of no threat and can be dealt with with relative ease.
Fiend Tale
Edit
In the Fiend Tale endings, a notable Lesser Drake was part of a Machina salesman service that Rin established with Drakes. Due to his capture by the Gullwings, Lesser Drake did not successfully make his quota.
Other appearances
Edit

This article or section is a stub about an enemy in Final Fantasy Record Keeper. You can help the Final Fantasy Wiki by expanding it.
Etymology
Edit
Drake is another word for dragon. [view · edit · purge]A dragon is a legendary creature, typically with serpentine or reptilian traits, that features in the myths of many cultures.
Related enemies
Edit