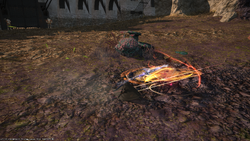 Leg Sweep (足払い or あしばらい, Ashibarai?, lit. Trip Up), also known as Sweep and Sweepkick, is a recurring ability in the Final Fantasy series.
Appearances
Edit
VI Sweepkick is an enemy ability used by Dadaluma, which inflicts Sap to one target.
Etymology
Edit
The foot sweep (also footsweep) is a move in many different styles of martial arts. It is used to trip an opponent. Foot sweeps are commonly used in Tang Soo Do, karate, and jujutsu.