Ad blocker interference detected!
Wikia is a free-to-use site that makes money from advertising. We have a modified experience for viewers using ad blockers

Wikia is not accessible if you've made further modifications. Remove the custom ad blocker rule(s) and the page will load as expected.
Cid:

Oh, shut up and help me remodel the Lectures page!

Please expand this article into a full one. More details can be found, and this request can be discussed, on the associated

discussion page

.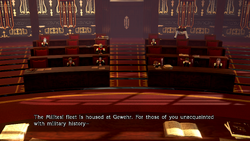 Looks like you've learned everything I have to teach, kupo. Feel free to go out and play—you've earned it, kupo!
—Moglin after there are no more lectures available
Lectures in Final Fantasy Type-0 are optional events in Akademeia that can be done to pass the downtime in between missions. Attending lectures will award stat boosts to every member of Class Zero. All lectures cost two hours of free time and can be attended by talking to Moglin in Classroom Zero.
List of Lectures
Edit
Note: Rewards may vary in New Game Plus.
Chapter 2
Edit
Free Time 2
Edit
Free Time available: 12 hours
| Lecture | Reward |
| --- | --- |
| FGHT-100: Principles of Combat | EXP +2,000 |
| DFMG-100: Introduction to Defense Magic | Defense Magic +2 |
Free Time 3
Edit
Free Time available: 1 Day 12 hours
| Lecture | Reward |
| --- | --- |
| MAGC-100: Principles of Magic | Magic Power +1 |
| FRMG-100: Introduction to Fire Magic | Fire Magic +1 |
| ICMG-100: Introduction to Ice Magic | Ice Magic +1 |
| LTMG-100: Introduction to Lightning Magic | Lightning Magic +1 |
Chapter 3
Edit
Free Time 1
Edit
Free Time available: 3 Day 12 hours
| Lecture | Reward |
| --- | --- |
| FGHT-100: Principles of Combat | EXP +2,000 |
| MAGC-101: Survey of Basic Magic | All Magic +1 |
| DFMG-101: Elementary Defense Magic I | Defense Magic +1 |
| HPUP-100: Introduction to Health | Max HP +20 |
Free Time 2
Edit
Free Time available: 3 Day 12 hours
| Lecture | Reward |
| --- | --- |
| DFMG-102: Elementary Defense Magic II | Esuna available |
| FRMG-101: Elementary Fire Magic I | Fire BOM available |
| ICMG-101: Elementary Ice Magic I | Blizzard RF available |
| LTMG-101: Elementary Lightning Magic I | Thunder BOM available |
Chapter 5
Edit
Free Time 1
Edit
Free Time available: 4 Day 12 hours
| Lecture | Reward |
| --- | --- |
| FGHT-101: Survey of Battle Basics | EXP +10,000 |
| MAGC-201: Applied Intro to Basic Magic | All Magic +1 |
| HPUP-101: Fundamentals of Health I | Max HP +50 |
| MPUP-101: Fundamentals of Magic Enhancement I | Max MP +10 |
Free Time 2
Edit
Free Time available: 4 Day 12 hours
| Lecture | Reward |
| --- | --- |
| FRMG-102: Elementary Fire Magic II | Fire Magic +1 |
| ICMG-102: Elementary Ice Magic II | Ice Magic +1 |
| LTMG-102: Elementary Lightning Magic II | Lightning Magic +1 |
| DFMG-201: Intermediate Defense Magic I | Defense Magic +2 |
Chapter 7
Edit
Free Time 1
Edit
Free Time available: 7 Day 12 hours
| Lecture | Reward |
| --- | --- |
| FGHT-101: Survey of Battle Basics | EXP +100,000 |
| MAGC-301: Topics in Basic Magic | All Magic +1 |
| HPUP-102: Fundamentals of Health II | Max HP +50 |
| MPUP-102: Fundamentals of Magic Enhancement II | Max MP +20 |
Free Time 2
Edit
Free Time available: 5 Day 12 hours
| Lecture | Reward |
| --- | --- |
| DFMG-202: Intermediate Defense Magic II | Defense Magic +2 |
| FRMG-201: Intermediate Fire Magic I | Fire Magic +2 |
| ICMG-201: Intermediate Ice Magic I | Ice Magic +2 |
| LTMG-201: Intermediate Lightning Magic I | Lightning Magic +2 |
New Game Plus: Chapter 2
Edit
Free Time 2
Edit
Free Time available: 12 hours
| Lecture | Reward |
| --- | --- |
| ATTK-100: Introduction to Applied Tactics | Attack +3 |
| DFMG-301: Advanced Defense Magic I | Defense Magic +2 |
Free Time 3
Edit
Free Time available: 1 Day 12 hours
| Lecture | Reward |
| --- | --- |
| MAGC-110: Introduction to Applied Sorcery | Magic Power +1 |
| FRMG-202: Intermediate Fire Magic II | Fire Magic +2 |
| ICMG-202: Intermediate Ice Magic II | Ice Magic +2 |
| LTMG-202: Intermediate Lightning Magic II | Lightning Magic +2 |
New Game Plus: Chapter 3
Edit
Free Time 1
Edit
Free Time available: 3 Days 12 hours
| Lecture | Reward |
| --- | --- |
| ATTK-101: Survey of Applied Tactics | Attack +3 |
| MAGC-111: Survey of Applied Sorcery | Magic Power +1 |
| DFMG-302: Advanced Defense Magic II | Defense Magic +3 |
| HPUP-201: Topics in Health I | Max HP +60 |
Free Time 2
Edit
Free Time available: 3 Days 12 hours
| Lecture | Reward |
| --- | --- |
| DFMG-401: Seminar - Mastery of Aegis I | Defense Magic +3 |
| FRMG-301: Advanced Fire Magic I | Fire Magic +3 |
| ICMG-301: Advanced Ice Magic I | Ice Magic +3 |
| LTMG-301: Advanced Lightning Magic I | Lightning Magic +3 |
New Game Plus: Chapter 5
Edit
Free Time 1
Edit
| Lecture | Reward |
| --- | --- |
| ATTK-201: Intermediate Applied Tactics | Attack +5 |
| MAGC-210: Intermediate Applied Sorcery | Magic Power +1 |
| HPUP-202: Topics in Health II | Max HP +80 |
| MPUP-201: Topics in Magic Enhancement I | Max MP +30 |
Free Time 2
Edit
| Lecture | Reward |
| --- | --- |
| FRMG-302: Advanced Fire Magic II | Fire Magic +3 |
| ICMG-302: Advanced Ice Magic II | Ice Magic +3 |
| LGMG-302: Advanced Lightning Magic II | Lightning Magic +3 |
| DFMG-402: Seminar - Mastery of Aegis II | Defense Magic +3 |