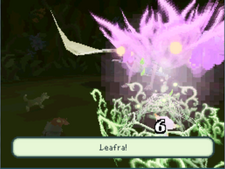 Leafra (リーフラ, Rifura?) is a moderate level Black Magic spell that only appears in Final Fantasy: The 4 Heroes of Light. The spell is an upgraded form of the Leaf spell and it deals moderate non-elemental damage to a single foe. The spell can be bought at Arbor for 1,500 gil and can be given to any character by having a Leafra Tome in the character's inventory. Leafra has a Spell power of 12 and it costs 3 AP to cast.
A variation called Strong Leafra can be used when two Psyched Up characters cast Leafra during the same turn.
Ad blocker interference detected!
Wikia is a free-to-use site that makes money from advertising. We have a modified experience for viewers using ad blockers

Wikia is not accessible if you've made further modifications. Remove the custom ad blocker rule(s) and the page will load as expected.