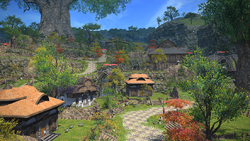 Lavender Beds is a residential area from Final Fantasy XIV: A Realm Reborn, located in The Black Shroud. It is a resort village where the players can purchase a house for their Free Company or as a private homeowner.
This residential district is located within a forest clearing next to a large lake. Housing plots are located on sloping terraces. The district is decorated with extensive flower beds, and a large tree is found in the back dominating the landscape. All houses must conform to the "Glade" style using Gridanian architecture. This district also has the Lily Hills apartment complex.
Ad blocker interference detected!
Wikia is a free-to-use site that makes money from advertising. We have a modified experience for viewers using ad blockers

Wikia is not accessible if you've made further modifications. Remove the custom ad blocker rule(s) and the page will load as expected.