Latov
Talk

0
13,960 pages on
this wiki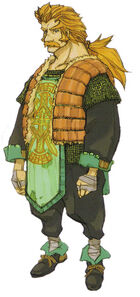 Latov (ラトフ, Ratofu?) is a 40-year-old Clavat from Final Fantasy Crystal Chronicles: Ring of Fates. He is the father of the twins Yuri and Chelinka, and husband of their mother, Aleria. He is a highly skilled swordsman and once commanded the guard of the royal family along with Meeth, Alhanalem and Aleria. He took care of Yuri and Chelinka in Villa. He created Rela Cyel with Alhanalem and Meeth. Latov's willpower is unnaturally strong, and this was illustrated in Final Fantasy Crystal Chronicles: Ring of Fates.
He is voiced by Paul St. Peter in the English version and Akimitsu Takase in the Japanese version.

Latov raises Yuri and Chelinka in the Villa. The story starts with Latov cutting firewood with a hatchet. He explains to Yuri and Chelinka that if their will is strong enough they will succeed. After a minute of concentrating Yuri and Chelinka chop the wood together. Yuri keeps the hatchet, and it becomes the first weapon in the game. Then one night Latov goes out and looks at the Ignes Fatui. Yuri joins him, and so does Chelinka when she gets Stiltzkin out of the doors way.
Once both children are present Yuri asks about their mom. Latov tells them about how she was an oracle and a starsinger, and died giving birth to them. The next day Latov and the twins venture to town. Latov leaves the twins to explore the town and talk to townsfolk. After the clock strikes and Yuri and Chelinka wait for Latov, they see him walk into old town. After going through Old town and defeating the Behemoth and finding Princess Tilika Latov finds his children and they go home.
One stormy night after Yuri and Chelinka helped Alhanalem to obtain moogle plants, Cu Chaspel came to Villa and demands to take Chelinka away for the Crystal Temple. Latov refused and fought Cu Chaspel but in the end he was killed. After witnessing Latov's death, Chelinka's crystal necklace unleashed an energy that drove Cu Chaspel away. A few days after that, Yuri proceeded to bury Latov near their house.
Other Appearances
Edit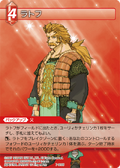 Latov appears as a card in the Final Fantasy Trading Card Game.