Ad blocker interference detected!
Wikia is a free-to-use site that makes money from advertising. We have a modified experience for viewers using ad blockers

Wikia is not accessible if you've made further modifications. Remove the custom ad blocker rule(s) and the page will load as expected.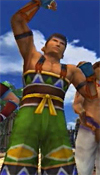 Larbeight is the Left Forward for the Kilika Beasts blitzball team. His overall stats are low at the beginning of the game, like the rest of his teammates. However, at later levels, his stats drastically increase.
At level 99 his high SH and EN stats make him perhaps the best forward in the game. Larbeight boasts the second best SH in the game next to Keepa's late level skyrocket of the skill. Also, with a high attack, he can easily disrupt the opposing team.
Blitzball Stats
Edit
Location
Kilika Port, Docks
Key Techniques
Anti-Nap
Tackle Slip 2
Wither Shot
| LV | 3 | 5 | 10 | 15 | 20 | 25 | 30 | 35 | 40 | 45 | 50 | 60 | 70 | 80 | 90 | 99 |
| --- | --- | --- | --- | --- | --- | --- | --- | --- | --- | --- | --- | --- | --- | --- | --- | --- |
| HP | 129 | 181 | 345 | 557 | 819 | 1,129 | 1,489 | 1,897 | 2,355 | 2,861 | 3,417 | 4,675 | 6,129 | 7,779 | 9,625 | 9,999 |
| SP | 60 | 60 | 60 | 60 | 60 | 60 | 60 | 60 | 60 | 60 | 60 | 60 | 60 | 60 | 60 | 60 |
| EN | 10 | 11 | 14 | 17 | 20 | 23 | 26 | 30 | 33 | 37 | 41 | 49 | 58 | 68 | 78 | 87 |
| AT | 2 | 3 | 6 | 8 | 11 | 13 | 16 | 18 | 21 | 23 | 26 | 31 | 36 | 41 | 46 | 50 |
| PA | 2 | 3 | 4 | 5 | 6 | 7 | 8 | 9 | 10 | 11 | 12 | 14 | 16 | 18 | 20 | 22 |
| BL | 2 | 2 | 2 | 3 | 3 | 4 | 5 | 6 | 7 | 8 | 9 | 12 | 15 | 18 | 22 | 26 |
| SH | 9 | 10 | 12 | 15 | 18 | 21 | 24 | 28 | 32 | 36 | 40 | 50 | 60 | 72 | 84 | 96 |
| CA | 1 | 2 | 3 | 4 | 5 | 6 | 7 | 8 | 9 | 10 | 11 | 13 | 15 | 17 | 19 | 20 |