Laguna Loire
19,129 pages on
this wiki
Talk

50
Laguna Loire is a temporarily playable character in Final Fantasy VIII. For most of the game the player experiences Laguna through playable flashbacks explained to the player as the main characters' dreams. He wields a machine gun.
Appearance
Edit
Laguna has shoulder-length dark hair and green eyes. Laguna's in-game render depicts his hair as black, but in his menu portrait and concept art it is cocoa brown. As a Galbadian soldier Laguna wears the regular blue uniform without the helmet. His civilian attire consists of a medium blue jacket with white studs and grooves, white undershirt, brown pants, black boots and dog tags. As he ages Laguna adopts a casual appearance, wearing a baby-blue button-up shirt with khaki slacks and sandals with his hair tied back, still sporting his dog tags.
Laguna's machine gun is a standard Galbadian machine gun he wields during his travels in Final Fantasy VIII. During a minigame Laguna briefly fights with a gunblade. In Dissidia 012 Final Fantasy Laguna continues to use his machine gun as his primary weapon, but also has an arsenal of different firearms and explosives: shotgun, a close range weapon capable of being charged up to increase its range and damage; sniper rifle, which, aside from shooting directly at the target, can aim at walls, the ground and ceilings to make the bullet ricochet, and, like the shotgun, the rifle can be charged up to shoot multiple bullets; sticky bombs, special grenades that stick to the target before blowing up, and a miniature Ragnarok Cannon, a scaled version of the Ragnarok airship that works as a portable laser cannon. When performing his EX Burst Laguna rides the Ragnarok cannon while blasting the opponent with laser beams.
Personality
Edit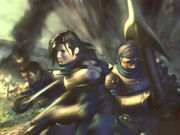 Laguna is cheerful, generous and kindhearted. He is respected among his comrades, Kiros Seagill and Ward Zabac, although they scorn him at times for his impulsive attitude, but ultimately rely on him for guidance and direction. Laguna is courageous in the face of danger and especially when his friends are in trouble. When given time to think about the danger he is in, Laguna can become hesitant, but he is always willing to put his life on the line for the sake of justice.
Laguna makes up phrases on the fly whenever he does not know the correct word to a phrase. Laguna's friends laugh at him for his mistakes to which Laguna usually becomes embarrassed and ends the conversation. He is known for his inability to talk to women, though he exclaims it is only "beautiful women" around whom he gets nervous. When Laguna gets nervous his right leg cramps up.

Desperado
Laguna is playable in the dream sequences and always takes over Squall's junctions. Battles fought as Laguna have unique battle music. The machine gun is Laguna's weapon of choice.
Desperado—Laguna's Limit Break—damages all enemies at once. He first pulls out a hand-grenade, arms and tosses it into the middle of his opponents, then shoots a grappling hook above him and, as he swings from side to side on the grapple, fires multiple rounds with his machine gun down upon his enemies. Laguna jumps off the rope and lands with his back towards the foes as the grenade explodes, dealing damage to all enemies. It has a base attack power of 140.

| LV | HP | Str | Vit | Mag | Spr | Spd | Luck |
| --- | --- | --- | --- | --- | --- | --- | --- |
| 1 | 184 | 2 | 1 | 2 | 1 | 22 | 14 |
| 10 | 577 | 9 | 8 | 8 | 7 | 24 | 15 |
| 20 | 1005 | 16 | 14 | 15 | 13 | 25 | 15 |
| 30 | 1425 | 22 | 19 | 21 | 18 | 27 | 16 |
| 40 | 1838 | 28 | 24 | 26 | 22 | 28 | 17 |
| 50 | 2242 | 33 | 28 | 31 | 26 | 30 | 18 |
| 60 | 2639 | 37 | 32 | 35 | 29 | 31 | 18 |
| 70 | 3028 | 41 | 35 | 39 | 32 | 33 | 19 |
| 80 | 3410 | 44 | 37 | 42 | 33 | 34 | 20 |
| 90 | 3783 | 46 | 39 | 44 | 35 | 36 | 20 |
| 100 | 4148 | 48 | 41 | 46 | 36 | 37 | 21 |
Creation and development
Edit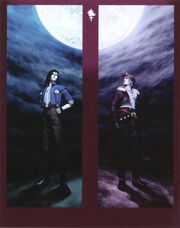 Kazushige Nojima planned for the two playable parties featured in the game—Squall Leonhart's present day group and Laguna Loire's group from the past—to contrast with one another. Laguna's group consists of characters in their late twenties who have plenty of combat experience and are close friends who have fought together for a time and trust one another. Squall's party on the other hand is young and inexperienced, and Squall himself does not initially understand the value of friendship.
The concept of two main characters was planned since the beginning of the game's development. Tetsuya Nomura tried to create a contrast between Laguna's and Squall's occupations; thus, Laguna became a soldier and Squall became a mercenary student. The designers intended Laguna to be similar to the previous protagonists in the Final Fantasy series to complement Squall, who is different from previous main characters.[3]
Various examples of unused backgrounds hint that Laguna may have possessed a lime-green convertible truck during his time in Winhill. Laguna's black-and-white intro picture depicts him driving said car, and the artisan in Shumi Village, one of the places Laguna spent time in, has a miniature model of it. The car can be found in the garage in Ellone's parents' house where Laguna resides during his stay at Winhill if the location is hacked into the game. The car, however, is never used as Laguna's car in the final game.
In the Debug Menu, among the FMVs listed for disc 2, are ones called Laguna/Squall watching the moon. When played, they show scenes from the Battle of the Gardens—indicating these FMVs were left out. There also exists a promotional CG artwork that depicts Squall and Laguna looking at the night sky, which may have been part of this unused FMV at one point. There are also dozens of unused battle formations with Esthar soldiers being fought in Esthar City. This evidence, combined with an unused background of the Great Salt Lake as still as a lake, the missing FMV, and the scrapped Winhill scenarios, indicates that a good portion of Laguna flashback scenes may have been deleted before the final game's release.

Musical themes
Edit
Laguna's theme is "The Man with the Machine Gun", which is used as the battle theme for the scenes in which the player controls Laguna's party. The song has also appeared in the Dissidia Final Fantasy series, in Theatrhythm Final Fantasy and in Final Fantasy Fables: Chocobo's Dungeon, and has appeared in numerous arranged albums and been performed in Final Fantasy concerts.

Other appearances
Edit
An icon sprite of Laguna appears in the PocketStation memorycard file manager.

Laguna appears in Dissidia 012 Final Fantasy as a new warrior fighting for Cosmos. He acts as a brotherly figure to the other warriors, mediating them and offering advice, but is at odds with Lightning and Squall, who dislike his carefree attitude. Laguna and Vaan travel together but are separated before Laguna meets the Cloud of Darkness.
Denying his attraction to her and admitting he fights only to return home and not out of a personal interest in Cosmos's victory, the Cloud of Darkness is intrigued by him and tells him where the manikins are coming from, desiring to see if he will seek them out knowing it is a suicide mission. Laguna relays this information to the other Warriors of Cosmos, and six of the survivors find the portal the manikins are coming from and sacrifice themselves to close it, Laguna among them.
Though Laguna interacts with Squall in the Reports, neither is aware of their true connection.
Laguna's first alternate outfit is his Galbadian soldier uniform, giving him a blue outfit with gray armor on the arms and torso. His second alternate outfit is his attire while president of Esthar, a light blue shirt with khaki pants. As a bonus fourth outfit available for download, Laguna dons his Sorceress Knight armor from the film he stars in one of the flashbacks in Final Fantasy VIII, a full suit of plate armor with a purple skirt-like covering over the thighs.

Laguna is an unlockable character, and is unlocked by collecting Gold Crystal Shards.
He is an Offense and Support oriented character. His Limit Break, Desperado, deals damage in proportion to his Strength and Stamina.
Stats
Laguna appears in Pictlogica Final Fantasy as a playable character.
Laguna is a playable character who could be recruited during the Challenge Event A Meeting Beyond Time as the First Time Reward for completing the event's Trabia Ravine stage on Classic difficulty.
Assessment
Laguna is a Journalist. His combat role is Physical Attack.
Stats
Level
HP
Attack
Defense
Magic
Resistance
Mind
Accuracy
Evasion
Speed
1
200
12
7
7
8
8
20
20
89
10
1,008
29
22
15
20
17
20
20
96
20
1,740
49
37
25
35
29
20
20
102
30
2,417
69
50
37
49
41
21
21
108
40
3,060
89
62
49
64
55
21
21
113
50
3,679
109
74
61
78
69
22
22
119
Rank

Max: 5

4
4
2
1
2
1
3
3
3
Abilities
Laguna can use Combat abilities up to rarity rank 4, Support abilities up to rarity rank 3, Celerity abilities up to rarity rank 4, and Machinist abilities up to rarity rank 5.
His default Soul Break is Ricochet Snipe, which at the expense of one Soul Gauge segment deals ranged physical damage to one target.
Equipment
Laguna can equip the following weapon types: daggers, swords, and guns.
He can equip the following armor types: shields, hats, helms, light armor, heavy armor, and bracers.
He can equip accessories.
Laguna appears in the Final Fantasy Trading Card Game and is represented in four Ice-elemental cards, one of them being Promotional. In his regular cards, he is depicted in his Dissidia artwork and render, his Final Fantasy VIII artwork and his Yoshitaka Amano artwork. His promotional card features the promotional poster where he is opposite from Squall.
Laguna appears on a Triple Triad card with different values than the card in Final Fantasy VIII, in the version available via Final Fantasy Portal App.

Merchandise
Edit
The Banpresto Final Fantasy VIII Laguna Loire figures were released in 1999, and has Laguna on a black stand touting his machine gun. These were won from crane catcher games in Japan. Also in 1999 Kotobukiya released Laguna Loire 1/6 Scale Figure of Laguna, and Bandai released an official action figure the same year. Manufactured by Banpresto, a Laguna keyholder also exists, available briefly from crane catcher games in Japan.
The first Final Fantasy themed Coca-Cola marketing campaign brought Final Fantasy figures attached to Coca-Cola products sold in shops, the first edition containing characters from Final Fantasy VII and Final Fantasy VIII, thus including Laguna. The variants were "deformed", (big head, disproportionate body) "real" (more realistically proportioned) and "crystal" (solid red figurines).
A physical version of Triple Triad was released as merchandise, containing Laguna's card.
Etymology
Edit
[view · edit · purge]Laguna is the Romanian, Czech, Hungarian, Italian, Polish, Tagalog, Spanish and Portuguese word for "lagoon", a shallow body of salt water separated from larger seas by small sandbanks or coral reefs. Additionally, Laguna is a Spanish term for a "mental blackout"; periods where one loses consciousness and is unable to remember what happened during that time when one wakes up. In Basque, laguna means "the friend".
All of these traits befit the character, as both his wife and son share a name linking to water. Further contrast between the two protagonists is seen in the etymology of their names: "Laguna" refers to a serene body of water, and "squall" refers to a tempestuous windstorm.
Laguna's name in Japanese, (ラグナ, Raguna?), is spelled the same as the first three characters in the name of the Ragnarok (ラグナロク, Ragunaroku?). This is noted in-game when Laguna says, "I always wanted to ride that thing. Plus the name sounds so cool!"
[view · edit · purge]The Loire [lwaʁ] is the longest river in France. There is also a department called "Loire" and "Haute-Loire" in Rhône-Alpes' region.
References
Edit