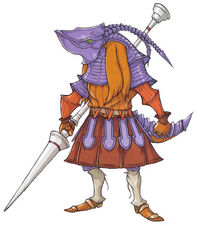 Kyrra is a bangaa Dragoon from Final Fantasy Tactics A2: Grimoire of the Rift. He requests Clan Gully's help when he is about to be beaten by another clan. When Clan Gully and Kyrra are victorious, he later teaches the clan the arts of the Dragoon as a token of appreciation.
Ad blocker interference detected!
Wikia is a free-to-use site that makes money from advertising. We have a modified experience for viewers using ad blockers

Wikia is not accessible if you've made further modifications. Remove the custom ad blocker rule(s) and the page will load as expected.