Krysta
コキュートス (

Kokyūtosu

?)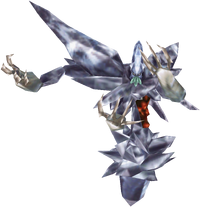 Statistics
Level
HP

200(Lv) + 5000

Level
HP

200(Lv) + 5000

1
5,200
55
16,000
STR

([8(Lv)] + [(Lv) / 3] - [(Lv)² / 200] + 200) / 4

MAG

([26(Lv)] - [(Lv)² / 500] + 255) / 4

STR

([8(Lv)] + [(Lv) / 3] - [(Lv)² / 200] + 200) / 4

MAG

([26(Lv)] - [(Lv)² / 500] + 255) / 4

52
70
160
255
VIT

((Lv) / 20) - [(Lv) / 2] + (Lv) + 200

SPR

0

VIT

((Lv) / 20) - [(Lv) / 2] + (Lv) + 200

SPR

0

201
0
230
0
SPD

5

EVA

((Lv) / 10) - [(Lv) / 20]

SPD

5

EVA

((Lv) / 10) - [(Lv) / 20]

5
0
5
3
EXP

0

AP
EXP

0

AP
0
30
0
30
| Lv | HP | STR | MAG | VIT | SPR | SPD | EVA | EXP |
| --- | --- | --- | --- | --- | --- | --- | --- | --- |
| 1 | 5200 | 52 | 70 | 201 | 0 | 5 | 0 | 0 |
| 2 | 5400 | 54 | 76 | 201 | 0 | 5 | 0 | 0 |
| 3 | 5600 | 56 | 83 | 202 | 0 | 5 | 0 | 0 |
| 4 | 5800 | 58 | 89 | 202 | 0 | 5 | 0 | 0 |
| 5 | 6000 | 60 | 96 | 203 | 0 | 5 | 0 | 0 |
| 6 | 6200 | 62 | 102 | 203 | 0 | 5 | 0 | 0 |
| 7 | 6400 | 64 | 109 | 204 | 0 | 5 | 0 | 0 |
| 8 | 6600 | 66 | 115 | 204 | 0 | 5 | 0 | 0 |
| 9 | 6800 | 68 | 122 | 205 | 0 | 5 | 0 | 0 |
| 10 | 7000 | 70 | 128 | 205 | 0 | 5 | 1 | 0 |
| Lv | HP | STR | MAG | VIT | SPR | SPD | EVA | EXP |
| --- | --- | --- | --- | --- | --- | --- | --- | --- |
| 11 | 7200 | 72 | 135 | 206 | 0 | 5 | 1 | 0 |
| 12 | 7400 | 75 | 141 | 206 | 0 | 5 | 1 | 0 |
| 13 | 7600 | 77 | 148 | 207 | 0 | 5 | 1 | 0 |
| 14 | 7800 | 79 | 154 | 207 | 0 | 5 | 1 | 0 |
| 15 | 8000 | 81 | 161 | 208 | 0 | 5 | 1 | 0 |
| 16 | 8200 | 83 | 167 | 208 | 0 | 5 | 1 | 0 |
| 17 | 8400 | 85 | 174 | 209 | 0 | 5 | 1 | 0 |
| 18 | 8600 | 87 | 180 | 209 | 0 | 5 | 1 | 0 |
| 19 | 8800 | 89 | 187 | 210 | 0 | 5 | 1 | 0 |
| 20 | 9000 | 91 | 193 | 211 | 0 | 5 | 1 | 0 |
| Lv | HP | STR | MAG | VIT | SPR | SPD | EVA | EXP |
| --- | --- | --- | --- | --- | --- | --- | --- | --- |
| 21 | 9200 | 93 | 200 | 212 | 0 | 5 | 1 | 0 |
| 22 | 9400 | 95 | 206 | 212 | 0 | 5 | 1 | 0 |
| 23 | 9600 | 97 | 213 | 213 | 0 | 5 | 1 | 0 |
| 24 | 9800 | 99 | 219 | 213 | 0 | 5 | 1 | 0 |
| 25 | 10000 | 101 | 226 | 214 | 0 | 5 | 1 | 0 |
| 26 | 10200 | 103 | 232 | 214 | 0 | 5 | 1 | 0 |
| 27 | 10400 | 105 | 239 | 215 | 0 | 5 | 1 | 0 |
| 28 | 10600 | 107 | 245 | 215 | 0 | 5 | 1 | 0 |
| 29 | 10800 | 109 | 252 | 216 | 0 | 5 | 1 | 0 |
| 30 | 11000 | 111 | 255 | 216 | 0 | 5 | 2 | 0 |
| Lv | HP | STR | MAG | VIT | SPR | SPD | EVA | EXP |
| --- | --- | --- | --- | --- | --- | --- | --- | --- |
| 31 | 11200 | 113 | 255 | 217 | 0 | 5 | 2 | 0 |
| 32 | 11400 | 115 | 255 | 217 | 0 | 5 | 2 | 0 |
| 33 | 11600 | 117 | 255 | 218 | 0 | 5 | 2 | 0 |
| 34 | 11800 | 119 | 255 | 218 | 0 | 5 | 2 | 0 |
| 35 | 12000 | 121 | 255 | 219 | 0 | 5 | 2 | 0 |
| 36 | 12200 | 123 | 255 | 219 | 0 | 5 | 2 | 0 |
| 37 | 12400 | 125 | 255 | 220 | 0 | 5 | 2 | 0 |
| 38 | 12600 | 127 | 255 | 220 | 0 | 5 | 2 | 0 |
| 39 | 12800 | 129 | 255 | 221 | 0 | 5 | 2 | 0 |
| 40 | 13000 | 131 | 255 | 222 | 0 | 5 | 2 | 0 |
| Lv | HP | STR | MAG | VIT | SPR | SPD | EVA | EXP |
| --- | --- | --- | --- | --- | --- | --- | --- | --- |
| 41 | 13200 | 133 | 255 | 223 | 0 | 5 | 2 | 0 |
| 42 | 13400 | 135 | 255 | 223 | 0 | 5 | 2 | 0 |
| 43 | 13600 | 137 | 255 | 224 | 0 | 5 | 2 | 0 |
| 44 | 13800 | 139 | 255 | 224 | 0 | 5 | 2 | 0 |
| 45 | 14000 | 141 | 255 | 225 | 0 | 5 | 2 | 0 |
| 46 | 14200 | 143 | 255 | 225 | 0 | 5 | 2 | 0 |
| 47 | 14400 | 145 | 255 | 226 | 0 | 5 | 2 | 0 |
| 48 | 14600 | 147 | 255 | 226 | 0 | 5 | 2 | 0 |
| 49 | 14800 | 149 | 255 | 227 | 0 | 5 | 2 | 0 |
| 50 | 15000 | 151 | 255 | 227 | 0 | 5 | 3 | 0 |
| Lv | HP | STR | MAG | VIT | SPR | SPD | EVA | EXP |
| --- | --- | --- | --- | --- | --- | --- | --- | --- |
| 51 | 15200 | 153 | 255 | 228 | 0 | 5 | 3 | 0 |
| 52 | 15400 | 155 | 255 | 228 | 0 | 5 | 3 | 0 |
| 53 | 15600 | 156 | 255 | 229 | 0 | 5 | 3 | 0 |
| 54 | 15800 | 159 | 255 | 229 | 0 | 5 | 3 | 0 |
| 55 | 16000 | 160 | 255 | 230 | 0 | 5 | 3 | 0 |
SHOW ME WHAT YOU GOT! YOU'LL REGRET FIGHTING ME!
—Krysta
Krysta is a boss from Final Fantasy VIII, encountered on the Terrace of Ultimecia Castle. It is one of Ultimecia's eight minions. To get to the Terrace the party must cross the chandelier from where Sphinxaur was battled, but it must be fixed in place via a lever in the floor below or it will drop when stepped upon.
Counter Rocket is a counterattack to all moves which damages according to characters' Vitality stat. When defeated, Krysta will cast its final move, Ultima, which will hit all characters, doing especially devastating damage to those with low Spirit. The player can draw Carbuncle from it if it was missed earlier.
Strategy
Edit
The party should use magic attacks, such as draw-casting Holy.
Due to its relatively low HP, Krysta is easy to defeat with just one attack. Casting Meteor, preferably in conjunction with Double or Triple, will most likely kill it right away. Another strategy is summoning Diablos, then Cactuar; if both Guardian Forces are at a considerable level, Krysta will be defeated after these two attacks.
Other appearances
Edit

This article or section is a stub about an enemy in Final Fantasy Record Keeper. You can help the Final Fantasy Wiki by expanding it.
Related enemies
Edit