Kraken (Final Fantasy)
Talk

7
13,960 pages on
this wiki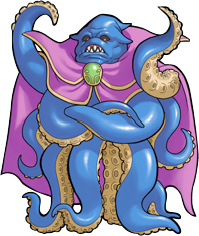 "Ho, Ho, Ho... How foolhardy to dare challenge me, KRAKEN the FIEND of the Water."
—Kraken (NES version)
Kraken (クラーケン, Kurāken?) is the Fiend of Water from the original Final Fantasy. He appears in the Sunken Shrine and bears a squid-like form, though his cape and stance give him a somewhat regal appearance. Two hundred years before the game, as the second Fiend to awaken, Kraken sank the Water Crystal's shrine to the ocean floor, whereupon the seas raged as the Crystal was drained of its power.
First Battle
Edit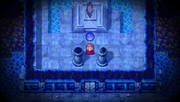 Kraken is extremely vulnerable to Thunder-based attacks, but his high Magic Defense blunts some of this weakness. Kraken will often use the Ink spell in order to inflict Blind on the party. His only other tactics are to strike with powerful physical attacks (8 hits) that can put weaker party members in jeopardy quickly or zap the entire party with Thundara. Cast Protera and keep the healing up as you strike with Thundaga and strong physical attacks, which can be bolstered by using Haste and Temper to enhance your physical attackers' strength.
Second Battle
Edit
In the descent through the Chaos Shrine of two thousand years past, the Warriors of Light will pass through the "Kraken Floor", a level flooded with enemies found in the Sunken Shrine of the present. In the hall before the stairway to the next floor, Kraken will again challenge the party. He remains true to form, though he is as bolstered in this younger age as the other Fiends. However, the battle is quite easy as Kraken has not changed much since the first battle. Using the same tactics will net a quick victory.

Related Enemies
Edit