Relm:

I couldn't miss the chance to practice my drawing!

This article is in need of a few pictures. Perhaps you can help by uploading a picture.
White Mage:

Life's refreshing breeze, blow in energy! Cure!

This article can be improved in areas such as grammar, style, formatting, and spelling.
Please refer to the

Manual of Style

or

Editing Help

to get started.
Konoe Kikyo, also known as Konoe Kikyō, is a non-playable character in Bravely Default, Bravely Default: Praying Brage, and Bravely Second: End Layer. She is a member of the Black Blades and keeper of the Ninja asterisk.
D's Journal entries
Edit
Black Blades
An assassin who leads the Black Blades' covert force. There are rumors that she became an expert at disguise due to her paralyzing shyness.
A 21-year-old woman from Eternia. Her full name is Konoe Kikyo, and she carries the ninja asterisk. When not disguised she stays silent, but in costume she speaks in a rapid torrent of words.
Likes: Make-up, collecting materials for her disguises
Dislikes: The fat feeb (Qada)
Appearance
Edit
Konoe is a thin, tall twenty-one year old woman of Wa descent with long teal hair tied into a ponytail with a white band and gold eyes. She has white face make-up and small black eyebrows. She wears a short blue kimono with pink lining and a white flower pattern on the left side. She has long white sleeves with blue tips and white tights. She wears thigh-high black boots and wields the dagger Kuzu-no-Ha as her weapon of choice.
Personality
Edit
She is described as imprudent by Qada, as she disguises herself before reporting to Kamiizumi. She is very taciturn, and seems to be afraid of speaking without disguising herself first. She also has a speaking disorder where every word she speaks is in clutters.
Gameplay
Edit
Bravely DefaultEdit
As a boss, Konoe Kikyo uses the powers of the Ninja job in battle. She usually uses Utsusemi to evade one physical attack, allowing her to counterattack with Transcience. In addition, she will use Shippûjinrai to strike first in a turn.
Bravely SecondEdit
Kikyō is fought as part of a sidequest.
Creation and development
Edit
Konoe is voiced by Eri Saitō in the Japanese version.
She is voiced by Valerie Arem in the English version.
Other appearances
Edit
BADR Konoe appears as an obtainable unit.
Other media
Edit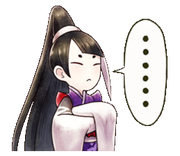 Konoe appears on a sticker set for the LINE communications app. The sticker set she appears in is titled "Bravely Stickers - Volume 2".[1]

Konoe and Ominas Crowe are two characters that are clearly shown to have speaking disorders.
References
Edit