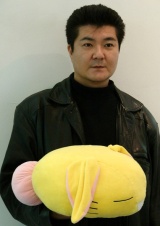 Koichi Ishii (石井 浩一, Ishii Kōichi?), born July 9, 1964, sometimes credited as Kouichi Ishii, is a video game designer, director, and former employee of Squaresoft and Square Enix, where he served as head of the company's Product Development Division-8.
Though best known as the creator of the Mana series, Ishii was involved with the company's earlier Final Fantasy titles since the very first game, where he served as planner and provided battle graphics. He would later go on to serve as director and character designer on the first game of his own brainchild series, Seiken Densetsu (originally released in North America as Final Fantasy Adventure), which would be followed up by such games as Secret of Mana and Legend of Mana. Between 2002 and 2003, he would act as director of Final Fantasy XI.
Ishii left Square Enix in April 2007 to start his own game development company, Grezzo Games, Inc.
Gameography
Edit
External links
Edit
Ad blocker interference detected!
Wikia is a free-to-use site that makes money from advertising. We have a modified experience for viewers using ad blockers

Wikia is not accessible if you've made further modifications. Remove the custom ad blocker rule(s) and the page will load as expected.