Ad blocker interference detected!
Wikia is a free-to-use site that makes money from advertising. We have a modified experience for viewers using ad blockers

Wikia is not accessible if you've made further modifications. Remove the custom ad blocker rule(s) and the page will load as expected.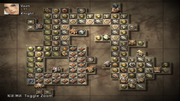 The Knight (ナイト, Naito?) is a License Board in Final Fantasy XII International. It is represented by the Zodiac sign of Leo.
The Knight is based upon the use of heavy armor and uses swords and great swords as its primary weapons. It can use some White Magick, though is primarily based in physical attacking. The job has consistently the highest damage output among physical attackers especially with the right buffs. It can also use all Shields, as well as learn all three Shield Blocks, giving it high evasion.
However, Knights have few means to deal with flying enemies, can only acquire one Swiftness augment, and are unable to learn Potion Lore.
The Knight has access to 137 licenses, which require 8,546 LP to unlock, as well as up to 10 additional licenses through summon licenses costing 635 LP, and 3 additional licenses costing 305 LP through quickening licenses.
License Board
Edit
Legend
edged weapons
blunt weapons
piercing weapons
Armor
Accessory
Magick
Technick
Augment
Command
Gambit
Summon
Quickening
| | A | B | C | D | E | F | G | H | I | J | K | L | M | N | O | P | Q | R |
| --- | --- | --- | --- | --- | --- | --- | --- | --- | --- | --- | --- | --- | --- | --- | --- | --- | --- | --- |
| 1 | | | | | | | | | | | | | | | | | | |
| 2 | | | | | | | | | | | | | | | | | | |
| 3 | | | | | | | | | | | | | | | | | | |
| 4 | | | | | | | | | | | | | | | | | | |
| 5 | | | | | | | | | | | | | | | | | | |
| 6 | | | | | | | | | | | | | | | | | | |
| 7 | | | | | | | | | | | | | | | | | | |
| 8 | | | | | | | | | | | | | | | | | | |
| 9 | | | | | | | | | | | | | | | | | | |
| 10 | | | | | | | | | | | | | | | | | | |
| 11 | | | | | | | | | | | | | | | | | | |
| 12 | | | | | | | | | | | | | | | | | | |
| 13 | | | | | | | | | | | | | | | | | | |
| 14 | | | | | | | | | | | | | | | | | | |
| 15 | | | | | | | | | | | | | | | | | | |
| 16 | | | | | | | | | | | | | | | | | | |
| 17 | | | | | | | | | | | | | | | | | | |
| 18 | | | | | | | | | | | | | | | | | | |
| 19 | | | | | | | | | | | | | | | | | | |
License list
Edit
Equipment
Edit
| Name | Description | LP cost |
| --- | --- | --- |
| Swords (1) | Lets the character equip the Broadsword. | 15 |
| Swords (2) | Lets the character equip the Long Sword and Iron Sword. | 25 |
| Swords (3) | Lets the character equip the Zwill Blade and Ancient Sword. | 35 |
| Swords (4) | Lets the character equip the Lohengrin and Flametongue. | 50 |
| Swords (5) | Lets the character equip the Demonsbane and Icebrand. | 55 |
| Swords (6) | Lets the character equip the Platinum Sword and Bastard Sword. | 60 |
| Swords (7) | Lets the character equip the Diamond Sword and Runeblade. | 70 |
| Swords (8) | Lets the character equip the Deathbringer and Stoneblade. | 80 |
| Swords (9) | Lets the character equip the Durandal and Durandal A. | 90 |
| Greatswords (1) | Lets the character equip the Claymore. | 50 |
| Greatswords (2) | Lets the character equip the Defender and Save the Queen. | 70 |
| Greatswords (3) | Lets the character equip the Ultima Blade. | 80 |
| Greatswords (4) | Lets the character equip the Ragnarok. | 100 |
| Excalibur | Lets the character equip the Excalibur. | 135 |
| Excalipoor | Lets the character equip the Excalipoor. | 150 |
| Tournesol | Lets the character equip the Tournesol. | 225 |
| Bloodsword | Lets the character equip the Bloodsword. | 50 |
| Bloodsword A | Lets the character equip the Bloodsword A. | 80 |
| Heavy Armor (1) | Lets the character equip the Leather Helm, Bronze Helm, Leather Armor and Bronze Armor. | 25 |
| Heavy Armor (2) | Lets the character equip the Sallet, Iron Helm, Scale Armor, and Iron Armor. | 30 |
| Heavy Armor (3) | Lets the character equip the Barbut, Winged Helm, Linen Cuirass and Chainmail. | 35 |
| Heavy Armor (4) | Lets the character equip the Burgonet, Golden Helm, Shielded Armor and Golden Armor. | 40 |
| Heavy Armor (5) | Lets the character equip the Close Helm, Bone Helm, Demon Mail and Bone Mail. | 50 |
| Heavy Armor (6) | Lets the character equip the Diamond Helm and the Diamond Armor. | 55 |
| Heavy Armor (7) | Lets the character equip the Steel Mask and the Mirror Mail. | 60 |
| Heavy Armor (8) | Lets the character equip the Platinum Helm and the Platinum Armor. | 65 |
| Heavy Armor (9) | Lets the character equip the Giant's Helmet and the Carabineer Mail. | 70 |
| Heavy Armor (10) | Lets the character equip the Dragon Helm and the Dragon Mail. | 80 |
| Heavy Armor (11) | Lets the character equip the Magepower Shishak and the Maximillian. | 90 |
| Heavy Armor (12) | Lets the character equip the Grand Helm and the Grand Armor. | 110 |
| Shields (1) | Lets the character equip the Leather Shield and Buckler. | 15 |
| Shields (2) | Lets the character equip the Bronze Shield and Round Shield. | 20 |
| Shields (3) | Lets the character equip the Golden Shield, Ice Shield and Flame Shield. | 25 |
| Shields (4) | Lets the character equip the Diamond Shield, Platinum Shield and Dragon Shield. | 30 |
| Shields (5) | Lets the character equip the Crystal Shield and Kaiser Shield. | 35 |
| Shields (6) | Lets the character equip the Aegis Shield and Demon Shield. | 40 |
| Shields (7) | Lets the character equip the Venetian Shield. | 65 |
| Shell Shield | Lets the character equip the Shell Shield. | 90 |
| Ensanguined Shield | Lets the character equip the Ensanguined Shield. | 100 |
| Zodiac Escutcheon | Lets the character equip the Zodiac Escutcheon. | 235 |
| Genji Equipment | Lets the character equip the Genji Helm, Genji Shield, Genji Armor, and Genji Gloves. | 190 |
| Accessory (1) | Lets the character equip Orrachea Armlet. | 5 |
| Accessory (2) | Lets the character equip Bangle and Firefly. | 20 |
| Accessory (3) | Lets the character equip Diamond Armlet and Argyle Armlet. | 25 |
| Accessory (4) | Lets the character equip Battle Harness and Steel Gorget. | 35 |
| Accessory (5) | Lets the character equip Tourmaline Ring and Embroidered Tippet. | 35 |
| Accessory (6) | Lets the character equip Golden Amulet and Leather Gorget. | 35 |
| Accessory (7) | Lets the character equip Rose Corsage and Turtleshell Choker. | 40 |
| Accessory (8) | Lets the character equip Thief's Cuffs and Gauntlets. | 45 |
| Accessory (9) | Lets the character equip Amber Armlet and Black Belt. | 30 |
| Accessory (10) | Lets the character equip Jade Collar and Nishijin Belt. | 40 |
| Accessory (11) | Lets the character equip Pheasant Netsuke and Blazer Gloves. | 45 |
| Accessory (12) | Lets the character equip Gillie Boots and Steel Poleyns. | 60 |
| Accessory (13) | Lets the character equip Berserker and Magick Gloves. | 60 |
| Accessory (14) | Lets the character equip Sage's Ring and Agate Ring. | 70 |
| Accessory (15) | Lets the character equip Ruby Ring and Bowline Sash. | 70 |
| Accessory (16) | Lets the character equip Cameo Belt and Cat-ear Hood. | 70 |
| Accessory (17) | Lets the character equip Bubble Belt and Fuzzy Mitre. | 80 |
| Accessory (18) | Lets the character equip Sash and Power Armlet. | 80 |
| Accessory (19) | Lets the character equip Indigo Pendant and Winged Boots. | 100 |
| Accessory (20) | Lets the character equip Opal Ring and Hermes Sandals. | 115 |
| Accessory (21) | Lets the character equip Quasimodo Boots and Nihopalaoa. | 130 |
| Accessory (22) | Lets the character equip Germinas Boots and Ring of Renewal. | 160 |
| Equip Ribbon | Lets the character equip a Ribbon. | 215 |
| Name | Description | LP cost |
| --- | --- | --- |
| White Magick 6 | Lets the character cast Curaga and Regen. | 50 |
| White Magick 7 | Lets the character cast Cleanse and Esuna. | 60 |
| White Magick 8 | Lets the character cast Confuse and Faith. | 70 |
| White Magick 9 | Lets the character cast Bravery and Curaja. | 80 |
| Name | Description | LP cost |
| --- | --- | --- |
| Souleater | Consume HP to deal damage to one enemy. | 35 |
| First Aid | Heals an ally with critical health. | 20 |
| Infuse | Fully consume user's MP, changing one ally's HP to 10 times of that amount. | 30 |
| Revive | Consume user's all HP to revive and fully restore HP of a KO'd ally. | 40 |
| Sight Unseeing | Damages a percentage of enemy's HP; only usable while Blinded. | 40 |
| Telekinesis | Deal ranged damage with melee weapons. | 80 |
Name
Description
Amount
LP cost

HP+

30/70/110/150/190/230/270/310/350/390
Increases HP by numbered amount.
10
20/30/40/50/60/70/80/90/100/115

Potion Lore

Potions restore 10% more HP per augment.
2
20/35

Battle Lore

Increases Strength, making physical damage stronger.
12
30/30/30/50/50/50/50/50/70/70/70

Shield Block

Increases chance to block using shield.
3
30/45/75

Swiftness

Action time is reduced by ~10%.
1
30

Martyr

Recover MP after taking damage.
1
30

Adrenaline

Attack power increases when HP critical.
1
65

Inquisitor

Recover MP after dealing damage.
1
70

Headsman

Recover MP when you kill an enemy.
1
30

Focus

Attack is 20% stronger while at Full HP.
1
30

Last Stand

Defense increases when HP critical.
1
30

Spellbound

Positive buffs last 50% longer.
1
30

Gambit Slot

Adds an additional Gambit slot to the character.
10
15/20/25/30/35/40/45/50/70/100
| Name | Licenses unlocked | LP cost |
| --- | --- | --- |
| Quickening | None | 50 |
| Quickening | None | 75 |
| Quickening | None | 100 |
| Quickening | Revive, HP +390, and Excalibur | 125 |
| Belias | Potion Lore 1 | 20 |
| Mateus | White Magick 6 and White Magick 7 | 30 |
| Zalera | None | 30 |
| Adrammelech | None | 35 |
| Shemhazai | Potion Lore 2 | 50 |
| Hashmal | White Magick 8 and White Magick 9 | 50 |
| Cúchulainn | Battle Lore | 50 |
| Zeromus | None | 65 |
| Exodus | HP +350 | 65 |
| Famfrit | None | 100 |
| Chaos | HP +390, Revive and Excalibur | 100 |
| Ultima | Telekinesis and Battle Lore | 115 |
| Zodiark | Excalibur, Revive, and HP +390 | 200 |