Ad blocker interference detected!
Wikia is a free-to-use site that makes money from advertising. We have a modified experience for viewers using ad blockers

Wikia is not accessible if you've made further modifications. Remove the custom ad blocker rule(s) and the page will load as expected.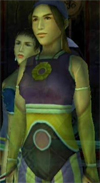 Kiyuri is a sailor on the S.S. Winno, which constantly ferries customers between Kilika Port and Luca in Final Fantasy X. She can be recruited as a blitzball free agent.
Apart from her low CA and average SP, all her stats develop well, her PA especially. At level 99, Kiyuri is one of the best defenders in blitzball.
Blitzball stats
Edit
Location
S.S. Winno - Deck
Key Techniques
Wither Shot
Sphere Shot
Volley Shot 2
| LV | 1 | 5 | 10 | 15 | 20 | 25 | 30 | 35 | 40 | 45 | 50 | 60 | 70 | 80 | 90 | 99 |
| --- | --- | --- | --- | --- | --- | --- | --- | --- | --- | --- | --- | --- | --- | --- | --- | --- |
| HP | 81 | 151 | 279 | 451 | 669 | 931 | 1,239 | 1,591 | 1,989 | 2,431 | 2,919 | 4,029 | 5,319 | 6,789 | 8,439 | 9,999 |
| SP | 60 | 60 | 60 | 60 | 60 | 60 | 60 | 60 | 60 | 60 | 60 | 60 | 60 | 60 | 60 | 60 |
| EN | 8 | 10 | 12 | 14 | 16 | 19 | 21 | 24 | 27 | 30 | 33 | 39 | 46 | 54 | 61 | 69 |
| AT | 8 | 8 | 9 | 10 | 11 | 13 | 15 | 17 | 20 | 22 | 25 | 32 | 39 | 48 | 57 | 66 |
| PA | 8 | 11 | 14 | 18 | 22 | 25 | 29 | 33 | 37 | 41 | 45 | 53 | 62 | 71 | 81 | 90 |
| BL | 2 | 3 | 5 | 6 | 8 | 10 | 12 | 14 | 17 | 19 | 22 | 27 | 32 | 38 | 45 | 51 |
| SH | 1 | 2 | 4 | 6 | 9 | 11 | 13 | 16 | 18 | 21 | 24 | 29 | 36 | 42 | 49 | 56 |
| CA | 1 | 2 | 3 | 4 | 5 | 6 | 7 | 8 | 9 | 10 | 11 | 13 | 15 | 17 | 19 | 20 |
Techniques
Edit
Starting Techniques: Anti-Wither, Anti-Wither 2, Nap Pass, Venom Pass, Wither Pass 2