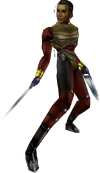 Kiros is a temporarily playable character in Final Fantasy VIII. He wields Katals in battle and is playable during dream sequences in Laguna's party. His Limit Break is Blood Pain. As with other characters in the game, a Triple Triad card based on Kiros can be obtained.
Party member
Edit
When playable in dream sequences, Kiros inherits the level and junctions from someone in Squall's party; Squall himself always inhabits Laguna. Kiros's intro pose is to crouch on his knee before looking at his enemy and jumping up, ready for battle. His victory pose is to cross his arms, with his katar held in front of his shoulders, and bow.
Kiros has a unique fighting style, using paired sharp blades called Katals (which is a mistransliteration of katar) wielded in each hand. The katar is a one-handed push dagger from India. As the classification implies, these daggers are actually used primarily for thrusting attacks. Junk shops are not available in dreams and Kiros's weapon cannot be upgraded.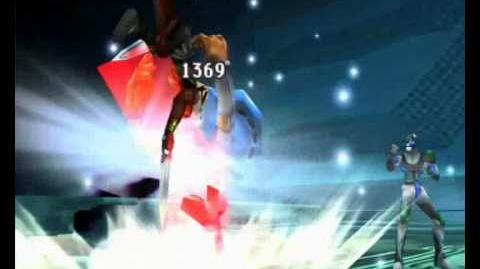 Blood Pain—Kiros's Limit Break—targets a single enemy and unleashes a series of six quick attacks on them. Blood Pain's attack power is 25, low compared to the other characters', but the multiple hits make up for it.

| LV | HP | Str | Vit | Mag | Spr | Spd | Luck |
| --- | --- | --- | --- | --- | --- | --- | --- |
| 1 | 160 | 1 | 1 | 2 | 2 | 30 | 15 |
| 10 | 517 | 8 | 7 | 9 | 8 | 32 | 16 |
| 20 | 905 | 14 | 12 | 16 | 14 | 34 | 17 |
| 30 | 1285 | 20 | 16 | 23 | 20 | 36 | 18 |
| 40 | 1658 | 25 | 20 | 28 | 24 | 37 | 18 |
| 50 | 2022 | 30 | 24 | 34 | 29 | 39 | 19 |
| 60 | 2379 | 34 | 26 | 38 | 32 | 41 | 20 |
| 70 | 2728 | 37 | 28 | 42 | 35 | 42 | 21 |
| 80 | 3070 | 40 | 30 | 45 | 38 | 44 | 22 |
| 90 | 3403 | 42 | 31 | 48 | 40 | 46 | 23 |
| 100 | 3728 | 43 | 31 | 50 | 41 | 48 | 23 |