Final Fantasy X-2 Enemy
Killer Hound
キラーハウンド (Kirāhaundo)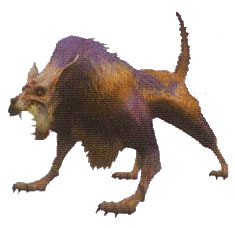 Lupine
Statistics
Level
HP
MP
12
202
0
Strength
Magic
Defense
28
8
2
M. Defense
Agility
Accuracy
1
62
0
Evasion
Luck
5
3
EXP
AP
Gil
36
1
18
Killer Hound
キラーハウンド (Kirāhaundo)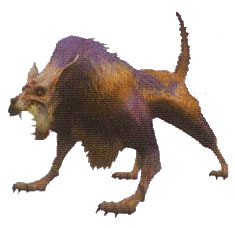 Lupine
Statistics
Level
HP
MP
14
818
0
Strength
Magic
Defense
26
8
3
M. Defense
Agility
Accuracy
1
68
0
Evasion
Luck
6
4
EXP
AP
Gil
68
2
34
The Killer Hound is an enemy in Final Fantasy X-2. It is an extremely dangerous enemy as it is encountered early in the game, and its Killer Fang ability has a high probability of causing instant death, and it uses this ability often. Player should prioritize taking Killer Hounds first in order to avoid casualties.
Fiend Tale
Edit
In the Fiend Tale endings, a notable Killer Hound was trained as one of ancient Bevelle's fiend soldiers for the Machina War, 1000 years ago. Because of the machina chip embedded within him, Killer Hound escaped Shinra, simultaneously causing ancient machina in Zanarkand to awaken. The scene ends with Shinra suggesting the Gullwings capture one of these ancient machina.
Related enemies
Edit
Ad blocker interference detected!
Wikia is a free-to-use site that makes money from advertising. We have a modified experience for viewers using ad blockers

Wikia is not accessible if you've made further modifications. Remove the custom ad blocker rule(s) and the page will load as expected.