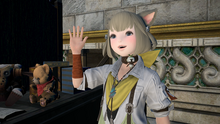 Khloe Aliapoh (クロ・アリアポー, Kuro Ariapō?) is a non-player character in Final Fantasy XIV. She is a young miqo'te girl residing in Idyllshire.
Appearance
Edit
Personality
Edit
Khloe Aliapoh can be found in Idyllshire (X:5.7 Y:6.1). Once per week, players may obtain a Wondrous Tails journal containing objectives to fulfill.

This article or section is a stub in Final Fantasy XIV. You can help the Final Fantasy Wiki by expanding it.