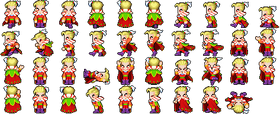 Kefka appears as a boss in Final Fantasy VI five times, of which two are cinematic and one is the final boss. Additionally, within the game's code is dummied stats for Kefka. An enemy simply named "Kefka" appears as a dummied enemy without Kefka's sprites, and there are several stats and equipment designed for two versions of Kefka as a party member, even if he was not meant to be playable.

Kefka fights the party five times including the final battle. In all battles, save for the final one, Kefka flees, is forced out of the arena, or uses an illusion of himself to fight. Of the first four fights only the second is winnable—Kefka flees from the first fight after any attack, and the third and fourth battles end in cinematic and have no conclusion. Two of these fights are cinematic, meaning his enemy stats are dummied, and he uses his field sprite, rather than enemy sprite. Additionally, an enemy named "Kefka" appears as a completely dummied enemy within the files.
Dummied party member stats
Edit
Even if Kefka was never meant to be playable, the developers assigned him some stats and equipment for when the party faces him. Kefka has two sets of equipment, and the first set of equipment is associated with his first and second set of stats below. He has the Morning Star, Mythril Helm, Mythril Vest, and Ribbon permanently equipped. Kefka's second set of equipment is associated with his third set of stats. He's permanently equipped with a Morning Star, Paladin's Shield, and Ribbon.
Just like the other temporary characters, if Kefka is hacked into the player's party they will be unable to remove his equipment. The first set of equipment Kefka uses is during the battles in the Imperial Camp and Cave to the Sealed Gate, the second set of equipment is used during his battle against a red palette swap of Ifrit in Thamasa.
Kefka has no battle commands, not even an Attack or Items command. If he's hacked into the party, he'll freeze up the game when his turn comes up.
There are three sets of stats for him and the stats below are Kefka's raw stats, before being modified by the equipment he's wearing for the battles.
1
Level
HP
MP
EXP
+
1
14
17
0
2
25
21
32
3
37
25
96
4
51
30
208
5
68
35
400
6
88
41
672
7
110
47
1056
8
134
54
1552
9
160
62
2184
10
187
70
2976
11
215
79
3936
12
245
88
5080
13
280
98
6432
14
319
108
7992
15
363
118
9784
16
413
128
11840
17
467
138
14152
18
524
149
16736
19
585
160
19616
20
650
171
22832
21
717
182
26360
22
786
193
30232
23
858
205
34456
24
934
217
39056
25
1013
229
44072
26
1095
241
49464
27
1181
253
55288
28
1271
266
61568
29
1366
279
68304
30
1465
292
75496
31
1565
305
83184
32
1666
318
91384
33
1768
332
100088
34
1870
346
109344
35
1973
360
119136
36
2077
374
129504
37
2183
388
140464
38
2290
403
152008
39
2398
418
164184
40
2508
433
176976
41
2619
448
190416
42
2732
463
204520
43
2846
479
219320
44
2962
495
234808
45
3079
511
251000
46
3198
527
267936
47
3318
543
285600
48
3440
560
304040
49
3565
577
323248
50
3693
594
343248
51
3823
610
364064
52
3954
625
385696
53
4087
639
408160
54
4221
652
431488
55
4357
664
455680
56
4494
675
480776
57
4633
685
506760
58
4775
694
533680
59
4919
702
561528
60
5064
709
590320
61
5211
715
620096
62
5359
720
650840
63
5509
725
682600
64
5661
731
715368
65
5814
737
749160
66
5969
744
784016
67
6125
751
819920
68
6283
758
856920
69
6443
766
895016
70
6605
774
934208
71
6765
782
974536
72
6920
790
1016000
73
7071
798
1058640
74
7216
805
1102456
75
7356
812
1147456
76
7492
819
1193648
77
7624
825
1241080
78
7750
831
1289744
79
7870
837
1339672
80
7987
843
1390872
81
8100
848
1443368
82
8210
853
1497160
83
8318
858
1552264
84
8423
863
1608712
85
8525
868
1666512
86
8625
873
1725688
87
8723
878
1786240
88
8818
884
1848184
89
8910
890
1911552
90
9000
896
1976352
91
9088
902
2042608
92
9175
908
2110320
93
9260
915
2179504
94
9343
923
2250192
95
9425
932
2322392
96
9505
942
2396128
97
9588
953
2471400
98
9674
965
2548224
99
9762
978
2637112
2
Level
HP
MP
EXP
+
1
255
17
0
2
266
21
32
3
278
25
96
4
292
30
208
5
309
35
400
6
329
41
672
7
351
47
1056
8
375
54
1552
9
401
62
2184
10
428
70
2976
11
456
79
3936
12
486
88
5080
13
521
98
6432
14
560
108
7992
15
604
118
9784
16
654
128
11840
17
708
138
14152
18
765
149
16736
19
826
160
19616
20
891
171
22832
21
958
182
26360
22
1027
193
30232
23
1099
205
34456
24
1175
217
39056
25
1254
229
44072
26
1336
241
49464
27
1422
253
55288
28
1512
266
61568
29
1607
279
68304
30
1706
292
75496
31
1806
305
83184
32
1907
318
91384
33
2009
332
100088
34
2111
346
109344
35
2214
360
119136
36
2318
374
129504
37
2424
388
140464
38
2531
403
152008
39
2639
418
164184
40
2749
433
176976
41
2860
448
190416
42
2973
463
204520
43
3087
479
219320
44
3203
495
234808
45
3320
511
251000
46
3439
527
267936
47
3559
543
285600
48
3681
560
304040
49
3806
577
323248
50
3934
594
343248
51
4064
610
364064
52
4195
625
385696
53
4328
639
408160
54
4462
652
431488
55
4598
664
455680
56
4735
675
480776
57
4874
685
506760
58
5016
694
533680
59
5160
702
561528
60
5305
709
590320
61
5452
715
620096
62
5600
720
650840
63
5750
725
682600
64
5902
731
715368
65
6055
737
749160
66
6210
744
784016
67
6366
751
819920
68
6524
758
856920
69
6684
766
895016
70
6846
774
934208
71
7006
782
974536
72
7161
790
1016000
73
7312
798
1058640
74
7457
805
1102456
75
7597
812
1147456
76
7733
819
1193648
77
7865
825
1241080
78
7991
831
1289744
79
8111
837
1339672
80
8228
843
1390872
81
8341
848
1443368
82
8451
853
1497160
83
8559
858
1552264
84
8664
863
1608712
85
8766
868
1666512
86
8866
873
1725688
87
8964
878
1786240
88
9059
884
1848184
89
9151
890
1911552
90
9241
896
1976352
91
9329
902
2042608
92
9416
908
2110320
93
9501
915
2179504
94
9584
923
2250192
95
9666
932
2322392
96
9746
942
2396128
97
9829
953
2471400
98
9915
965
2548224
99
9999
978
2637112
3
Level
HP
MP
EXP
+
1
17
17
0
2
28
21
32
3
40
25
96
4
54
30
208
5
71
35
400
6
91
41
672
7
113
47
1056
8
137
54
1552
9
163
62
2184
10
190
70
2976
11
218
79
3936
12
248
88
5080
13
283
98
6432
14
322
108
7992
15
366
118
9784
16
416
128
11840
17
470
138
14152
18
527
149
16736
19
588
160
19616
20
653
171
22832
21
720
182
26360
22
789
193
30232
23
861
205
34456
24
937
217
39056
25
1016
229
44072
26
1098
241
49464
27
1184
253
55288
28
1274
266
61568
29
1369
279
68304
30
1468
292
75496
31
1568
305
83184
32
1669
318
91384
33
1771
332
100088
34
1873
346
109344
35
1976
360
119136
36
2080
374
129504
37
2186
388
140464
38
2293
403
152008
39
2401
418
164184
40
2511
433
176976
41
2622
448
190416
42
2735
463
204520
43
2849
479
219320
44
2965
495
234808
45
3082
511
251000
46
3201
527
267936
47
3321
543
285600
48
3443
560
304040
49
3568
577
323248
50
3696
594
343248
51
3826
610
364064
52
3957
625
385696
53
4090
639
408160
54
4224
652
431488
55
4360
664
455680
56
4497
675
480776
57
4636
685
506760
58
4778
694
533680
59
4922
702
561528
60
5067
709
590320
61
5214
715
620096
62
5362
720
650840
63
5512
725
682600
64
5664
731
715368
65
5817
737
749160
66
5972
744
784016
67
6128
751
819920
68
6286
758
856920
69
6446
766
895016
70
6608
774
934208
71
6768
782
974536
72
6923
790
1016000
73
7074
798
1058640
74
7219
805
1102456
75
7359
812
1147456
76
7495
819
1193648
77
7627
825
1241080
78
7753
831
1289744
79
7873
837
1339672
80
7990
843
1390872
81
8103
848
1443368
82
8213
853
1497160
83
8321
858
1552264
84
8426
863
1608712
85
8528
868
1666512
86
8628
873
1725688
87
8726
878
1786240
88
8821
884
1848184
89
8913
890
1911552
90
9003
896
1976352
91
9091
902
2042608
92
9178
908
2110320
93
9263
915
2179504
94
9346
923
2250192
95
9428
932
2322392
96
9508
942
2396128
97
9591
953
2471400
98
9677
965
2548224
99
9765
978
2637112