Kazushige Nojima
Talk

7
16,311 pages on
this wiki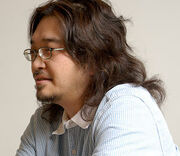 Kazushige Nojima (野島 一成, Nojima Kazushige?) (born January 20, 1964, in Sapporo, Hokkaido) was the main scenario writer for several Final Fantasy series. He is also the lyricist for several Final Fantasy soundtracks. Kazushige Nojima left Square Enix in October 2003 and built his own company, Stellavista Ltd. Despite leaving Square Enix, he is still working at the company as a freelancer having written Final Fantasy XIII's scenario concept and Final Fantasy XV scenario.
Works in the Series
Edit
Nojima is also the author of Final Fantasy VII related stories that have been published in a book form: On the Way to a Smile and Final Fantasy VII Lateral Biography Turks -The Kids Are Alright-.
Interviews
Edit
2003 Interview: Final Fantasy VII and Final Fantasy X-2 are connectedEdit
Published on the Final Fantasy X-2 Ultimania this interview contains details about Shinra from Final Fantasy X-2 and Shinra from Final Fantasy VII.
External Links
Edit