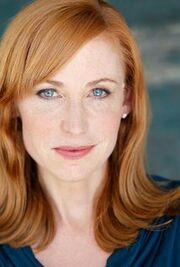 Karen Strassman (born June 5th, 1966) is an American voice actress. She is the voice of Rosa Joanna Farrell and Barbariccia in Final Fantasy IV, and Mephilia Venus in Bravely Default and Bravely Second: End Layer.
Background
Edit
Outside of the series, Strassman is best known for her major roles in anime, such as Sawako in K-On! and Miyuki in Lucky Star. She is also the voice of Aigis in the Persona series and Rouge in the Sonic the Hedgehog series.
External links
Edit
Ad blocker interference detected!
Wikia is a free-to-use site that makes money from advertising. We have a modified experience for viewers using ad blockers

Wikia is not accessible if you've made further modifications. Remove the custom ad blocker rule(s) and the page will load as expected.