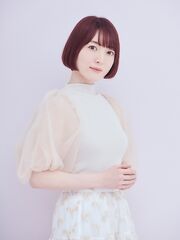 Kana Hanazawa (花澤 香菜, Hanazawa Kana?), born February 25, 1989, is a voice actress, and singer represented by the Office Osawa talent agency. She voices Deuce from Final Fantasy Type-0 and Final Fantasy Agito and Enna Kros in World of Final Fantasy. She also sang the theme "WORLD PARADE" from the credits of World of Final Fantasy.
Background
Edit
She is best known for providing voice for Yuuki Mikan in To Love-Ru series, Plutia/Iris Heart from Hyperdimension Neptunia series, Sophie from Tales of Graces f, and Marie from Persona 4 Golden.
External links
Edit
Ad blocker interference detected!
Wikia is a free-to-use site that makes money from advertising. We have a modified experience for viewers using ad blockers

Wikia is not accessible if you've made further modifications. Remove the custom ad blocker rule(s) and the page will load as expected.