Kain Highwind
Talk

45
15,949 pages on
this wiki
Cloud

:

I couldn't finish 'em. Looks like this's gonna get complicated.

The following tables are incomplete and require the TAY stat table areas to be filled. If you wish, please examine the table and add anything missing. Remove this notice upon completion.
Kain Highwind
Sprite(s)

---

---

---

---

---

Japanese
Cain Highwind
Kana
カイン・ハイウインド
Romaji
Kain Haiuindo
Voice actor
(Japanese)
Koichi Yamadera
Voice actor
(English)
Liam O'Brien
Job
Dragoon (Final Fantasy IV)
Holy Dragoon (The After Years)
Skill
Jump (Final Fantasy IV)
Jump & White Magic (The After Years)
Birthplace
Baron
Age
21 (Final Fantasy IV)
22 (Interlude)
38 (The After Years)
Height
6' 0" (1.83 m)
Weight
134 lbs. (61 kg)
Laterality
Left-handed
Final Fantasy IV Character
"The solitary, gentle-souled dragon knight whose heart lies with the dragons."
—Description
Kain Highwind, also known as the Hooded Man (謎の男, Nazo no Otoko?) before his identity is revealed in The After Years, is a playable character in Final Fantasy IV and Final Fantasy IV: The After Years. He is a Dragoon from the kingdom of Baron, Cecil Harvey's childhood friend and adoptive older brother. He also has feelings for Rosa Joanna Farrell, but he hides them so they do not hinder his relationship with either of the two: Rosa in turn has feelings for Cecil.
Appearance and Personality
Edit
"It would seem your life is spared... for now."
—Kain to Cecil
"Forgive me, Rosa... not all I've done was because of Golbez's spell. I just wanted to... I just wanted to keep you by my side."
—Kain to Rosa at the Tower of Zot
Kain wears full body armor colored dark purple or blue in most of his appearances. He wears a helmet the shape of a dragon's head that obscures most of his face and sharp spikes extend out of his armor on his shoulders, elbows and calves, to give it an even more draconian look. He has long blond hair, tied back in a ponytail in most appearances. His original Amano artwork and Dissidia 012 appearance seem to depict him with purple hair, but in Dissidia 012, it was revealed to be an attachment to his helmet, covering up his real hair.
In his appearance as "the Hooded Man" in-game in The After Years (which is his first in-game appearance without armor), Kain wears blue garments with a hooded purple cloak. His concept artwork and FMVs instead depict him with blue clothes and white boots with a white hood. His Dissidia 012 outfit as the Hooded Man is based on his concept art rather than his in-game sprites. After becoming a Holy Dragoon, Kain wears light blue and white armor, a winged hairpiece that reveals the whole of his face, and a blue cloak.
Kain is a calm, sometimes sarcastic young man, driven by his dream of following his father's footsteps of becoming a Dragoon and shunning the King's wish for Kain to follow Cecil's profession of a Dark Knight. He has been friends with Cecil and Rosa since they were young, but their relationship is strained by their rivalry as soldiers and their love for the same woman, although Kain hides his feelings.
Kain's personality changes when he is possessed by Golbez, becoming cold towards Cecil, though his love for Rosa still shows. Once freed from Golbez's control, Kain is forgiven by Cecil and vows to atone for his past actions, a promise that carries over into The After Years, as he tries to vanquish his dark side and helps Ceodore.

In Final Fantasy IV, Kain's physical stats are heavily weighted. In all releases but the Nintendo DS release, Kain has no MP growth and in all releases learns no magic naturally.
In Final Fantasy IV: The After Years, as the Hooded Man, Kain has overall decent stats in the physical department, but lacks any special abilities. Kain's HP and MP growths as the Hooded Man are different from the ones assigned to his Holy Dragoon form, and if the player wishes to get the most out of these stats they should leave him at the lowest level possible for his transformation, though this means they must complete Ceodore's Tale with Kain KO'd for much of it.
However, because only his HP and MP are affected by when he changes class, it is always possible to adjust for lost HP and MP using the HP and MP increasing items. As a Holy Dragoon Kain has high HP, Strength, Speed and Stamina, but mediocre MP.
Final Fantasy IV: The After Years Stats (Hooded Man)

| Level | HP | MP | Strength | Speed | Stamina | Intelligence | Spirit |
| --- | --- | --- | --- | --- | --- | --- | --- |
| 15 | 600 | 20 | 19 | 18 | 18 | 7 | 16 |
| 20 | 791 | 32 | 21 | 19 | 20 | 7 | 16 |
| 30 | 1398 | 57 | 29 | 24 | 27 | 8 | 20 |
| 40 | 2133 | 82 | 40 | 32 | 34 | 9 | 24 |
| 50 | 3150 | 105 | 50 | 40 | 40 | 10 | 29 |
Note: Kain's HP and MP as a Holy Dragoon change depending on his level when he class changes. The following stats assume he only begins gaining levels after the class change.
Final Fantasy IV: The After Years Stats (Holy Dragoon)

| Level | HP | MP | Strength | Speed | Stamina | Intelligence | Spirit |
| --- | --- | --- | --- | --- | --- | --- | --- |
| 15 | 600 | 20 | 21 | 18 | 18 | 14 | 16 |
| 20 | 987 | 42 | 26 | 19 | 22 | 16 | 19 |
| 30 | 1859 | 94 | 36 | 24 | 29 | 20 | 25 |
| 40 | 2948 | 151 | 46 | 32 | 38 | 25 | 32 |
| 50 | 4036 | 206 | 57 | 40 | 47 | 28 | 37 |
| 60 | 5130 | 282 | 67 | 45 | 56 | 30 | 43 |
| 70 | | 317 | 77 | 50 | 65 | 31 | 43 |
| 80 | | | | | | | |
| 90 | | | | | | | |
| 99 | | 419 | 85 | 55 | 71 | 34 | 48 |
Abilities
Edit
Kain's special ability is Jump, which allows him to deal extra damage via an aerial attack. While Kain is airborne, he cannot be targeted and thus avoids attacks. In the Advance and Complete Collection releases, completing Kain's Lunar Trial and defeating Lunar Bahamut rewards him with the Dragoon Gauntlets, which upgrades Jump to Double Jump, which does more damage and executes faster.
Kain regains the Jump ability when battling Dark Kain, and when defeating him becomes a Holy Dragoon. He knows a handful of White Magic spells after his class change and cannot learn any more as he levels up.
Band Abilities
Ability
Members
MP
Effect
Cross Slash

Hooded Man
Ceodore (Event)

7
Slice through a single enemy.
Cross Slash Prime

Kain (Fight)
Ceodore (Fight)

20
Slice through a single enemy together.
Saint Dive

Kain (Jump)
Rosa (White Magic)

30
Attack all enemies with divine wrath.
Aiming Trust

Kain (Jump)
Cid (Analyze)

12
Set your sights on one enemy and punch through it.
Mirage Dive

Kain (Jump)
Edge (Ninjutsu)

32
Summon clones to confuse and attack one enemy. Casts Blink on Edge.
Sky Grinder

Kain (Jump)
Cecil (Fight)

50
Attack a single enemy with sword and spear. Can break damage limit.
Effect Form

Kain (White Magic)
Cecil (White Magic)
Rosa (Blessing)

20
Cast Curaja, Protect, Shell and Haste on users.
Trinity Crusade

Kain (Jump)
Cecil (Fight)
Rosa (White Magic)

35
Three fighters combine to attack one enemy. Can break damage limit.
Vibra Prime

Kain (Fight)
Cecil (Fight)
Ceodore (Fight)
Cid (Fight)
Rosa (Aim)

40
Five fighters slice away at all enemies.
Spiral Blow
22
Two fighters attack one enemy.
Double Jump
35
Two fighters attack an enemy from the air simultaneously. Can break damage limit. Cannot be used if Ceodore is Awakened.
Final Fantasy

Kain (Jump)
Cecil (Fight)
Edge (Throw)
Rosa (White Magic)
Rydia (Black Magic)

75
An offense/defense mix combining the powers of all five fighters. Damages all enemies and restores HP and status of party. Break's damage limit.
Equipment
Edit
Final Fantasy IVEdit
Kain can equip all spears, axes, shields, helmets, Armor, gloves, and most swords and rings. In the Advance version he acquires his ultimate weapon, Abel's Lance, from the Lunar Bahamut. In all other releases, Kain's strongest exclusive weapon is the Holy Lance.
Weapons
Axes
Daggers
Spears
Swords

Fireshard
Frostshard
Thundershard
Hog Call*
Armor
Shields
Head
Body
Arms

Ruby Ring
Dragoon Gloves*
Final Fantasy IV: The After YearsEdit
As a Holy Dragoon, Kain can equip the same weapons and armor as previous games, but now he can equip the Paladin-exclusive equipment as well.
Armor
Shields
Head
Body
Arms

Lustrous Shield
Large Shield

Steel Headplate
Turban
Steel Helm
Lustrous Helm
Goblin Mask
Officer's Hat
Horned Helmet
Cross Helm

Foot Ninja Gear
Shinobi Gear
Mist Wrap
Training Garb
Professor's Robe
Exorcist's Gown
Horned Armor
Blue Armor

Ruby Ring
Lunar Gloves
Flan Ring
Sprint Ring
Economical Ring
Reach Ring
Provoke Ring
Limit Ring
Single Star
Rapid Ring
Rapid Ring v2
Gil Band
Gil Band v2
Level Band
Level Band v2
Rare Band
Rare Band v2
Treasure Hunter
Treasure Hunter v2
Final Fantasy IVEdit
Main article: Dragoon (Boss)
Kain appears as the Dragoon in the scripted battle with Cecil in Final Fantasy IV at Fabul's crystal chamber.
Final Fantasy IV: The After YearsEdit
Main article: Kain (The After Years Boss)
Kain is faced as a boss in some cinematic battles in flashbacks at the end of the Lunarian's Tale. In each of these battles the player's actions mean nothing, after a few turns the battles end in dialogue sequences and the enemy party nor the player can be KO'd in that time.
Musical Themes
Edit
Kain's theme is called "Disbelief", alternatively called "Suspicion" or "Kain's Betrayal." It plays whenever Kain betrays the party under Golbez's command, and is reprised in The After Years and -Interlude- when a party member acts suspiciously or betrays the party.
An arrangement of the theme, "Suspicion -Arrange-", also appears in Dissidia 012 Final Fantasy as Kain's world map theme.
Another track, "Cry In Sorrow", plays during Kain's Lunar Trial and whenever he rejoins the party.
Other Appearances
Edit
Kain's dark side appears as one of the monsters that can be summoned by Mira after being purchased as downloadable content. He takes on his appearance from The After Years. Kain is a melee summon with somewhat low attack; however, with his fast speed and cost of one slot on a tower floor, investing some NP to summon and max out the levels of an army of Kains makes for a very effective melee force.

Main article: Kain Highwind/Dissidia
Kain appears as a playable character in Dissidia 012 Final Fantasy. He is officially on the side of Cosmos, but works with Golbez to help the Warriors of Cosmos survive to the next cycle of war by attacking and defeating them before the Manikins do, as they will not be revived if beaten by the manikins. Kain defeats Bartz, Firion, and Zidane, and he is implied to beat most of the other original Warriors of Cosmos, before Tifa, whom he rescues from an encounter with Ultimecia, talks him into returning to the survivors and admitting what he's done. At this time, Kain accompanies them to the Lands of Discord, and the group sacrifices themselves to seal the portal the manikins are emerging from.
Kain's first alternate outfit, Noir Dragoon, is based on Dark Kain, giving him dark blue and red armor, while his second alternate outfit, Light Seeker, is his "Hooded Man" attire, a blue and white robe with a brown cape.
Tetsuya Nomura stated prior to the announcement of Dissidia 012 that Kain was considered as a candidate to appear in the original Dissidia, either as a secret character or the antagonist representing Final Fantasy IV. He was ultimately excluded, but Tetsuya Nomura has said he personally wanted Kain in the game and that Kain would be in a sequel to the game if one were made.[1]

"Cecil's best friend and dearest rival. He feels deeply, but is ill-practiced in expressing that which he feels. Though he swears to stand by Cecil in his revolt against their unjust king, his heart is consumed by his secret love for Rosa and as a result of this weakness his conflicted mind is easily taken over by Golbez."
—Online description
Kain appears as an unlockable character, and is unlocked by collecting Navy Shards, albeit from Dark Notes only.
He is an Offense and Speed oriented character.
| Level | HP | CP | Strength | Magic | Agility | Luck |
| --- | --- | --- | --- | --- | --- | --- |
| 1 | 237 | 5 | 21 | 12 | 18 | 11 |
| 10 | 946 | 10 | 48 | 28 | 40 | 26 |
| 20 | 1,734 | 16 | 79 | 45 | 65 | 42 |
| 30 | 2,521 | 22 | 109 | 62 | 89 | 58 |
| 40 | 3,309 | 28 | 139 | 80 | 114 | 74 |
| 50 | 4,097 | 33 | 169 | 97 | 139 | 90 |
| 60 | 4,884 | 39 | 199 | 114 | 164 | 106 |
| 70 | 5,672 | 45 | 230 | 131 | 189 | 123 |
| 80 | 5,889 | 50 | 238 | 136 | 196 | 127 |
| 90 | 6,107 | 50 | 247 | 142 | 203 | 132 |
| 99 | 6,302 | 50 | 255 | 146 | 210 | 136 |
iOS Stats
Edit
Kain returns as an unlockable character, and is now unlocked by collecting Turquoise Crystal Shards.
He is an Offense oriented character. Kain receives his Limit Break from Dissidia 012, Dragoon's Pride, dealing damage based on his Strength, Agility, and Level.
| Level | CP | HP | Strength | Magic | Agility | Luck | Vitality | Spirit |
| --- | --- | --- | --- | --- | --- | --- | --- | --- |
| 1 | 6 | 261 | 20 | 6 | 10 | 11 | 17 | 4 |
| 50 | 34 | 4503 | 159 | 44 | 78 | 89 | 139 | 28 |
| 99 | 50 | 6927 | 240 | 67 | 117 | 134 | 209 | 42 |
Abilities
Edit
"Cecil's close friend--and friendly rival. The resourceful commander of Baron's Dragoons, a highly efficient squad on par with the Red Wings, he is manipulated by Golbez into becoming Cecil's adversary."
—Character Description
Kain appears as a Legend character. He uses Jump and Double Jump to assist the player. The spear Kain is depicted with in his Yoshitaka Amano artwork and in Dissidia 012 Final Fantasy is available as a weapon. It was given away as a reward for leveling up Kain to Lv.99 during Part 2 of the Shattered Worlds FF Special Event as an SSR ranked weapon called the Wyvern Spear.
"Cecil cares for this commander of the Baron Dragoons, despite his many deceits."
—Description
Kain is an exclusive character only available from the Premium Character Shop as a random downloadable content, he uses the Blaze Jump during battle.
Many cards are depicted with Kain in the Final Fantasy Trading Card Game. They are lightning-elemental.
Non-Final Fantasy AppearancesEdit
Virtual World
Edit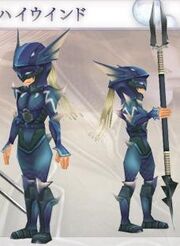 Users in Square Enix Members Virtual World community can make their character appear as Kain Highwind.
Kain will appear as a card and summonable creature in the sequel to Lord of Vermilion, along with other characters from Final Fantasy IV as part of a special cross promotion.

Etymology
Edit
Cain was the brother of Abel in the Tanakh/Old Testament book of Genesis. Cain became the first murderer by killing his brother out of jealousy stemming from the fact that God chose Abel's gift over that of Cain. This reflects the love triangle between Kain, Cecil and Rosa, Kain being jealous of Cecil being the target of Rosa's affections and not him. Kain's ultimate weapon in the Advance port, Abel's Lance, takes its name from the same source. In some versions, including the original Japanese releases and the Spanish release of the Advance port, Kain's named is spelled with a "C", the same as the Biblical spelling.
In the English localization of the Nintendo DS version as well as in Dissidia 012 Final Fantasy, Kain is pronounced[keɪn], just as Biblical English "Cain". However, in the Japanese version his name is spelled カイン (Kain) in kana, which is closer to the name's pronunciation in Continental Europe and to the Hebrew form קַיִן Qáyin. However, the Japanese manual lists his name written in Roman alphabet as "Cain" which would suggest the English pronunciation.
As well as the aforementioned etymology, the name Kain is similar to the Hebrew word kidon (כידון), meaning 'javelin', which is also significant to his character.
The Highwind surname is a traditional name for Dragoons in the series, beginning with Ricard Highwind in Final Fantasy II.
Kain is called Kain Ventalto in the Spanish DS version, and Caín Céfiro in the Spanish GBA version.
Kain's Lance, a recurring spear in later installments of the series, is named after him.
Kain's father Richard harkens to Ricard from Final Fantasy II, where Kain states in the Nintendo DS remake that his father died fighting an evil empire. Additionally, in Final Fantasy II, Ricard adopts a young boy after his father was killed by Palamecia's attack; beginning with the Dawn of Souls remake, this boy is named Kain. It is unlikely this is more than a passing reference, as in The After Years, Kain mentions he was Ceodore's age when his father was killed, with Ceodore being older than the Kain seen in Final Fantasy II.
Officially, Kain is considered left-handed, yet numerous illustrations depict Kain right-handed; Yoshitaka Amano's artwork features Kain holding his lance right-handed, while his in-game Nintendo DS model depicts him this way. On the contrary, his artwork for The After Years in both his Hooded Man and Holy Dragoon forms depict him left-handed.
While Kain cannot cast any magic in Final Fantasy IV, the data in the SNES version contains a two-frame animated sprite for Kain casting spells, as all other spellcasters have. The Final Fantasy IV Settei Shiryou Shuu shows a screenshot of Kain with a White Magic command, and there is an unused empty magic spell list that based on the internal character order, was intended for him.
Along with other characters, Kain is featured on the loading screens for Final Fantasy Chronicles, where he enacts his iconic pose before the Final Fantasy logo appears.
Kain has four different menu portraits across all releases of Final Fantasy IV and six more from every release of The After Years, tying him with Rydia and Cecil for the most in the series.
The Artifact Armor for Dragoon in Final Fantasy XIV is a reference to Kain Highwind's armor. The presentation artwork of Dragoon also resembles Kain's famous pose on the the Final Fantasy XIV logo.
References
Edit