JMV
Justice Monsters Five is a pinball game in the world of Final Fantasy XV Noctis and his friends enjoy playing. It is available in the game itself, with playable pinball tables found in select diners around Lucis, and formerly as an app for iOS and Android. It was revealed during the Uncovered: Final Fantasy XV event on March 30, 2016.
The Justice Monsters V app was originally scheduled to launch in April 2016, but it was delayed and eventually released worldwide on August 30, 2016. Over 90,000 people registered during the pre-registration phase.[1] A Windows 10 version was planned, but never released. The game ended its service on March 27, 2017.[2][3]
Though Justice Monsters Five resembles a pinball table in Final Fantasy XV, the actual game doesn't play like traditional pinball. The player has a team of four monsters and uses them to launch the ball at enemy monsters, which come in waves at a time. Playing it the first time earns the High Five for Justice! achievement/trophy.
Etymology
Edit
[view · edit · purge]A monster is any creature, usually found in legends or horror fiction, that is often hideous and may produce fear or physical harm by its appearance or its actions. The word "monster" derives from Latin monstrum, meaning an aberrant occurrence, usually biological, that was taken as a sign that something was wrong within the natural order.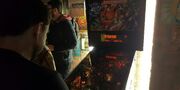 Square Enix and IGN held a pre-launch event for Final Fantasy XV a week before the game's release. Square Enix brought Justice Monsters Five-themed pinball machines to the event that fans could play.
There is a Justice Monsters Five car skin for Regalia.
External links
Edit
References
Edit