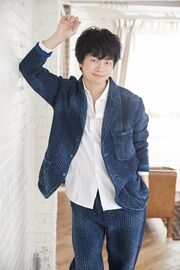 Jun Fukuyama (福山 潤, Fukuyama Jun?) born November 26, 1978) is a Japanese voice actor and singer. He is now represented by Axl-One. He is from Fukuyama, Hiroshima but grew up in Takatsuki, Osaka. He voices Onion Knight in Dissidia Final Fantasy and its prequel and Dissidia 012 Final Fantasy and King of Concordia in Final Fantasy Type-0.
Background
Edit
He is best known for voicing Lelouch Lamperouge in Code Geass which lead him won the 1st Seiyu Awards for best voice actor and Yumichika Ayasegawa and Mizuiro Kojima in Bleach.He also voiced Roy from Fire Emblem in Super Smash Bros series.
External links
Edit
Ad blocker interference detected!
Wikia is a free-to-use site that makes money from advertising. We have a modified experience for viewers using ad blockers

Wikia is not accessible if you've made further modifications. Remove the custom ad blocker rule(s) and the page will load as expected.