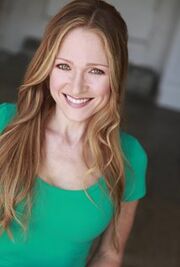 Julie Nathanson (born May 10th, 1975) is an American voice actress. She is the voice of Chocolina in Final Fantasy XIII-2 and Lightning Returns: Final Fantasy XIII, and Prishe in Dissidia 012 Final Fantasy.
Background
Edit
Outside of the series, Nathanson is best known as the current voice of recurring Disney character Belle, first appearing as the character in Kinect Disneyland Adventures in 2011. She is also the voice of Freida in Resonance of Fate and Lampita Pasionado in Psychonauts.
External links
Edit
Ad blocker interference detected!
Wikia is a free-to-use site that makes money from advertising. We have a modified experience for viewers using ad blockers

Wikia is not accessible if you've made further modifications. Remove the custom ad blocker rule(s) and the page will load as expected.