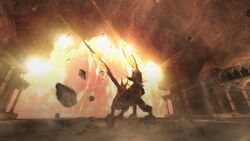 Judgment (ジャッジメント, Jajjimento?) is a recurring enemy ability in the series. Its effect varies from game to game.
Appearances
Edit
X-2 Judgment is an enemy ability used by Ultima Weapon, Omega Weapon, and Paragon when in Oversoul. It inflicts moderate to major non-elemental damage to the party.
Judgment is an enemy ability used by Hell Wyrm and Gabranth during the second boss fight with him, which inflicts Holy-elemental damage as well as a 50% chance of Stop to any character within a range of 25.5 and an area of 3 from the user. It has a power of 220, a CT of 1, and Knockback of 100.
FFXIIRW Judgment is an ability of Exodus, which deals heavy Earth-elemental damage.
XIV Judgement is an ability used by Gaius Van Baelsar by firing a large explosive burst of ceruleum from his arm cannon, it is a targeted AoE ability that does heavy damage to any players caught in its vicinity.
Judgement is also used by Regula van Hydrus in the Aetherochemical Research Facility. He stuns the player for several seconds, then uses the attack that does moderate damage to the person he targets.
BD Judgement is an Acrobatics ability learned by Valkyries at job level 4. It deals three times the damage of a normal attack to one target. It costs 2 additional BP.
FFD Judgment is an enemy ability used by Imperio, which inflicts Light-elemental damage as well as Attack Down, Defend Down, and Magic Defend Down to one ally.
Etymology
Edit
[view · edit · purge]Judgment in religious is used in the concept of salvation to refer to the adjudication of God in determining Heaven or Hell for each and all human beings.