Ad blocker interference detected!
Wikia is a free-to-use site that makes money from advertising. We have a modified experience for viewers using ad blockers

Wikia is not accessible if you've made further modifications. Remove the custom ad blocker rule(s) and the page will load as expected.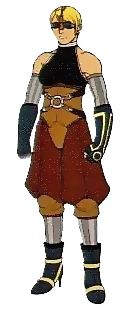 Judda is the left defender for the Al Bhed Psyches blitzball team. Like the rest of the players on her team, she does an excellent job in her position, and during the middle stages of Blitzball, she is arguably the best defender in the game.
By level 99, Judda is a decent blitzball player, but not the best option out there.
Blitzball Stats
Edit
Location
Airship, Corridor
Key Techniques
Anti-Nap
Anti-Wither
Wither Tackle
| LV | 1 | 5 | 10 | 15 | 20 | 25 | 30 | 35 | 40 | 45 | 50 | 60 | 70 | 80 | 90 | 99 |
| --- | --- | --- | --- | --- | --- | --- | --- | --- | --- | --- | --- | --- | --- | --- | --- | --- |
| HP | 125 | 276 | 494 | 742 | 1,023 | 1,334 | 1,678 | 2,052 | 2,459 | 2,656 | 2,896 | 3,366 | 5,558 | 6,643 | 8,254 | 9,631 |
| SP | 60 | 60 | 60 | 60 | 60 | 60 | 60 | 60 | 60 | 60 | 60 | 60 | 60 | 60 | 60 | 60 |
| EN | 9 | 12 | 16 | 20 | 23 | 27 | 30 | 33 | 36 | 39 | 42 | 46 | 51 | 55 | 58 | 60 |
| AT | 11 | 13 | 16 | 19 | 22 | 24 | 27 | 29 | 31 | 33 | 36 | 39 | 43 | 46 | 48 | 50 |
| PA | 7 | 11 | 15 | 20 | 24 | 28 | 32 | 36 | 39 | 43 | 47 | 53 | 60 | 66 | 71 | 75 |
| BL | 10 | 10 | 10 | 11 | 12 | 14 | 15 | 17 | 19 | 21 | 24 | 30 | 37 | 44 | 53 | 61 |
| SH | 1 | 1 | 2 | 2 | 3 | 3 | 4 | 4 | 5 | 5 | 6 | 7 | 8 | 9 | 10 | 10 |
| CA | 3 | 4 | 5 | 6 | 7 | 8 | 9 | 10 | 11 | 12 | 13 | 15 | 17 | 19 | 21 | 22 |