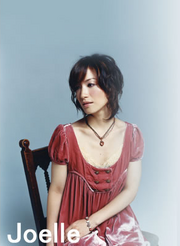 Joelle Strother, known as Joelle in all her works, is an American-born Japanese singer, best known to the Final Fantasy community for her work in Final Fantasy XIII-2's soundtrack. She provided the vocals for the album's several tracks such as "Plains of Eternity," "Village and Void," and "Yeul's Theme."
She also contributed vocals for the music of Bravely Default, composed by her Sound Horizon bandmate Revo.
Joelle was born on September 26th, 1980, in Salt Lake City, Utah.
External links
Edit
Ad blocker interference detected!
Wikia is a free-to-use site that makes money from advertising. We have a modified experience for viewers using ad blockers

Wikia is not accessible if you've made further modifications. Remove the custom ad blocker rule(s) and the page will load as expected.