Jessie
Talk

12
16,044 pages on
this wiki
Jessie (ジェシー, Jeshī?), known as Jesse in a demo release, is a non-player character in Final Fantasy VII, and a member of AVALANCHE together with Barret, Biggs, Wedge, and Tifa. Cloud is given the option to flirt with her at times.
Appearance and personality
Edit
Jessie is a young woman with brown eyes and medium-length brown hair tied into a ponytail. In Hoshi wo Meguru Otome, it is mentioned she is about Aerith's age. She wears a blue top with metal armor and brown gloves, and knee-length green shorts.
Jessie is the technical expert of AVALANCHE, and is the one who builds the bombs AVALANCHE uses in their raids on the Mako Reactors, following the plans of the original, more violent AVALANCHE. Jessie roughly acts as Barret's second-in-command, overseeing AVALANCHE's plans. She develops a crush on Cloud and does a poor job of hiding it. Despite being the technical expert at AVALANCHE, Jessie is pained by insecurities, and if a mission goes awry she is quickly to blame herself.

Other appearances
Edit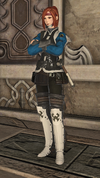 Main article: Jessie (Final Fantasy XIV)
Jessie is introduced in Patch 2.3 as the Deputy President of Garlond Ironworks. Her appearance is very similar to her Final Fantasy VII counterpart, being a young female Midlander Hyur with brown eyes and brown hair tied into a ponytail.

Jessie appears alongside Biggs and Wedge as a trio of Black Mages in a research laboratory. She offers Chocobo Dispel Tonics in exchange for Essences.

Jessie appears in Final Fantasy Trading Card Game with her Tetsuya Nomura artwork. Her card is Thunder-elemental.

Non-Final Fantasy AppearancesEdit
Jessie is the owner of an Accessory shop in Twilight Town, and appears together with Biggs and Wedge. She looks different from the Jessie from Final Fantasy VII, as she has blonde hair and wears blue. She plays a bit of a role at the beginning of the game, being the first character the player can talk to using Reaction Commands.

Jessie has a high-resolution model of her upper body, used in the scene where she and Cloud look at the Midgar map.
Characters using the models of Jessie and Biggs are seen in Elmyra's flashback at the train station. It is unknown whether these are meant to be the same characters or not. One possibility is they are the same characters at a younger age using their ordinary models due to not wanting to create new models for the scene.