Relm:

I couldn't miss the chance to practice my drawing!

This article is in need of a few pictures. Perhaps you can help by uploading and adding a picture or two.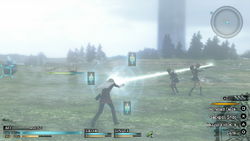 Jackpot Shot (キャノンレーザー, Kyanon Rēzā?, lit. Cannon Laser), also known as Cannon Laser, is a recurring ability in the series, associated with Ace as his signature attack.
Appearances
Edit
TYPE0 Jackpot Shot allows Ace to fire a laser beam forward from his cards. It becomes available at level 13 and costs 8 AP to learn. Jackpot Shot has three upgrades to increase its critical hit rate and duration and reduce the cost of the ability gauge.
Jackpot Triad is a similar ability that fires lasers in three directions.
TFFCC Cannon Laser is a signature Limit Break-type ability for Ace that is learned at level 40 and costs 18 CP to equip. It is activated against boss-class enemies in Battle Music Sequences and deals damage based on Ace's Magic, Spirit, and level.