Izana Kunagiri
Talk

0
13,962 pages on
this wiki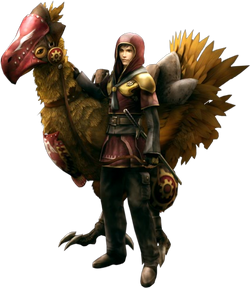 Izana Kunagiri (イザナ・クナギリ, Izana Kunagiri?) is a supporting character from Final Fantasy Type-0, and is voiced by Keiji Fujiwara.
Izana is a Suzaku soldier, and was given the special task of delivering the COMM device to Class Zero at the start of the mission to liberate Peristylium Suzaku. To accomplish this task, he ran into the battlefield with his chocobo Chichiri.
During the operation, after successfully delivering the COMM to Ace, he died in action alongside his chocobo.
Appearance and Personality
Edit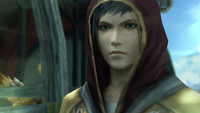 Izana is a soldier from Rubrum with emerald green eyes, short black hair, and a scar running across his left temple. He is Machina's older brother, and owns a chocobo, Chichiri, with whom he has a strong bond. Izana is often described by Ace as having a 'different way of thinking'. According to the Crimson Codex, Izana is 21 years old and 175cm tall.
Despite his love for chocobos, he seems to be more serious in nature than he appears. When faced with his end, Izana cries out emotionally and voices his fear of dying.
Early Life
Edit
Ever since he was young, the calm but energetic Izana has enjoyed talking to peddlers who passed through the village about their travels and their journey. During the burning of the village, Izana had been away traveling with one of these pedlars for about a month.
Izana returned to the village and, to his horror, found it in ruins. He realized that he had forgotten about most of the people in the village. But he still remembered Machina and Rem, and that was how he knew they were still alive. Knowing that gave him great joy.
However, when he met up with Machina again afterwards his heart had been closed off. It took Izana six years to reclaim the relationship he had with Machina. During that time, Machina became an elite candidate. Although he was talented, he didn't know how to use that power and the timid Machina was nowhere to be found.
Izana also aspired to become an elite candidate, but was unable to do so. Joining the Suzaku army instead, he took on a more active role and promised himself that the disaster that befell his village would never happen again. Although he worked hard, he didn't see the connection between his actions and the results of the war.
One month prior to the attack on Suzaku, Izana and his friend, Karan, hunted Coeurls as part of their patrol. That time, while he was at the Chocobo Stables carrying out his duties, he met Ace who bore the mantle of the elite candidate.
"I will fight for Suzaku and my younger brother... for everyone's history. I'll wager everything on it."
—Izana to Ace
Izana is seen in several of Ace's flashbacks through out the game, serving as a Suzaku soldier who became a good friend to Ace.
In the game's opening, Izana is among those wounded during the Milites Empire's invasion of Rubrum. He is seen walking the streets and asking his allies if they have seen a young man with a red mantle, referring to Ace. Shortly afterwards, they are attacked by a bomb from Milites soldiers. Chichiri comes to Izana's rescue, and he rides the chocobo in search of Ace. Heavily wounded and exhausted, Izana eventually falls off Chichiri and is knocked unconscious.
He awakes to the sound of a gunshot, and sees Chichiri being gunned down. Despite the approach of enemy soldiers, Izana tries to use his magic to heal the chocobo but he is too weak. He yells out Ace's name, who appears and kills the soldiers. Ace tries to help Izana, but Queen says it is too late to save him. Ace and Queen reluctantly leave him to join Nine in fighting off a second platoon of Milites soldiers.
Izana lies with Chichiri, commenting that its name is weird. On the verge of death, he wonders if Machina is well. He also thinks of Rem, saying that he wants to meet with her again. Before dying, attempting to accept his fate, Izana spent his final moments breaking down as he emotionally expresses his fear of death. Soon after he and the chocobo died, Ace is seen approaching Izana and Chichiri's bodies and shedding a tear for them. Though Ace tries to act ignorant of his involvement, Machina eventually learns of the event and develops a grudge against Ace and Class Zero for allowing his brother to die.
However, in the alternate ending, Arecia's removal of the four crystals from Orience negates both the Militan invasion of Rubrum and Izana's death. It is also revealed that he is currently in a relationship with Cadet Instructor Emina.